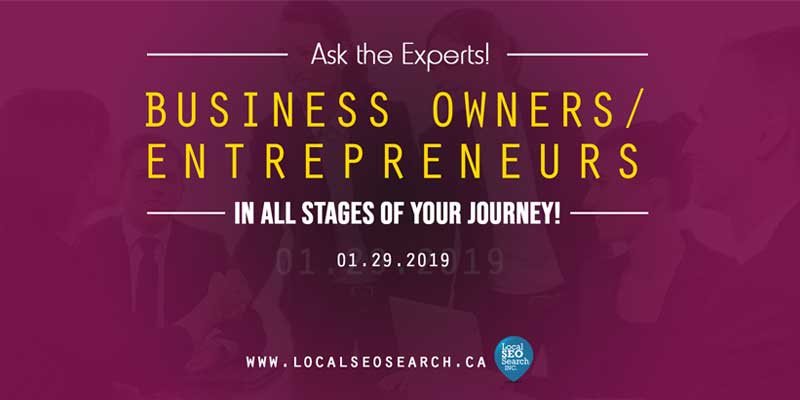 Are you looking for advise from seasoned professionals? Our Expert Panel consists of professionals in sales, marketing, business, entrepreneurship and social media. This will be an open forum discussion where we answer all the questions you have about starting or running your business!
We welcome all entrepreneurs, business owners, inspiring business owners, individuals that have an idea, from idea, startup to businesses that have been around for 5+ years. From production, research and development, purchasing, sales/marketing/advertising, human resources, accounting and finance and anything inbetween.
Who can benefit from this workshop?
Business owners
Entrepreneurs or aspiring entrepreneurs
Anyone look for personal development or to network with like minded individuals
Anyone in the service industry- dentists, lawyers, contractors, physiotherapists, chiropractors, pest control, tree service/arborists, plumbers, electrical contractors, HVAC, etc.
We have dealt with over 10,000 business owners and helped them grow their business. Let us help you get more ready to buy customers today.
OUR PANEL:
John Vuong
As sole owner of Local SEO Search, Inc., John's mission is to help local business owners improve their website's presence on search engine result pages (like Google) so they can dominate their industry. After starting in Internet marketing over a decade ago, he guided over 5,000 local business owners with online digital sales and various corporate enterprises. Combining his business acumen with an innate understanding of the local business landscape, John customizes SEO campaigns for each Local SEO Search client by acknowledging their different needs. An Administrative and Commercial Studies graduate of the University of Western Ontario and proud father to his son, John gives back to the community by funding a yearly program that provides backpacks stocked with supplies to deserving young students, and is a passionate mentor to new entrepreneurs. He is also an avid Toronto Raptors fan and an active real estate investor.
Roger Murphy
With a successful career spanning more than two decades in the advertising industry, Roger manages the reins to clinch successful relationships with LSS business clients. He joined forces with John (a former colleague) to become LSS' Vice President of Sales. He is a business administration and marketing graduate and a Google Certified trainee with hundreds of hours in digital media training. His practical and educational experience enabled Roger to help over 6,000 clients increase their revenues. Outside of work, Roger is the proud father of three daughters. He also enjoys supporting his community through fundraising initiatives, volunteering in youth athletic programs, and helping elderly care facilities and women's shelters.
Kayla Claus
Kayla is the Account Manager and Social Media Coordinator for Local SEO Search, Inc. She has over five years of digital marketing and social media experience. For the past three years, Kayla played a vital role in growing an e-commerce brands Instagram following from 1k followers to over 250k and also grew their Facebook following to over 150k in that short time. During this period she was responsible for social media content, customer service and also spearheaded an influencer engagement campaign that helped the brand grow rapidly. With over ten years of customer service experience, she loves to build relationships both on and offline. Kayla graduated from McMaster University with an Honours Bachelor of Art in Communications and Multimedia and went on to pursue a Public Relations degree at Humber College. Her finger is always on the pulse of new digital trends.
Donations: All ticket proceeds from this event will go towards Local SEO Search's 2019 backpack program. Every child deserves an education, the self-sufficiency of a well-informed mind, and the opportunity for a successful future. However, many local families' circumstances prevent them from affording simple supplies. Local SEO Search has donated 200 backpacks to 5 schools in Toronto filled with personal care and educational supplies in 2018. Our goal is to donate 500 in 2019.
If they want to learn more you can include the following link about our program: https://www.localseosearch.ca/community-service/share-your-success-back-kids-education-with-backpacks/