Oshawa Dental Clinic Gets a New Website and Lands Front Page Within a Year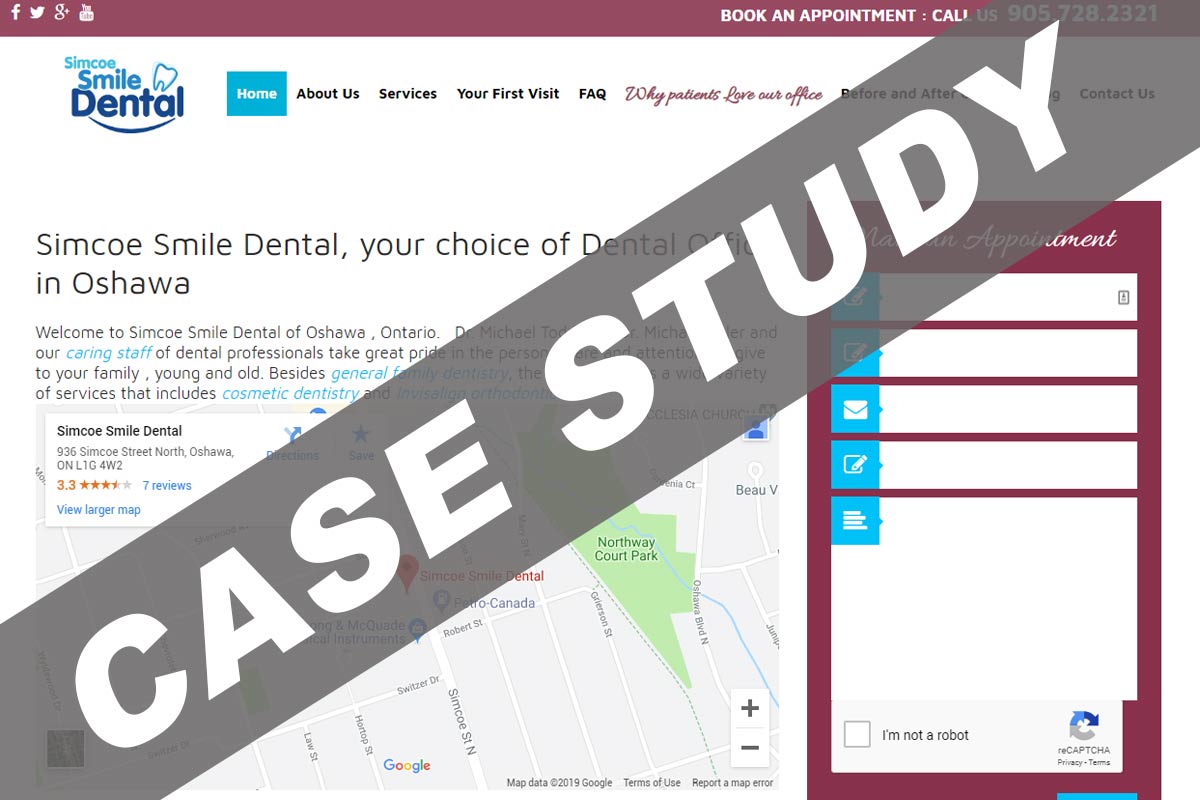 About Simcoe Smile Dental
Simcoe Smile Dental is a dental clinic in Oshawa, run by Dr. Michael Todd and his partner Dr. Michael Opler. The dental practice has been running in the area for over 15 years. They provide general dentistry and personalized care for the entire family. They also work with children, perform cosmetic dentistry, and offer orthodontics, implants, and emergency services.
Challenges with Internet Marketing
The challenge Dr. Todd faced concerning their Internet marketing campaign was whether or not their expenditures were worth the cost. Dr. Todd admits that he was unfamiliar with how search engines prioritize searches and whether the campaign they had ongoing was providing the results he desired.
He would ask himself,  "Am I getting enough new patients to justify the expense? Am I getting any benefit at all?" He needed to know that the money he was investing in an SEO strategy was providing results.
At the time, Simcoe Smile Dental had entrusted their Internet marketing strategies to a company located in New Jersey. For Dr. Todd, the distance was a problem. "I didn't feel like I was talking to a person that was close at hand," he says. A second company he contracted with focused on upselling extended services. "[They were] starting to push me out of my comfort level when it came to the cost," he states.
Finding a New Partner
Dr. Todd started searching for a new SEO company. There were a few factors he felt that he needed from the company he would hire, including that they had to be local and that they offer opportunities at a reasonable price.
"I'm a small businessman," Dr. Todd states. "Number one is it's not costing me an arm and a leg to be part of the program."
He began researching ads in dental magazines. This is where he found Local SEO Search, a company based in Toronto, ON. He met and spoke with the owner, John Vuong, about the business side of the campaign. He liked what Local SEO Search was offering on the table and decided to take them on as partners.
"The cost is reasonable and the results have been very good… I feel like I've got everything that I like with John and with Local SEO Search." — Dr. Michael Todd, Owner
Solution
After consulting with Dr. Todd, John and the team at Local SEO Search created a plan to help Simcoe Smile Dental generate leads and gain new clients. The strategy included:
Web Design and Development – Local SEO Search built the dental practice a new website as a platform for their Internet advertising campaign. To emphasize continuity, they utilized the previous theme but optimized it for better functionality.
Keyword Research – The SEO company assisted Simcoe Smile Dental with drawing up a list of keywords on which to focus. They then integrated these keywords throughout the site to improve its search engine rankings.
Content Generation – Local SEO Search created the content for the entire site. This included the service pages, which details the offers of the dental clinic and a blog. The SEO company updates content whenever necessary and provides monthly blogging services to populate the site with relevant and useful information.
Online Listing Optimization – Local SEO Search located the online directory entries the clinic previously made. They updated the existing details and made sure the information was consistent throughout all the platforms.
Working with Local SEO Search
"Since I've been with Local SEO Search, I feel like I've had good results, and I think that it's money well-spent." — Dr. Michael Todd, Owner
Simcoe Smile Dental has been working with Local SEO Search for two years now. Dr. Todd states that he has been happy doing so. They provided good results within the first year, and many of his selected keywords continue to rank highly on Google search engine results pages.
"I would really recommend [Local} SEO Search. It's worked well for me and I'm sure it works well for all of the others of John's clients." — Dr. Michael Todd, Owner