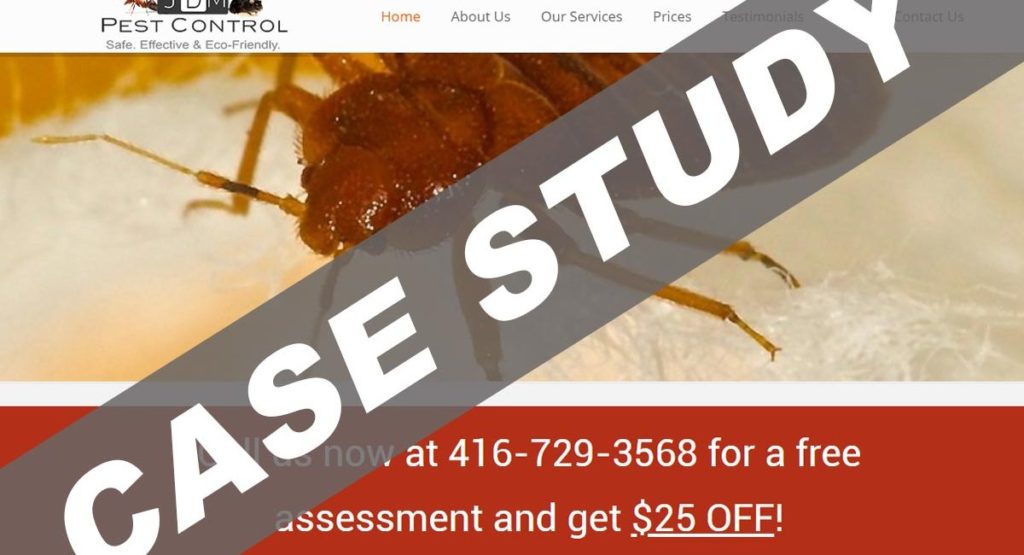 "Search rankings have improved dramatically since the engagement began, resulting in a significant increase in new customers. "
– Joe Mandarino, Owner, JDM Pest Control
About JDM Pest Control
Providing ant, mouse, and bee/wasp removal for residential and commercial properties in the Greater Toronto Area, JDM Pest Control has been operating for over 20 years. Owned by Joe Mandarino, JDM is committed to using eco-friendly pest control and prevention methods. The company boasts a strong track record, efficient and well-trained staff, and reasonable prices.

Local SEO Testimonial: JDM Pest Control from Local SEO Search Inc. on Vimeo.
Objectives and Goals
Mandarino's goal was to increase the online visibility of JDM Pest Control so more potential customers could benefit from their effective pest removal services. To accomplish this, he needed to get his company on the first page of Google.
Equipped with some knowledge about search engine optimization (SEO), he initially implemented an Internet campaign on his own to save money. However, his efforts were not met with success. Next, Mandarino hired SEO agencies. Unfortunately, their methods did not fare any better; essentially, they made promises and didn't deliver.
When the partnership with these companies did not work out, Mandarino called John Vuong, owner of Local SEO Search. Mandarino had previously received an email from Vuong but deferred contact until his contract with his previous agency ended.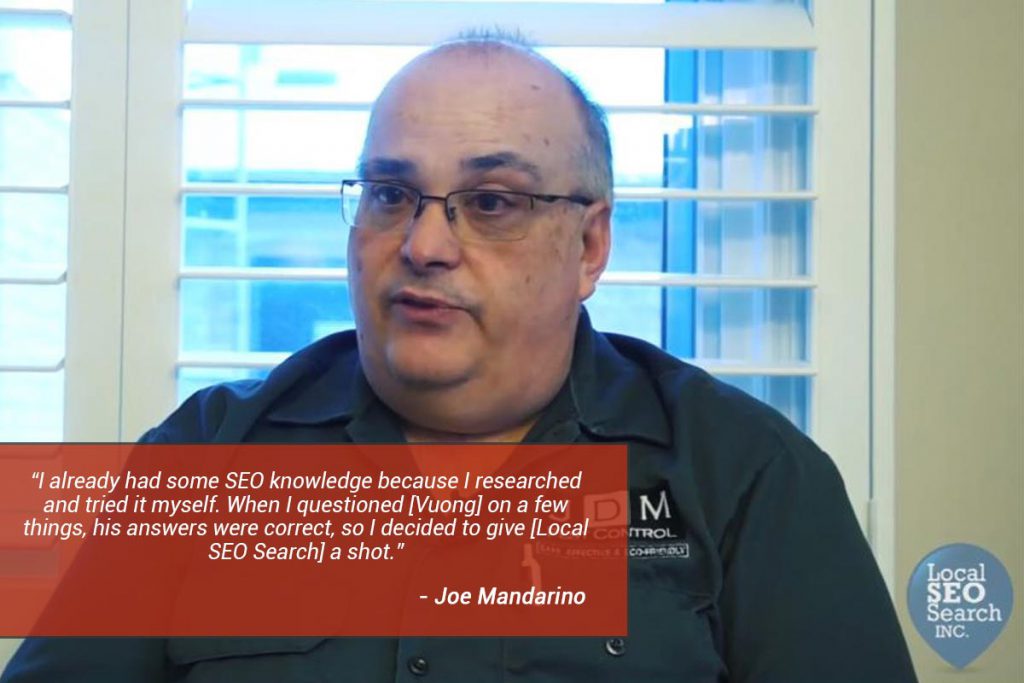 Solutions
One of the first things Local SEO Search did for JDM Pest Control was to create a whole new website. The overhaul increased the overall functionality of the site, making it more accessible to visitors using a desktop or mobile device.
Local SEO Search also optimized the entire website. Initially, Vuong spoke with Mandarino about his goals and which specific cities and neighbourhoods he wanted to target. Based on the list they collected, the SEO agency performed keyword research and targeting, expertly inserting keywords for both services and locations throughout the site.
Local SEO Search also provides content for JDM Pest Control, including:
Blogs – Original, monthly blog posts are written by an in-house content team. These authoritative articles populate the JDM site with fresh content. Mandarino's occasionally requests articles be written about seasonal pest problems, providing useful advice for readers.
Video – In addition to blog posts, Local SEO Search created a promotional video for the company, posted it on YouTube, and linked it to the site.
Analysis and Reporting
The SEO team submits monthly reports (e.g. on search engine rankings) to keep Mandarino aware of his site's online visibility. Such feedback serves as a means of identifying strengths, possible areas for improvement, and the opportunity for developing new strategies.
Results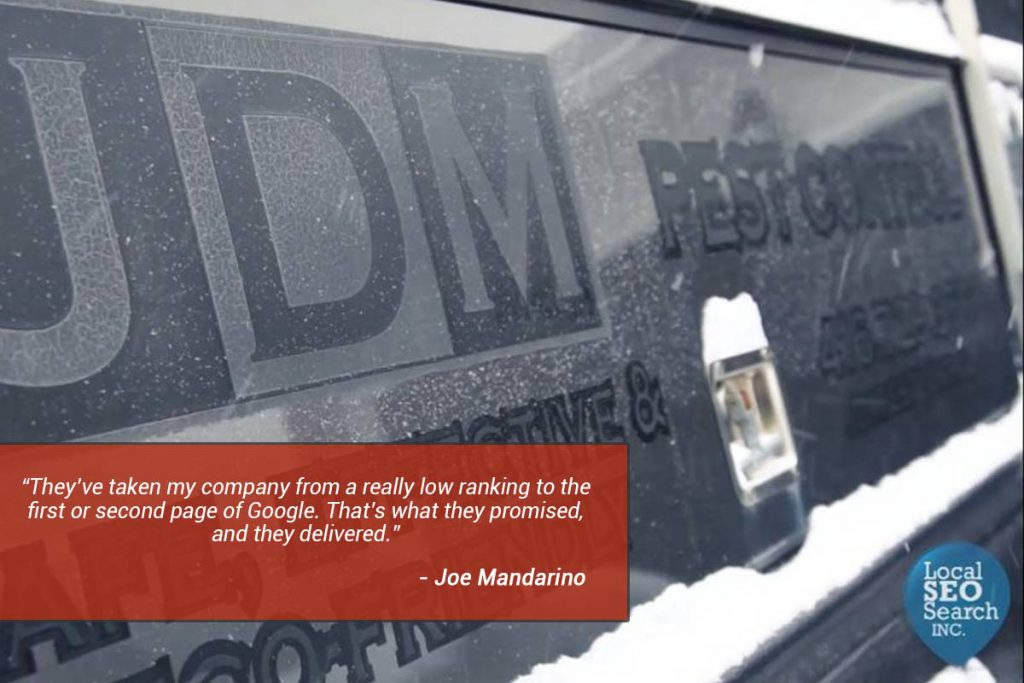 Mandarino claims that he "started to see improvement as soon as they redid the keywords" for the site. He was impressed with the ability of Vuong and his team to achieve the goals they'd set.
In addition to increased online visibility, Local SEO Search helped JDM Pest Control enhance their lead generation. Mandarino states that his company's "leads have jumped substantially over the last couple of years." When he asked new customers how they learned about the company, the usual reply was "via the Internet." The promotional video the SEO agency created for him was also "a big hit."
Partnership with Local SEO Search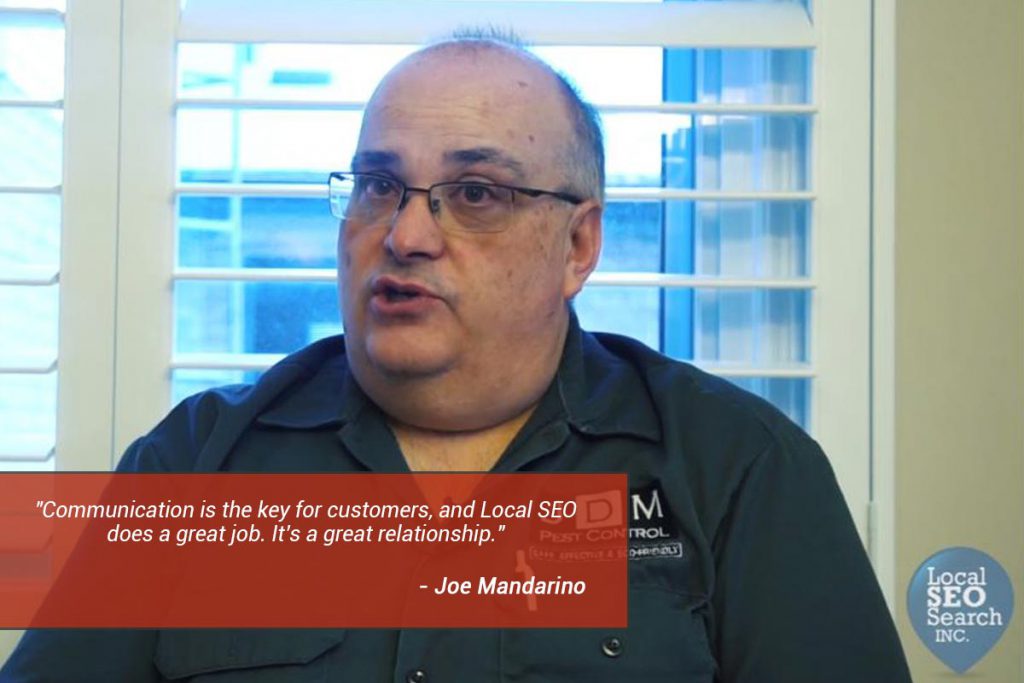 JDM Pest Control started working with Local SEO Search in March 2014. The relationship is ongoing. As of January 2019, Mandarino spent over $50,000 (collectively) for their SEO services.
He speaks primarily with Vuong, and gives the company top marks for being transparent and communicative. He find the agency's responsiveness a great quality in the service. He states that whenever he has a concern or if he wants a change on the website, all he has to do is contact Vuong who responds that day or within the hour.
Mandarino appreciates that Vuong still takes the time to communicate with him regularly even as Local SEO Search continues to grow and take on more clients.