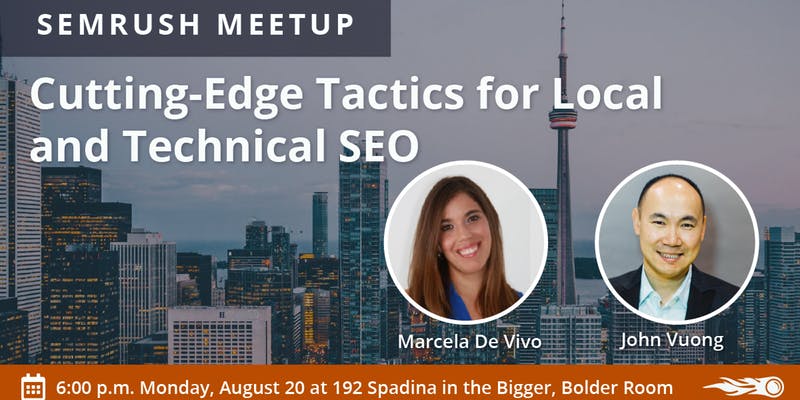 August 20, 2018
John Vuong and Marcela De Vivo
Bigger, Bolder Room 192 Spadina Ave Toronto, ON, Canada M5T 2C2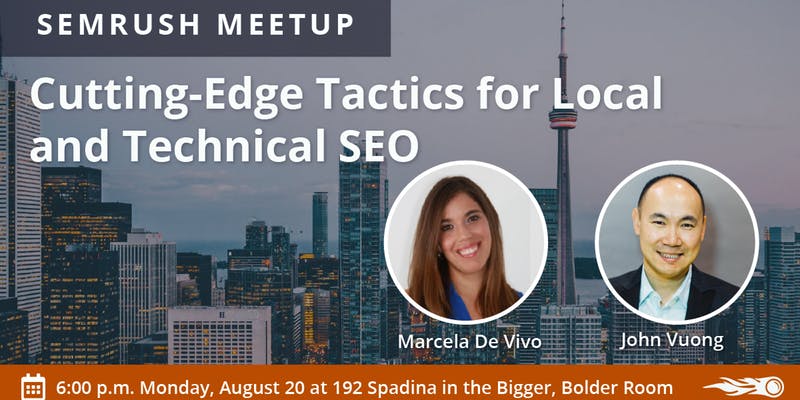 We are hosting a workshop with SEMrush in Toronto!
Every successful business needs real customers and has real challenges. By interacting with your customers regularly, you will learn continually and be able to make your business stand out. Every business owner needs to understand what their unique selling proposition is. What makes you different? By making each customer experience memorable you will build a solid reputation.
Focus on running a sound business. Don't focus on selling.
In this workshop, we will discuss:
Who is the face of your business?
Time management
Utilizing experiences
Who are your customers?
Community building
This workshop is designed for business owners who want to learn about SEO and how to use it to improve their presence online. You will leave this event with a deeper understanding of how Google works and personalized recommendations for your own business. You will also learn how to apply these learnings to improve your own SEO and ROI.
Schedule:
6:00 – 6:30 pm – Networking
6:30 – 8:00 pm – Presentations
8:00 – 9:00 pm – Q&A
Meet the industry experts!
Marcela De Vivo, SEMrush
Marcela De Vivo is an International Corporate Speaker for SEMrush, a Serial Entrepreneur, and Founder of Gryffin. As an industry veteran with nearly 20 years of digital marketing experience, Marcela travels the world speaking about SEO, data-driven marketing strategies, omni-channel workflow optimization, and the evolution of digital. Working with SEMrush has allowed her to combine her passion and expertise in forward-thinking marketing, analytics, and disruptive technologies.
She will be presenting: "Technical Tune-Up: How to Identify and Repair SEO Issues"
John Vuong, Local SEO Search, Inc
As sole owner of Local SEO Search, Inc., John's mission is to help local business owners improve their website's presence on search engine result pages (like Google) so they can dominate their industry. After starting in Internet marketing over a decade ago, he guided over 5,000 local business owners with online digital sales and various corporate enterprises. Combining his business acumen with an innate understanding of the local business landscape, John customizes SEO campaigns for each Local SEO Search client by acknowledging their different needs. An Administrative and Commercial Studies graduate of the University of Western Ontario and proud father to his son, John gives back to the community by funding a yearly program that provides backpacks stocked with supplies to deserving young students, and is a passionate mentor to new entrepreneurs. He is also an avid Toronto Raptors fan and an active real estate investor.
He will be speaking on "Strategies on Local SEO for Business Owners"
Making a Difference!
All of the proceeds from this event will go towards Local SEO Search's 2018 backpack program. Every child deserves an education, the self-sufficiency of a well-informed mind, and the opportunity for a successful future. However, many local families' circumstances prevent them from affording simple supplies. Local SEO Search is donating 200 backpacks to 5 schools in Toronto that will be filled with personal care and educational supplies for the coming school year.
To learn more about this program, please visit: https://www.localseosearch.ca/community-service/kids-education-with-backpacks/