Finding the best dentist in Toronto can be difficult, given the size of the city and number of clinics available. Because the health of your mouth can affect your overall wellness, it's important to choose the best care in the area. Local SEO Search Inc. a Dental Clinic SEO expert has compiled ten of the top dentists in Toronto for you to consider, based on customer reviews:
Toronto Top Ten Dentists
This clinic is an online hit for its outstanding record. It is the only clinic (as of March 2018) that had a perfect 5-star rating out of 72 Google reviews. This clinic's current record can be attributed to the quality and wide range of its dental services, including preventative care and pain management.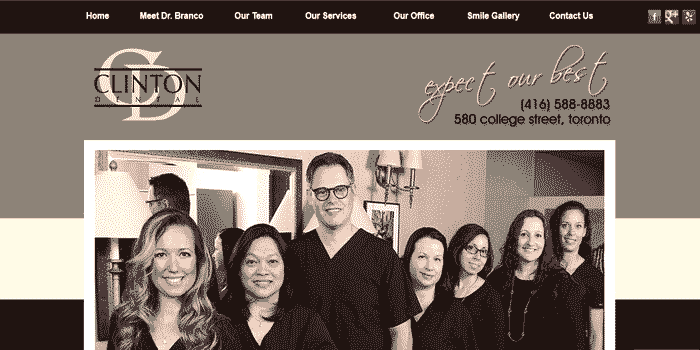 "Usually, going to the dentist is a huge drag that people put off due to fear. That's definitely not the case at Clinton Dental. They work hard to make you feel comfortable and at ease." — Duncan Collis
"Always a great experience! Great hygienists, professional staff, and clean office." — Jessica David, Google Local Guide
"I've been a patient for less than a year, and my experience has been fantastic. Great, clean, friendly environment and staff. I'd be happy to recommend their services to family and friends." — Charles Hammel
With an average 4.6-star Google rating and more than 100 reviews and recommendations, Portrait Dental is second on our list. It is the best-rated family and cosmetic dental clinic on Google My Business. Located in Toronto's Liberty Village, the clinic offers a wide range of services and enjoys several 5-star reviews from satisfied clients, including: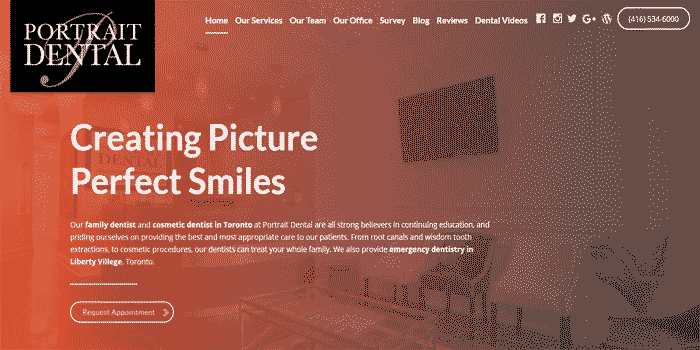 "Great office. Very welcoming staff and my exam and cleaning were thorough…highly recommended!" — Jeffrey Butt, Google Local Guide
"Probably the best Dentist office I have ever been to in my entire life. Well done!! I would absolutely recommend Portrait Dental to anyone." — Derrick B.
"I love this place. My old dentist messed up my tooth and I was referred to Portrait by a coworker. Since my first visit, I have been very pleased with the service." — Olid Ahmed
Established in 1987, this dental clinic has been instrumental in helping the smiles of its clients through quality service. As of March 2018, Dentistry on King enjoys an average 4.9-star rating from 82 Google My Business reviews.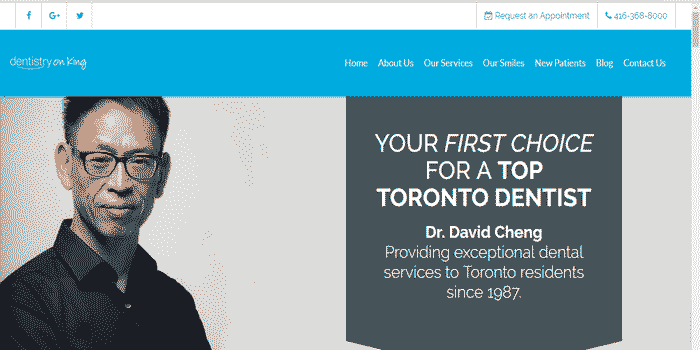 "I have been a patient with Dentistry on King for over 25 years. Dr. Cheng and his staff have continually provided me and my family with the most outstanding dental health service over the years." –Michael Won
"I have been going to Dentistry on King for more than 30 years. Dr David Cheng is not only an excellent dentist but he is a thoughtful and caring individual." — Peggy Helliwell
"I have nothing but praise for Dr. Cheng and his team and I feel like I'm always in safe hands! Professional, friendly and caring. I know I'm getting the best possible treatment and care. Have recommended to friends and colleagues and will continue to do so." — Janice Kahia
This clinic brands itself as a "friendly neighbourhood dentist" in Toronto and earned numerous positive reviews. It is the top 2018 choice for Toronto dental clinics on Yelp — with a 4.5-star rating and more than 50 reviews. Some of the awesome reviews 720 King West Dental receives are: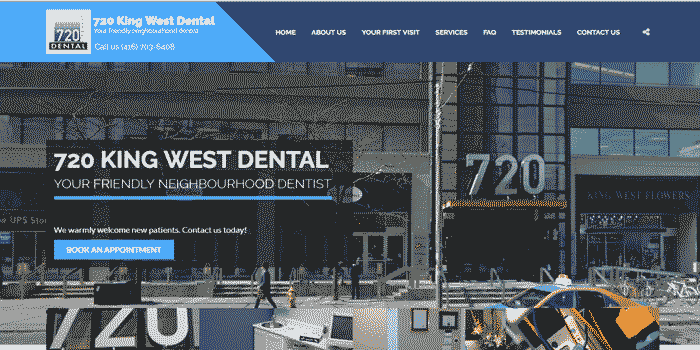 "Referred two friends and will still continue to do so, this dental clinic is the BEST in the fashion district area. Very professional and friendly, the place is so clean that kids even like to stay + play." — Harry P.
"The hygienist was very nice and patient for my first visit. Great environment, comfortable new equipment." — Solina M.
"King West Dental is the best! I've never been happier with a dentist. Beyond the friendly, courteous front desk, you find amazing oral hygienists, and Dr. Sobhi a dentist who goes beyond expectations." — Andy T.
As a family-focused practice, Uptown Yonge focuses on health and confidence. One of the things that draws more clients to this clinic is that its friendly staff offer patients minimally invasive dentistry services, using innovative equipment. Uptown Yonge Dental is among our top choices because of its 4.9-star rating and 19 Google reviews.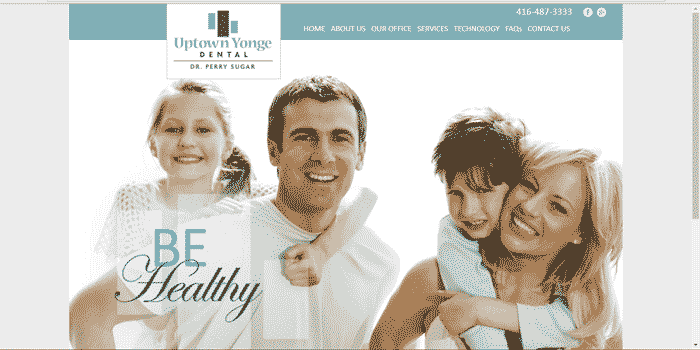 "I have been going to Uptown Yonge Dental for almost two years. The facilities are state of the art. The staff are friendly and kind." — Denise McMullan
"Dr. Perry Sugar has been my dentist of choice all of my life, I would not trust anybody else with my teeth. Dr. Perry Sugar is a knowledgeable and professional dentist with state of the art technologies for efficient and painless free [sic] treatments." — François Gagnon
"Dr. Sugar and his team offers all that I am looking for at a dental office including the latest technology, professionalism, attention to details, friendliness and most importantly, trust!" — Diane Corriveau
6.) Archer Dental Runnymede
It's no surprise this "patient-focused" company is Now Magazine's number one dental clinic in Toronto. Archer Dental has an average 4.9-star rating on Google MyBusiness (out of 39 reviews). Archer focuses on providing customized dental care, making it a hit among clients.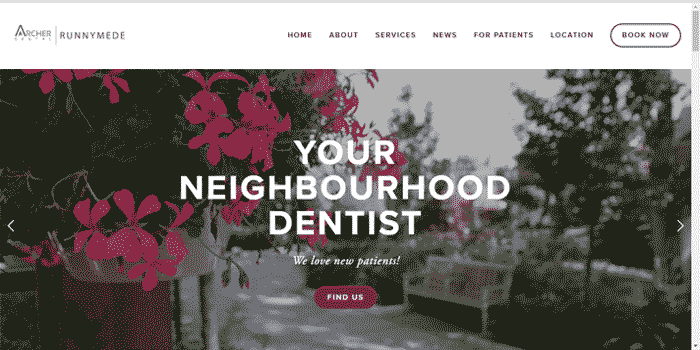 "My experience with Archer Dental has been amazing. Nice staff and super gentle with your teeth! I highly recommend this dental office." — Maricela Gomez
"My husband and I go to Archer Dental, and so far we have had a really great experience with them. The hygienists are also so experienced and excellent with nervous patients. So happy we found this place." — Bethany Browne
"Dental Hygienist Christine is very thorough and knowledgeable in her field. No one has ever done such a fantastic job on cleaning my teeth. I have recommended her to all my friends." — Ariane Kuskis
Committed to their clients' oral and overall health, Adelaide Dental's professionals specialize in emergency dental service. Their dedication to giving clients quality service has earned them a 4.8 on Google.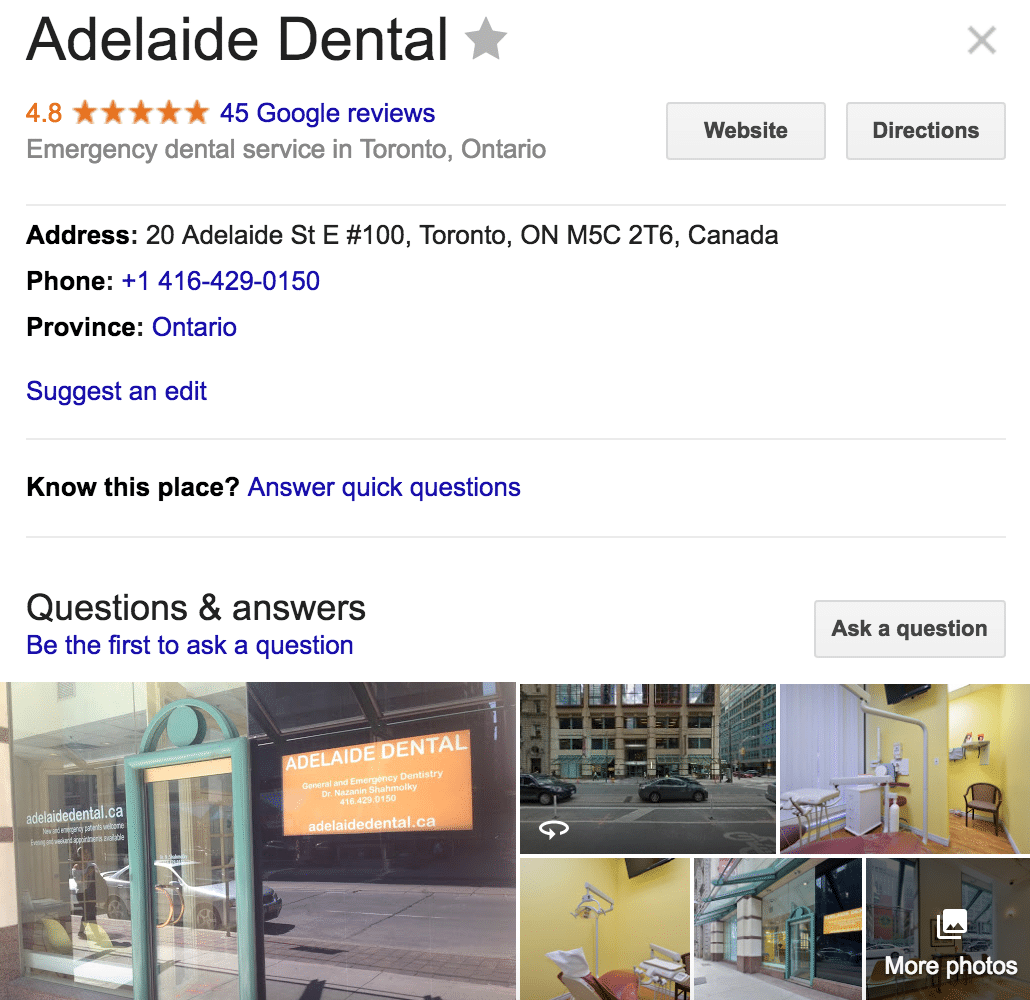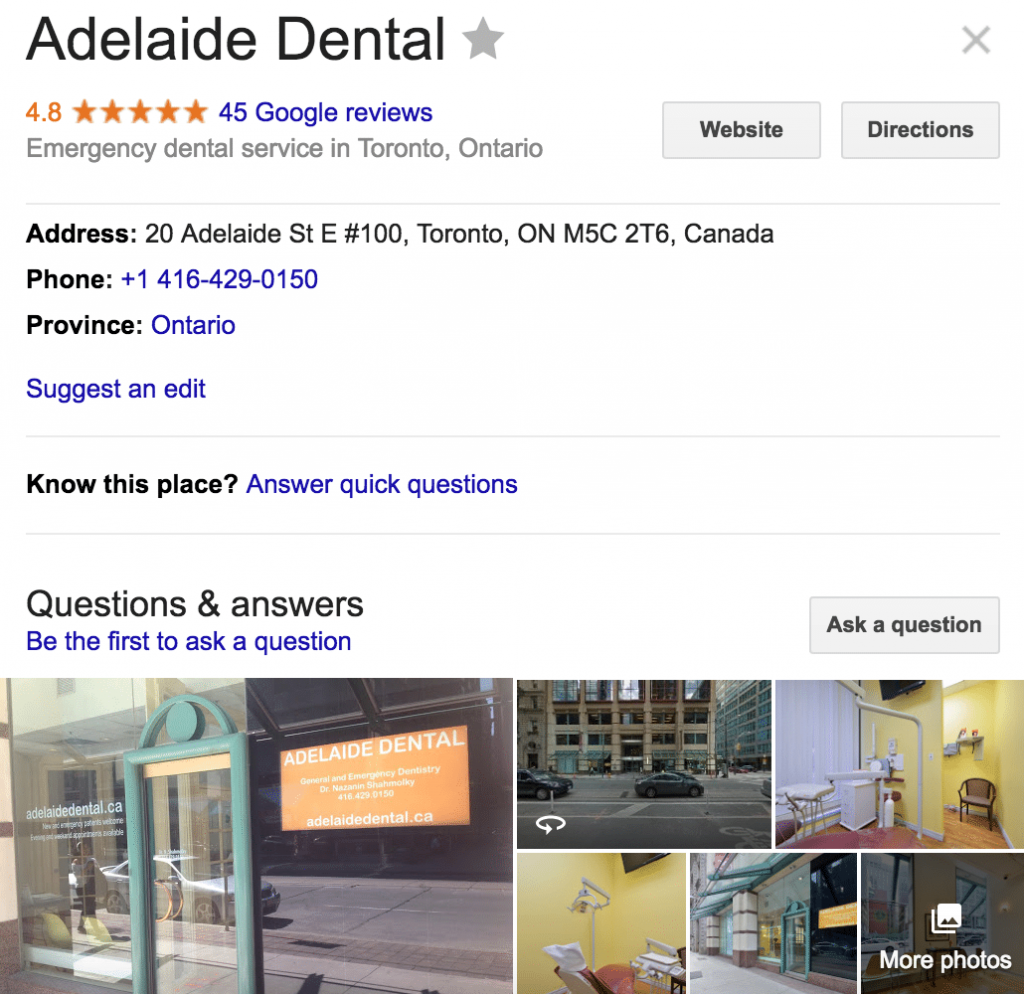 "I got my wisdom teeth removed here 2 months ago. Dr. Shahmolky was quick efficient and very nice throughout the process. She made me feel comfortable and ensured me that she was available if I had any concerns or questions. I 100% recommended this place!" – – Tuhim K.
"I've been a patient at Adelaide Dental for 2 years. They are thoughtful, knowledgeable and patient-focused. They're extremely thorough with cleanings, and are very flexible with bookings (love that they're open on saturdays). They don't direct bill but they submit claims on my behalf, and they have called my insurance provider in the past in advance of my appointment to confirm level of coverage. Really happy with them!" – – Kelsey R.
"I have been with Adelaide Dental for almost 6 years now. In these 6 years I think we have learned about each other a lot, which is what I am looking for, a dentist that is willing to genuinely listen to the clients' concerns or even suggestions." — Henny T.
The clinic's motto is "Dental care that delivers," and their commitment to clients made it one of the top choices on our list. Metropolitan Dental enjoys an average 4.5-star rating out of 21 Yelp reviews. Here are some reviews from clients that shared 5-star ratings: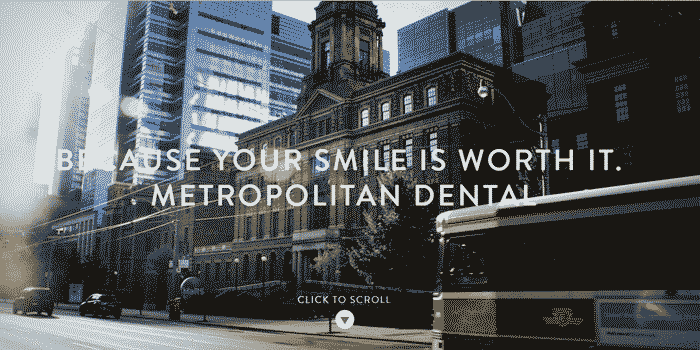 "After moving to the city, I needed a new dentist and found Dr. Kraus. I always had a good experience with all the dental hygienists. I really appreciate having a dentist I can trust and who isn't just looking for $$$." — Lianna P.
"Dr. Platis is a great dentist and for the first time in my life, I go on a regular basis for check-ups and cleanings. The reception staff are especially good." — Chris S.
"I'm joining the Metropolitan Dental fanclub. I went for a cleaning and check-up as a new patient and was thoroughly impressed. It was probably the most thorough visit to the dentist I've experienced." — Chris I.
Aside from having a very professional and active website, this clinic also pulled in 19 Yelp reviews which collectively gave the company an average 4.5-star rating. Dr. Goodman & Associates describes their location as "a holistic multidisciplinary integrative wellness centre" that offers affordable and high quality dental care for its patients.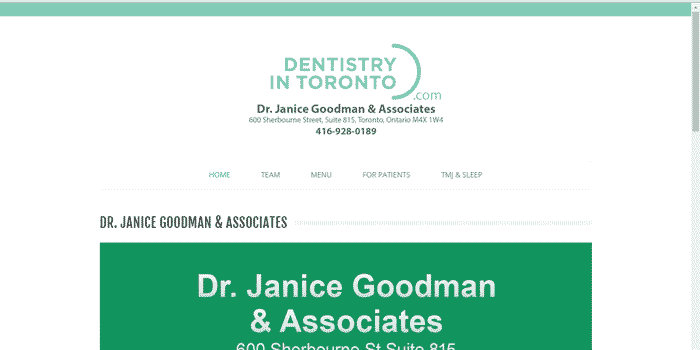 "Dr. Goodman is the real deal. I saw her a few months back for an initial consult and let me tell you, I was very impressed. She went above and beyond. It is obvious she is passionate about her work and taking care of her patients." — Rafael F.
"A great dental office with amazing staff. New to town and needed care urgently, so I called around and found Dr. Goodman's office. The staff were gentle and discussed each step to put my mind at ease. A+" — Eric L.
"Janice is the only dentist I've ever been to (except the most recent time I went, when I got her son!) and she's always been wonderful. Everyone in the office is pleasant and chatty and they're all really great about remembering my name." — Emma A.
This clinic assists its patients in "achieving an ideal state of oral health in a professional, friendly and safe environment." It offers dentistry services for the entire family as well as other cosmetic/dental treatments and procedures. Its outstanding service warranted the clinic a 4.5-star rating out o 13 Yelp reviews.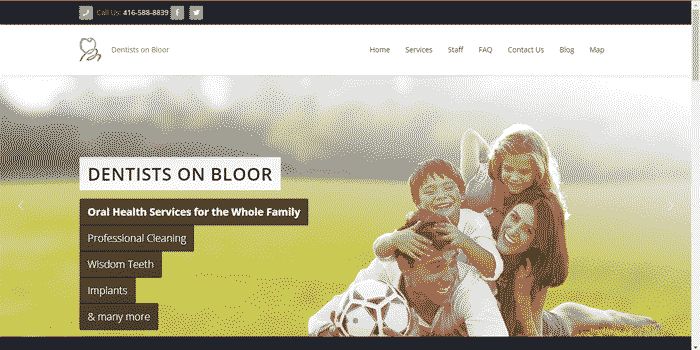 "One of the best dentists I've ever been to. Staff and overall atmosphere is very friendly. The prices are reasonable, which mattered since I have to pay out of my own pocket and Dr. Walden takes the time to listen and educate." — Philipp S.
"Great place! I had not been to the dentist in several years, and went in expecting to be lectured. Instead, I found the dentist to be both pleasant and understanding." — Marie H.
"I first discovered Dr. Walden and her team when I had a dental emergency. They were able to fit me in the same day, within hours, and I had it resolved as quickly as I could hope. I feel really lucky that I found this one!" — Emily H.
To be a top-rated online dentist in Toronto, Local SEO Search Inc. recommends:
Outstanding business practices. A strong dental clinic has established client lists, certifications, qualifications and credentials — and are confident about the services and care they provide. They share their services and philosophy on their website and through social media.
Channels for client engagement. If a dentist's website offers various channels of communication (e.g. email, phone, social media pages) more clients can directly engage with receptionists, doctors, and hygienists, make appointments, and ask questions.
Great consumer reviews and referrals. Outstanding dental clinics have valued patients who give them 4- to 5-star online ratings and positive reviews. Encourage your clients to go online and share their feelings about your quality work.
Dental hygiene is important for everyone, because the mouth is the gateway to overall health. Poor dental habits can lead to tooth decay, gum disease, bad breath, and other serious illnesses. To take care of yourself and your family, schedule a visit with one of these top dental clinics.
Read here for 10 Incredible Dentists In Toronto With Amazing Reviews In 2019