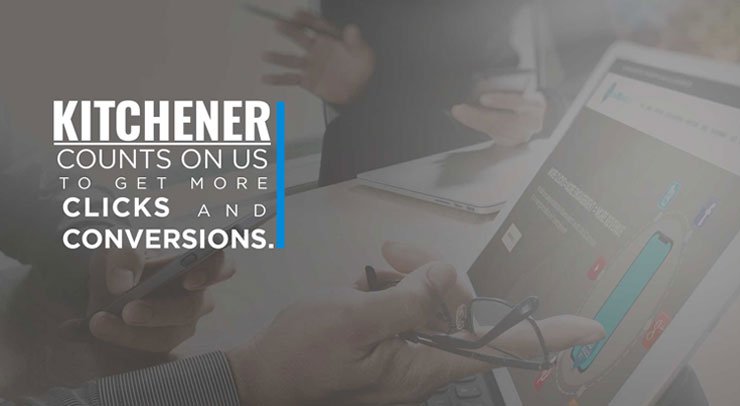 Work with our top-rated agency so you can succeed with a steady stream of ready-to-buy leads
Forget the generic, off-the-shelf SEO marketing other agencies offer. Get unique SEO advice that drives real growth for your company instead.

Click below to call Local SEO Search for a complimentary 30-min consultation with our owner and SEO expert, John Vuong (valued at $199).
Your Kitchener businesses may also qualify for a 100% free in-depth SEO competition and keyword analysis. Entirely unique to your company, this customized audit takes our in-house SEO experts up to 16 hours. (It's what most agencies charge for in your first month of service.)
CLICK TO CALL NOW OR DIAL 1-877-689-5268
Our Kitchener clients come to us with one of two growth problems.
Some are spending too much on advertising campaigns, only to reach people who aren't ready to buy. Normal print marketing, social media and even Google ads can quickly eat up your marketing budget without pulling in targeted customers.
Others are working with an SEO agency in Kitchener but haven't seen success. They're falling behind their industry leaders in search and don't know why their SEO isn't producing.
We help transform businesses like these every day with internet marketing in Kitchener that delivers a real ROI.
Getting found organically through Google search results is the most reliable way to fill your pipeline with quality leads and achieve business success.
But to get that kind of ongoing traffic, you need an SEO agency that cares about your success — and works hard to get it.
Discover the Local SEO Search Difference
GET A FREE CONSULTATION
Winning at SEO marketing takes dedication and a deep understanding of each business' needs. That's where clients say Local SEO Search goes above and beyond, every time.
With Local SEO Search you get:
Experience: We have a combined 40+ years of SEO expertise while serving over 10,000 local businesses in Canada across all industries.
Personal Service: From the first call, you'll notice our boutique agency uniqueness. Our company is built on partnerships, nurtured one at a time. We know what you need and we're only a call away when you need us.
Commitment: We're with you for the long term — and that's why our customers stick with us. To win at SEO services in Kitchener, you need to work with the team that has staying power and the passion to make your business a leader in the market.
Honesty: Customers say they can tell from the start we are on their side. We're genuine, and it shows when we are clear about what to expect from SEO in Burlington, without false promises.
Results: Our goal goes beyond getting you to page one of Google. We want to help you reach success by delivering more of the right leads who convert quickly to customers. We measure our success by your ROI.
"Local SEO Search put us on the map in terms of our digital presence. Thanks to their efforts, our company is at the forefront of offering bus services online in our area. We receive 5–10 quotes per day from our online forum alone."

~ Operations Manager, Parkinson Coach Lines
Let us show you why Local SEO Search is the best boutique search agency for your Kitchener business. Click for a complimentary consultation with our owner, John Vuong.
GET CUSTOM SEO ADVICE — FREE
Feel completely at ease when your business is backed by our team of 30 staff, led by your dedicated SEO specialist in Kitchener — always only a phone call away.
Every step of the process is managed in-house and never outsourced. That's because we want you to have the best possible experience with internet marketing in Kitchener.
From strategy to metrics, we'll have our finger on the pulse of your search rankings every step of the way.
Our clients all over Canada will tell you we form long-term relationships with the companies we help succeed. You can call our customers to hear directly from them why Local SEO Search works so differently than other marketing agencies.
BOOK YOUR CALL
Finally, Get Total Clarity on Your Marketing Returns
You deserve to know what you're paying for when you spend money on marketing. With Local SEO Search, we are completely clear with you on the return on your investment in SEO.
And you don't have to be an SEO expert to track results — we use easy-to-understand reports to show you what new business is coming through search results and how our monthly services are driving more of your perfect leads.
What You Really Need to Rank Well in Search — All Included
Other SEO agencies charge for "additional services" like writing blog content or creating new web pages (this is sometimes called a "set-up fee"). With Local SEO Services, the custom, branded content you need to do well in search is all included.
Completely Done-for-You SEO Services
You're busy running your business and that's why we take full responsibility for your SEO marketing. Whether you want to be more hands-on or turn it over to us completely, we're 100% accountable for the results. That means we take the lead to get done whatever it takes for you to rank first in Kitchener.
Custom Service from Your Own SEO Expert in Kitchener
Feel confident about your SEO in Kitchener knowing it's easy to pick up the phone and reach us live. When you're a local business, relationships are everything — and we value ours with you. Find out why we're known as the SEO team with a personal touch when you book your free call.
Start with a Free Kitchener SEO Consultation
Before you even sign up for our help, we'll show you the Local SEO Search difference. Request your no-cost consultation and see if you qualify for a free in-depth SEO audit — valued at $999.
REQUEST YOUR FREE SEO AUDIT
Too many SEO companies and marketing agencies make big promises, but aren't able to deliver once you've signed up. With Local SEO Search, what we pledge is what we deliver — an unbeatable value.
From your first call, we'll be completely clear with you. You'll only get an offer if we're confident Local SEO Search can deliver measurable ROI in the first year of service.
What kind of ROI? Our customers are paying a fraction of their old marketing spend on traditional advertising and pay-per-click ads. Their phones are ringing regularly and they're closing customers more quickly.
Full-service SEO success packages start at $1,000/month. Every campaign is custom, based on your unique business needs, and pricing varies based on location, competitiveness and number of high-potential keywords you target. Everything you need to get found on search by more ready-to-buy customers is included — with no surprise extras.
Your Kitchener business isn't like any other. Get a custom SEO strategy tailored to your specific success needs. It all starts with your no-obligation, 100% free consultation.
If you're ready to succeed with SEO marketing, you may be eligible for an in-depth competitive analysis and keyword research recommendations report — at no cost. (Valued at $999.)
Fill out the form to book your call with our owner, John Vuong.