Running a childcare centre can be a highly competitive business, made more challenging when dealing with day-to-day operations and government licensing restrictions. Parents can be extremely meticulous when selecting a daycare for the ones they love. Digital marketing and SEO can increase your online presence and Internet visibility.
As a business owner, take your advertising efforts a step beyond your usual approaches. Having the most well-rounded programs and the best teachers is not enough to secure a full roster of little ones in your care. Despite the wonderful, educational environment you provide for young minds and bodies, it's important to find affordable, effective ways to reach your target audience.
Traditionally, childcare centres advertised through flyers, directories, and the local newspaper. However, the efficacy of these particular media is declining rapidly.
Modern parents are almost always on the go and rely on mobile devices to get quick information. Handheld devices, tablets, and computers are used to find child care facilities. Parents and guardians search for pictures of your daycare, the list of programs, and reviews of previous and existing clients via:
online directories
Google My Business Page
social media (e.g. "mom groups" on Facebook)
In today's market, daycare centre directors must establish an online presence for the facility and make information accessible online. If you take advantage of online marketing strategies (specifically search engine optimization/SEO), you can get:
Free Advertising – Google is the number one search engine in the world. Parents looking for a caring environment for children in your neighbourhood will, in all likelihood, input their query on Google. SEO will help catapult your website to the first page of Google's search results, placing your business squarely in front of the buying public.
More Relevant Traffic – Local SEO allows you to target your ideal local audience, aiming specifically for those seeking your services within your area. By optimizing your website, you make information accessible to customers who wish to enroll their child(ren) in a safe child care centre where they can grow and learn.
More Calls – SEO generates greater awareness about your business and makes it easier for potential clients to find and contact you. A well-designed website that is optimized for mobile device accessibility will reach more people who want to learn about your services. This leads to more calls and leads.
Children grow and move into junior and senior kindergarten; making it necessary for child care centres to develop a waitlist and fill open slots in the toddler room(s) as they become available. A strong online presence will allow you to expand your client base and improve enrollment.
One of the best SEO companies in Canada is Local SEO Search Inc. The expert team offers exceptional SEO services that can help a daycare or child care facility reach its target audience and stand out from competitors.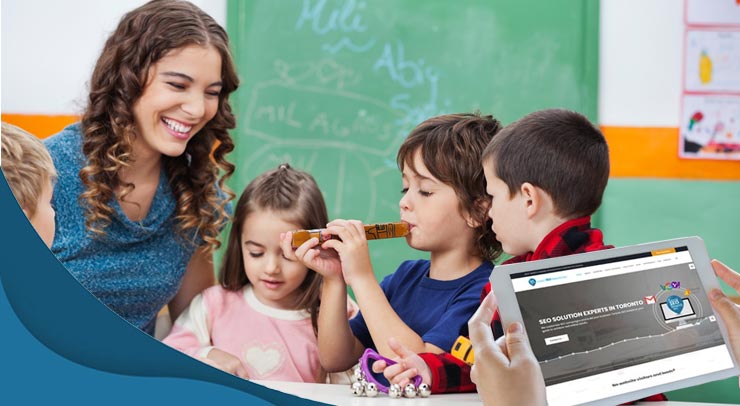 Our SEO professionals optimize your website to show parents why they should entrust the care and education of their children to you. Generate more leads, and fill your daycare centre with more happy children. We understand the challenges of your business, and have the experience to help you succeed. Call us today at (416) 888-8756.