HVAC companies can benefit from online marketing and search engine optimization (SEO). If you're in the heating, ventilation, and air conditioning industry, you may have a good-looking website, but wonder why it's not drawing new customers to your door. There are a number of factors to consider when it comes to marketing your business online. It's vital to stand apart from the competition (i.e. other HVAC providers). It's not enough to have more reliable service, answer every call, have affordable rates, or the quickest response time. You must have strong Internet advertising strategies, in addition to the usual marketing approaches.
Why Marketing Is Necessary
Canada and U.S. HVAC services are influenced by the seasons. In summer, people need installation or services for their air conditioning; around September people need their heating systems prepped for the freezing winter months.
Though many people rely on window units or portable air conditioners and fans, the temperature is rising in North America. When a heat wave hits, you may have a surge of customers looking to purchase and install air conditioning systems. Many of your regular clientele may need yearly AC maintenance, but the biggest source of income for HVAC businesses is wintertime heating services.
Because of the inconsistent nature of the business, it is crucial to have regular leads. That's why you must not only have a well-functioning website, you must be easy to find in online searches (e.g. on Google). By taking advantage of online marketing strategies, HVAC businesses can develop a stream of new and repeat clients throughout the year.
The marketing strategy you use depends on the size of your business (whether you're starting with a small crew or have expanded your business over the years). It's imperative to understand who your customers are, and identify a target audience.
Marketing Strategies for HVAC Companies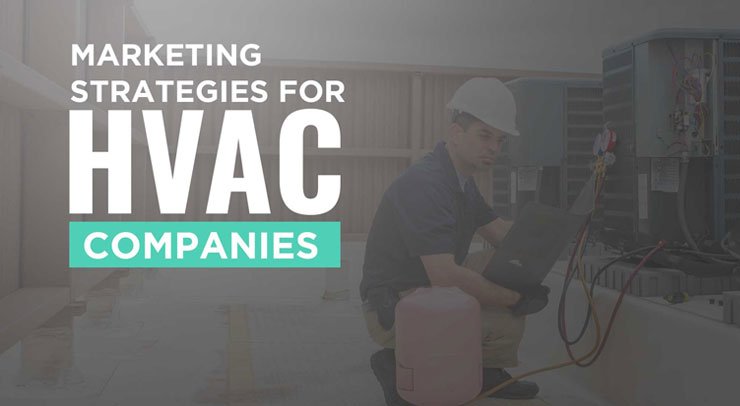 You can advertise your business through:
Flyers (to reach those in need of installation or maintenance)
Local newspaper (to advertise specials)
Radio (for brand awareness)
Online marketing (specifically, SEO)
To identify which strategy to implement, first ascertain the costs involved and the pros and cons of each medium. You want the best return on your investment (ROI), reaching as many people as possible with the least expense. The strongest, choice, with the highest rate of success, is a long-game SEO plan.
Online Marketing and SEO for HVAC Contractors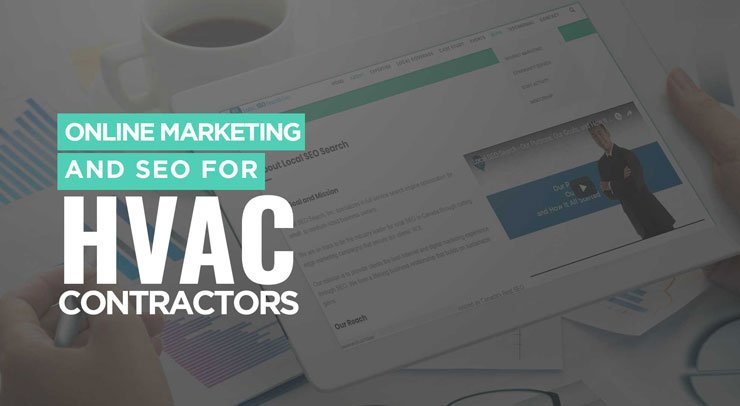 The HVAC industry typically deals with emergency situations. When people urgently need a service, often ask family or friends for references or go online and search for it. Those who go online will search using keywords like:
"heating contractors"
"furnace installation"
"air conditioning services"
"central air installation"
"industrial cooling services"
To further narrow the search, they may also include their area of residence, e.g. "heating and cooling services in Toronto."
With the online platform, you compete with a staggering number of websites and ads that pop up when potential customers make these search queries. To beat the competition, your website needs to be organically placed on the first page of the search results.
Search engines prioritize the websites with the best content and information. They get placement on "page one" of search results by looking at over 200 signals, including:
Time user spends on page
Bounce rate (how quickly someone leaves the site)
Presence of fresh, engaging content
Pages with useful, up-to-date blogs
Social media outreach efforts
Positive reviews
Citations in directories
"Before and after" pictures
To get to page one, websites have to meet the requirements for each signal.
Online marketing, specifically SEO, works for you 365 days a year, 24 hours a day. Once you've organically earned a place on the first page of Google search results, your website becomes among the most authoritative sites in the eyes of search engines.
You won't convert every single person that comes to your website; but as long as you're an option for that customer, you have the opportunity to win them over.
How Local SEO Search Inc. Can Help
Website optimization – Enhance your online presence and promote brand awareness. We analyze your business website, conduct keyword research, and perform all onpage and offpage optimization tasks necessary to get that high ranking on Google. We have a full team of SEO experts to do all of these tasks for you, so you can focus on running your business and answering calls and emails from new customers.
Leads – Our advice is not limited to website design and development and maintaining great ranking; we also counsel businesses on how to handle leads when they call. We help increase the calls you receive; but you need to handle those calls properly when they do come in and not leave it to voicemail. Train your staff to be engaging, helpful, and responsive.
We have years of experience helping businesses in various industries. We're committed to get you the best ROI using our professional SEO services and are recognized as a top SEO company in Canada. Call us at (416) 888-8756. We serve residential, commercial, and industrial HVAC contractors throughout Canada.