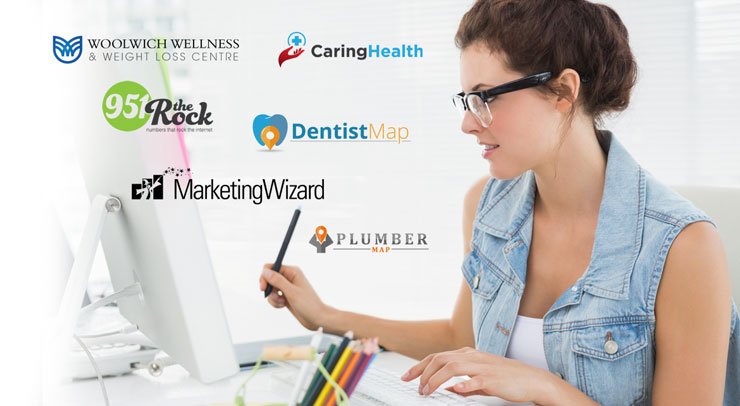 GET A FREE DESIGN CONSULTATION
A logo is a visual representation of your brand. It symbolizes who you are and helps you stand out from other companies. You want your logo design to be unique and recognizable, and to create a positive impression of your business.
Eye-catching, high-quality logos are memorable and help prospects remember your business. Considering that it takes dozens of "touches", or encounters with your company, before a customer will make a purchase, your logo provides the staying power you need.
Great logos encounter prospects wherever they are and pulls them closer to your business.
But it's tough to get high-quality logo design services. And here's the truth.
Most Logo Designs Are Too Expensive — or Too Cheap
There's no question, great logos are valuable. As part of your marketing strategy, it's an investment you pay for once to keep generating leads indefinitely — unlike traditional forms of advertising.
But logo design can be too expensive. You may be wasting money on design if:
You're creating your own logo ideas when you could be spending that time on what you do best
Your business creates your logo without a clear understanding of what works and what doesn't when it comes to logo design
Your logo attracts attention but not the kind of leads that convert to new, paying customers
Some businesses realize they need professional logo design help for their business. But too often, what they get are generic, poorly designed images. Unattractive, difficult-to-read logos don't make your prospects feel they know, like and trust you enough to buy.
There is a better way, though, and it starts with a free consultation.
We'll tell you what's working with your logo, what's not and why — so you can invest in a logo that grows your business the smart way.
LET'S TALK LOGO DESIGN
Creating an Effective Logo
The biggest challenge that a company has when creating a logo is choosing how to communicate their brand message in a single, impactful image. It requires a lot of expertise to effectively communicate through colour, shape, and text.
You also want a logo that will render well in a variety of environments. Successful marketing today requires you to use your logo on your website, on social media, on print marketing, and on promotional items ranging from pens to t-shirts.
Does your logo look great in every environment? Can you shrink it or expand it as needed and still have it be easy to read and understand?
Many businesses find themselves saying no, which means they need to work with a company that excels in logo design.
Get a Better ROI When You Choose the Right Logo Designer
Logo Design Page:

Pricing: $500

We will provide a phone consultation and
brainstorming session with you to get an idea of your business and
what specifically you're looking for.
Our design team will create 6 mockup designs of potential logos.
Once a design is selected, you can make 3 revisions to the logo.
At Local SEO Search, our graphic designers create logos that are simple, memorable, and timeless. Logos like this help you truly stand out. 
The logo design you get as part of your monthly service package is:
Perfect For Your Brand: The image needs to fit your brand identity. We'll create custom logo design that fits the feel of your brand. The colours and layout will be chosen for appeal and messaging.
High Resolution: A poorly-designed logo cannot be made small enough for a pen and large enough for a flyer without losing its beauty and appeal. We will provide high-resolution files which are ready for use in all sizes and environments
Targeted: To appeal to the leads who are most likely to buy what you offer, engage them with your brand, and stay in their memory over time
Our team of graphic designers create logos and content that drive long-term growth — and it's all included when you work with Local SEO Search.
Your Business Is Unique — And Your Logo Should Be, Too 
That's why we do a deep-dive into your business first. Before creating the memorable logo that will draw others to your business, we:
Discover how visitors are engaging with your logo and marketing materials — and where they're getting lost
Determine the best way to visually communicate with colours, shapes, and text
Find out how your company meets customer needs better than others do
Understand what logo design customers need to see to feel confident choosing your business first
Review your competitors' logo designs to find ways you can stand out
Find out how Local SEO Search can grow your business with excellent logo design and SEO when you book a call with owner and SEO expert, John Vuong.
BOOK MY FREE CONSULTATION
Local SEO Search Logo Design and SEO Services
SEO and great logos design go hand-in-hand, and that's why you get both with Local SEO Search.
Your logo design and SEO are planned and developed in-house, with oversight from your account manager. It's a key part of how we work to drive more growth and success for your business.
Logo Design Strategies
During your onboarding process, we create a custom design strategy for your business. We look at what colours your brand currently uses and what logo you might have today. From there, we adjust it to be more engaging, memorable, and easy-to-use.
Timeless and Memorable
It's important to use a logo that won't appear outdated, but also isn't forgettable or bland. The balance of keeping a logo fresh but timeless isn't easy to achieve, but our experts have years of experience. You can trust us to design a high-quality logo you'll be proud of.
Publishing
Finally, you can hand off your logo design confidently. That's because we do the work of publishing and updating your site with your new logo. All images are triple-checked by our design manager before going live and laid out beautifully by our web team.
Consistent Monitoring
A successful design and SEO strategy is sustained by measuring key metrics. We keep track of what's working on your site so we can keep optimizing. We make sure we listen on social media and other websites to track any reactions to your logo or brand. You'll also have our team keeping an eye on your competitors' design strategy so you can stay a step ahead.
Interested in getting a memorable logo to help you stand out? Click the button for your free consultation.
REQUEST A CALL
Why Work With Our Logo Design Agency?
The right logo should delight your customers, drive more high-quality leads, and represent your company online in a way that makes you feel proud. Getting that formula right can't be left to chance.
You need a team that has the broad range of expertise and experience: design, SEO, and helping businesses reach new levels of success. That's what we offer at Local SEO Search.
Your logo design strategy will be led by our in-house Design Manager and a team of skilled design experts. Your logo will be well-designed and optimized for use in a variety of ways — not just to draw attention, but to attract the right potential customers who are ready to buy.
And because we've worked with over 10,000 local businesses all over Canada, we bring a depth of insight other design agencies can't. Local business is our specific expertise. We know what logo designs will appeal to your customers and what SEO helps you stand out from the crowd.
Qualify for $999 in Free Design and SEO Consulting
When you fill out the form to book a call, you'll get a no-obligation, 100% complimentary consultation.
If you're ready to grow with high-quality logo design, you may be eligible for a FREE in-depth competitive analysis and keyword research recommendations report. Valued at $999, this report is what most companies charge for in the first month.
When you have data-driven insight, you can finally design a beautiful, optimized logo that helps grow your business even if you don't use traditional advertising at all.
Fill out the form and we'll book your call with owner, John Vuong.