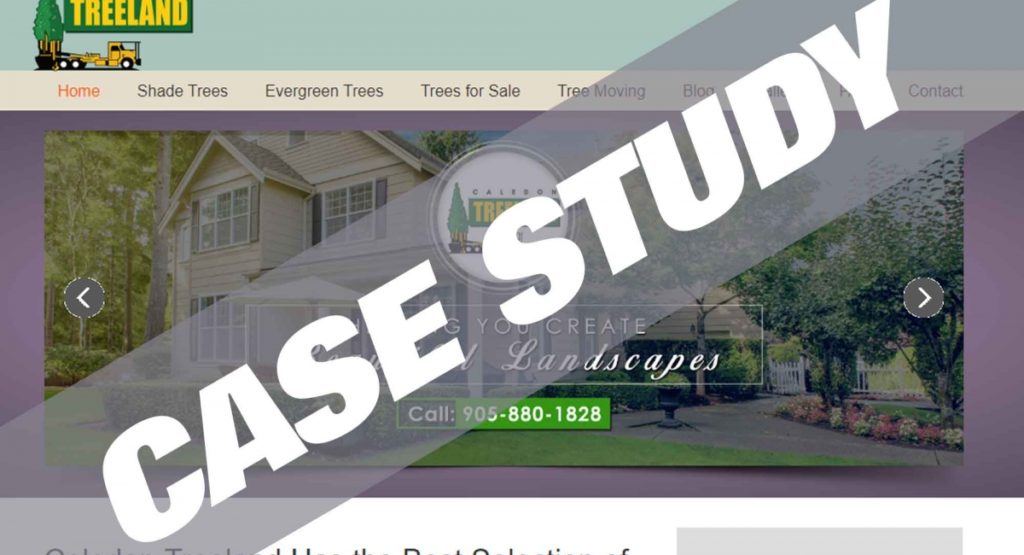 "Local SEO Search's efforts have helped significantly improve website traffic, generating more sales leads as a result over the course of the relationship. Proactive and responsive in communication, working with them continues to be a seamless, open process." — Rudy Wall
About Caledon Treeland
Caledon Resources Limited, more commonly known as Caledon Treeland, is a family-run tree nursery owned and operated by Rudy Wall and a team of approximately 10 people. They have over 20 years of experience in providing residential and commercial sites in central and southern Ontario with shade trees and evergreens of varying sizes. With the use of heavy machinery, Caledon Treeland, supplies, transports, and plants mature trees (of up to 30 feet tall) at competitive prices.
Because local laws dictate that fences cannot be higher than eight feet, Caledon Treeland can plant trees that offer homes, offices, and other properties added aesthetic appeal, privacy, a deterrent to trespassers, and protection from strong winds.
Objectives and Challenges
Caledon Treeland offers a natural alternative to fences in order to help owners both beautify and safeguard their property. To expand the client base, and ultimately boost sales and revenue, the business first needed to draw more people online to learn about them and what they offer.
Without a typical retail storefront, Caledon faces the challenge of increasing visibility and establishing greater brand awareness. To make these improvements, they opted to build a website to better reach local customers through the Internet.
To continuously manage their site and care for the digital marketing and search engine optimization (SEO) campaign, they hired an SEO service provider. Unfortunately, after working with a few agencies, the results remained unimpressive.
"We were looking for a vendor that could help optimize our website and generate more leads. We'd worked with a few other SEO vendors, but weren't happy with the results." — Rudy Wall
Working with Local SEO Search Inc.
Local SEO Search Inc. owner and president John Vuong approached Wall personally to present a plan. Wall remarked on Vuong's confidence in his agency's ability to assist Caledon Treeland in generating better visibility online. In January 2015, both parties struck a partnership and have worked with each other since.
According to Wall, Local SEO Search Inc. differs from other organizations. John's team  does not rely heavily on typical office bureaucracy. Wall communicates directly with Vuong when he has any inquiries or the site needs new keywords or improvements. Vuong's hands-on approach means he personally delivers regular analytics reports and is very responsive to communications.
"Compared to other vendors I've worked with, Local SEO Search is a lot more effective in generating results." — Rudy Wall
Solution
The primary goal of Caledon Treeland was to generate more traffic to the website, which would mean additional leads and more conversions. To achieve this goal, Local SEO Search Inc. helped improve their website on three fronts:
Landing Page Setup – To guide online visitors interested in Caledon Treeland's services, landing pages for each product and service were set up to lead potential clients immediately to the relevant information.
Keyword Integration – Relevant keywords were carefully selected with the combined effort of both parties. The chosen keywords were then incorporated throughout the website without overusing them.
Blogging – Through blogging and content marketing, Caledon Treeland is able to maximize the use of their keywords and establish themselves as an authority and expert in the field. The website's blog provides both potential and existing clients important information on how to select a specimen suitable for their property, how to take care of their trees, and various related topics.
Results
"Local SEO Search helped us increase sales by around 10-20% over the years we've worked with them. They've significantly increased overall web traffic to our site." — Rudy Wall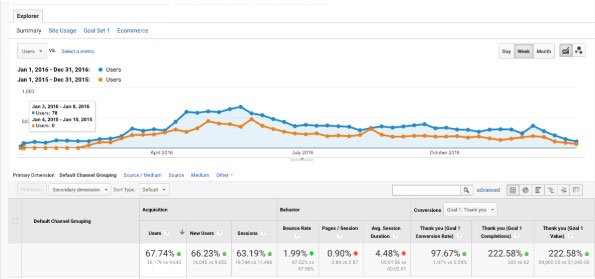 A year after Local SEO Search Inc. took charge of the website, the campaign increased traffic by over 67%, decreased the bounce rate by 2%, built conversion rates by 98%, and (according to Wall) grew sales by up to 20%.
In the three years that Caledon Treeland has worked with Local SEO Search Inc., the online marketing and SEO efforts continue to successfully improve both website traffic and sales. As of 2018, the partnership remains strong and the campaign is ongoing.