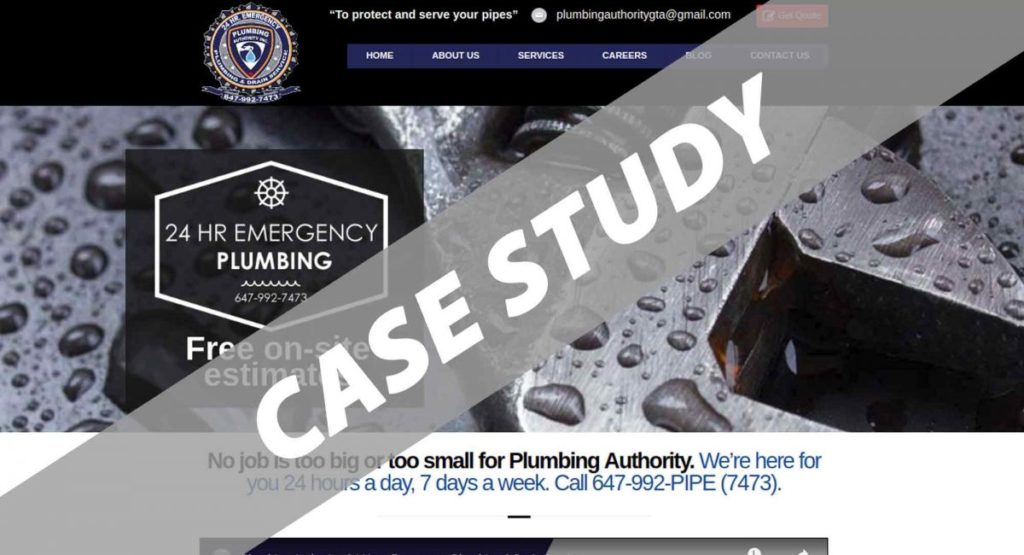 About Plumbing Authority
"No job is too big or too small for Plumbing Authority."
Plumbing Authority is a plumbing and drain service in Ontario owned and operated by Robert Bell. With over 20 years of experience in identifying, preventing, and dealing with various plumbing problems, their main objective is "to protect and serve your pipes."
Their services include:
Waterproofing
Drain snaking
Excavation
CCTV inspection
Pipe-line locating
Plumbing repairs
24-hour emergency assistance
The team at Plumbing Authority does their job using state-of-the-art equipment. CCTV (closed circuit television) cameras can locate clogs and blockages and aid in excavation procedures to make sure utilities and gas lines are kept safe during a dig.
Clients laud Plumbing Authority for their speedy, efficient service performed by knowledgeable professionals who provide expertise at a reasonable price.
The Objective
When Plumbing Authority first set out to find a search engine optimization agency in 2016, they had absolutely nothing in terms of online presence. Their goal was clear-cut: develop a website, begin a search engine optimization (SEO) campaign, and, ultimately, grow the business.
The Solution
To establish the plumbing business' presence online and kickstart an SEO campaign, Bell worked hand-in-hand with Local SEO Search owner, John Vuong. Vuong's team developed and designed a website to showcase the company's services. Included in the package were various SEO strategies the company needed in order to get more customers and higher search engine rankings, like organic keyword research and on-site SEO.
In addition to this type of research and analysis, LSS also incorporated client reviews and testimonials into the company's website. To this day, we continue to update and test the website to make sure it's up to par and that Plumbing Authority continues to expand their bottom line.
The Results
"They've taken my company and transformed it online." – Robert Bell
LSS produced a high-quality website that Bell says meets their needs perfectly. By developing and designing the website, the Local SEO Search team took the company and built its online presence from the ground up. This, along with keyword placement and other techniques, Plumbing Authority's target market is more aware about who the company is and what services they offer. With a stream of new leads drawn to the site, Plumbing Authority has been able to expand their local reach, and build their business.
"Organic keyword search has been something that's key to the growth of our company." – Robert Bell
Bell also expressed his appreciation of the LSS team's willingness and patience to walk him through and educate him on the process of SEO. He is also grateful for how Vuong involved him in every step of the process and always kept him in the loop.
"Without their patience and ability, I would be paying the cheques every month without being fully aware of what they were doing." – Robert Bell
Working with Local SEO Search
Before choosing LSS, Bell states that it was "crucial that I find someone that I can trust and has the patience to walk me through everything they do." He interviewed other internet marketing companies but was adamant about finding someone with whom he was comfortable and a company that had his "best interest at heart."
Local SEO Search has met these expectations. What ultimately sealed Bell's decision to work with the team were the results LSS achieved for other businesses in the plumbing and drain industry. He recounts visiting these local companies and noting how they were constantly receiving phone calls.
"Their phones would not stop ringing…It was very clear to me that if the same name always delivers, it's a no-brainer to sign them." – Robert Bell
Bell works directly with Vuong, and while the primary means of communication is via phone call and text, they also schedule time to see one another in person. Bell goes on to highlight how he values Vuong's authenticity, which gives him confidence and security in the partnership.
As for the LSS team, Bell notes that it's composed of perfectionists and commends their attention to detail when handling tasks on the website.
"They go above and beyond, which is a very rare quality in this day and age." – Robert Bell
Bell hopes that Local SEO Search will expand their exposure on more platforms "so that more people know they can be trusted with a growing business."