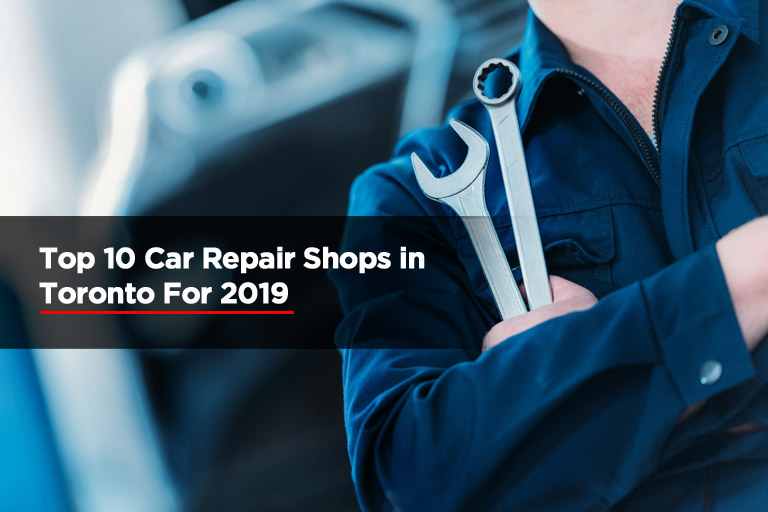 We rarely realize how much we rely on our cars until something goes wrong. Whether you need a minor repair or the car stops running and needs an overhaul, it pays to know what car shops are the best in your area.
Who should you contact if you have car trouble? Here are the 10 top car repair shops in Toronto for 2019.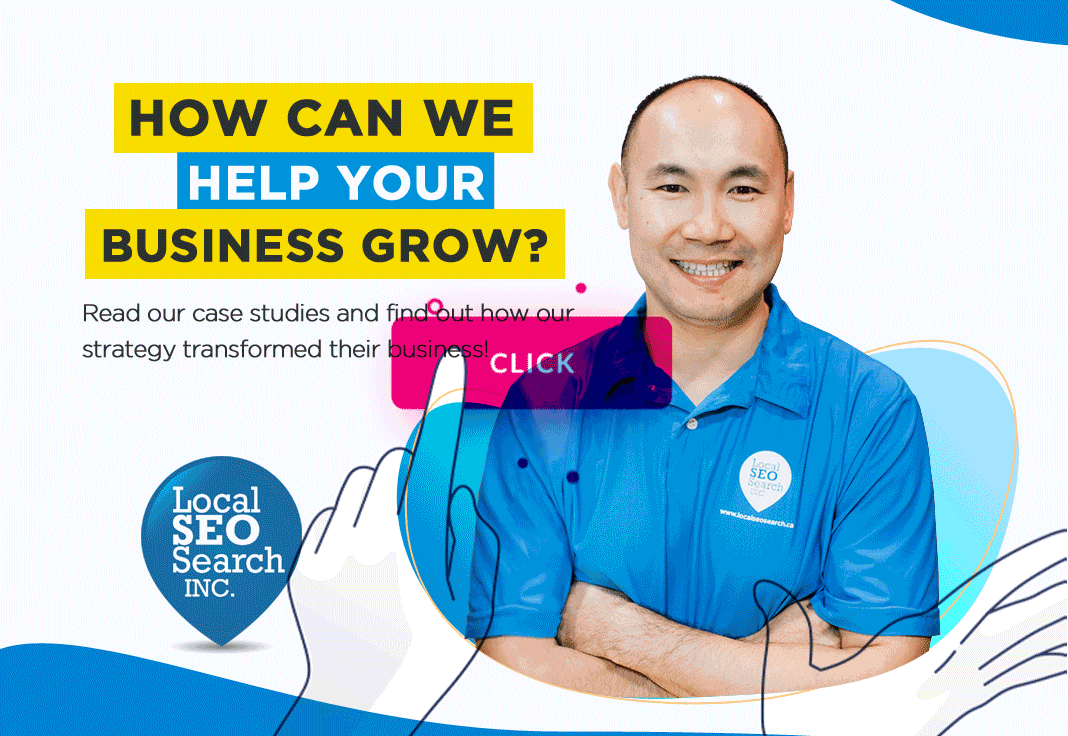 Top 10 Car Repair Shops in Toronto for 2019
1. Fiix. Need a car repair but don't have time to go to the shop? Not a problem – when you call Fiix they come straight to you. You'll need to let them know what's wrong or what problems you've noticed, pick a date, time, and location, and they'll come take care of it.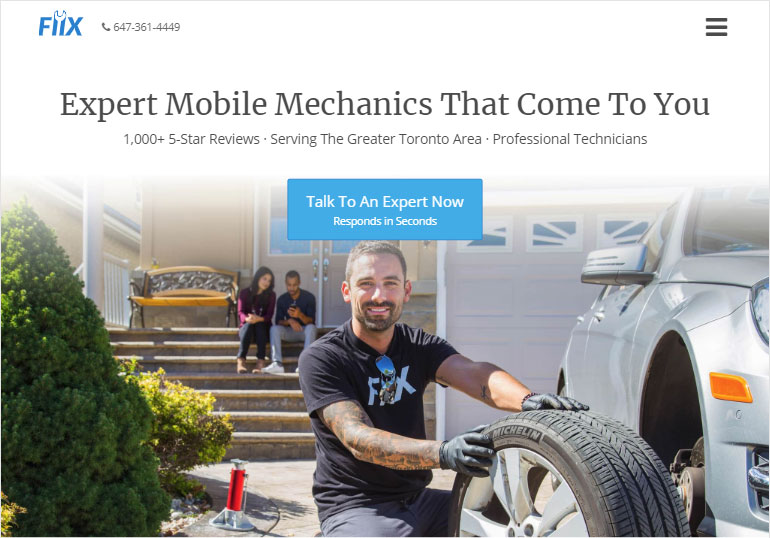 "My technician was great. Very friendly and left my place spotless. The price is also reasonable. I highly recommend." –Larry Salazar
"They were very professional and showed great concern for me and my car. Had it repaired in a timely fashion and I felt grateful for that! I will definitely choose them again." –Gary Wood
2. Dupont Auto Repair. Whether you have a foreign or domestic car, Dupont can take care of the repairs you need. They focus on the values of honesty, reliability, and excellence. With an average customer rating of 4.7/5 stars, you know they provide great service.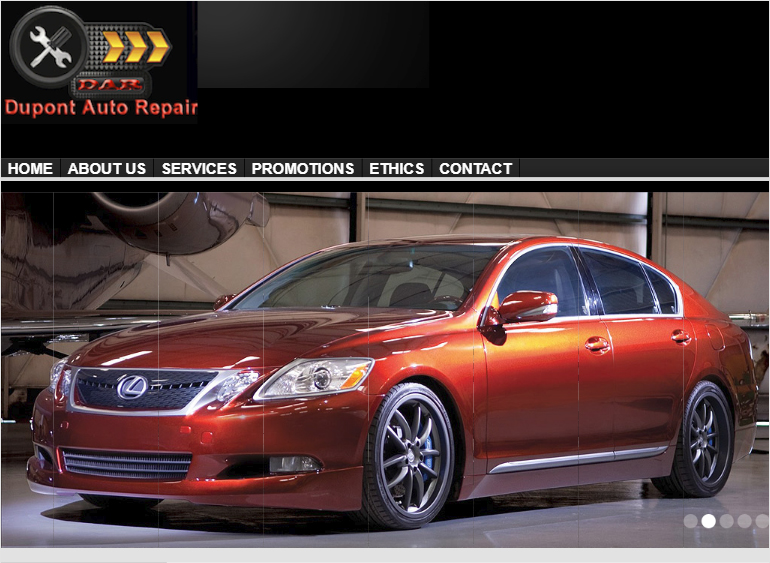 "This is the only place I'll take my car. It's very common to feel like you're getting ripped off or lied to at a mechanics, and these guys are honest and hard-working, and just want to see your car fixed. They're speedy and they do great work. I've taken my Jeep to them a number of times and have always been completely satisfied. Everyone I've interacted with there has also been very friendly and great to work with. Highly recommend!" –Shannon T
3. Car Quarters. In business since 1985, this company has a long history of providing great car repairs and service. They can provide mechanical and collision repairs, along with car restoration.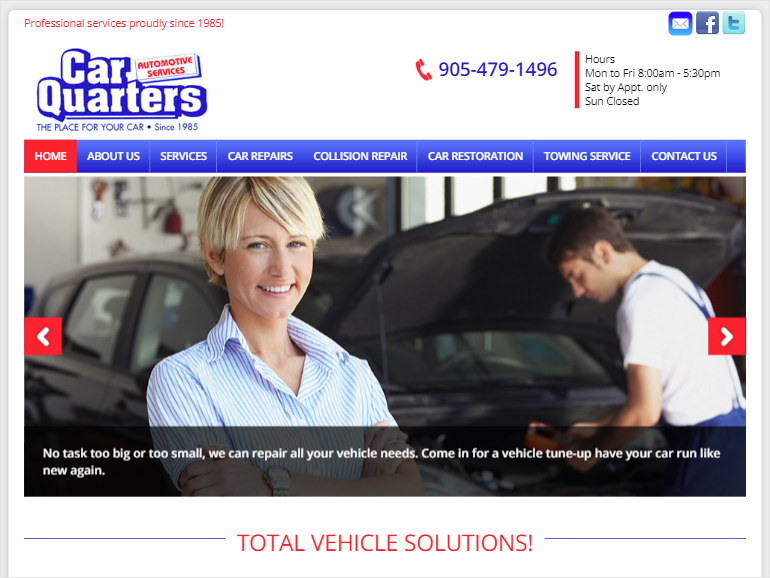 "Their service is beyond expectation. Great staff! Friendly and responsible. I was thrilled with their service and I highly recommend it." –Katayoon Bidad, Local Guide
"Helped me out with a much-needed repair patch to exhaust train, even though I was basically a walk-in with no appointment on the Tuesday after a long weekend. All staff were friendly and helpful. Thank you!!" –Ryan M, Local Guide
4. Palden's Friendly Auto Repair. Whether you need an oil change or a major repair, Palden's is focused on exceeding your expectations. They offer diagnostics, inspections, glass services, and mechanical repair. You'll be sure to get great service at Palden's.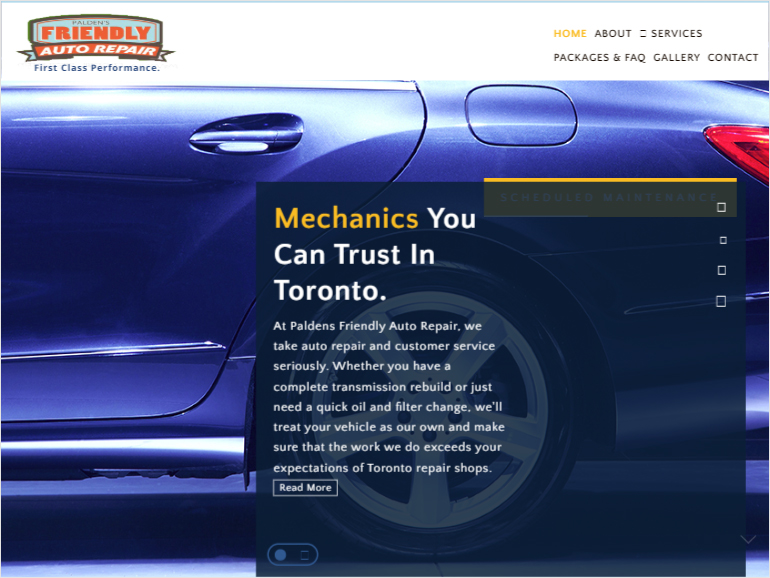 "I've always had a good experience here. All the staff there are friendly which is a nice bonus. Prices are fair and the work is done as expected. I shall return!" –Robert Weaver
"This place is, without a doubt, one of the best. The owner himself and his employees are wonderful, humble and well experienced in their work. No unnecessary charge at all." –Sangay Wangdi
5. Go Wrench Mobile Auto Technicians. Another mechanic that offers to-your-door service, Go Wrench has been operating in Toronto for many years, and they offer over 500 services that can be completed right in your driveway. With a 4.8/5 star rating in 179 reviews, you know they're doing something right!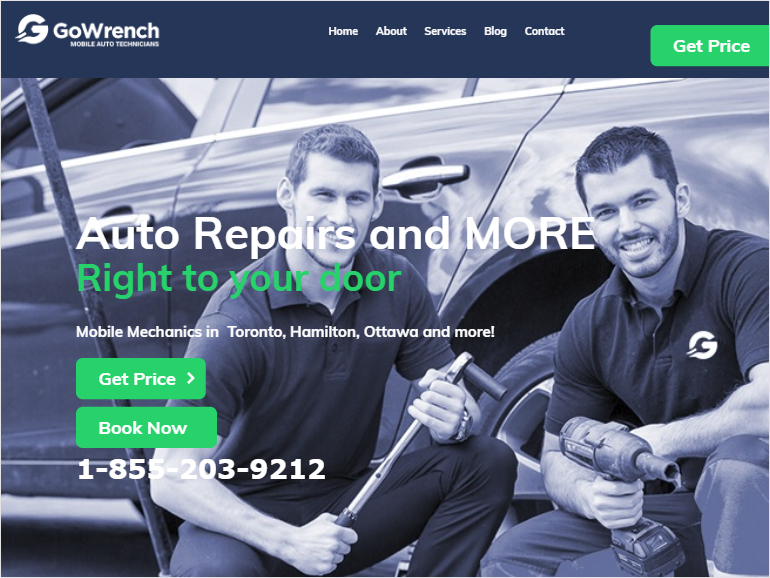 "Great guys, I needed brake lines changed on my 68 Charger. Jason came exactly on time. Did the work and they left after my satisfaction. I called them out again to have the transmission oil gasket changed. Again, Jason came out at 9am sharp as stated; changed the gasket, was very thorough in cleaning out the pan, applying the seal, and gasket. A wonderful experience. Everything was texted to me in advance after booking including an estimated competitive – if not cheaper cost than the shops. Keep up the great work guys." –Mo Zach
6. Spadina Auto Service. This car shop has been serving Toronto since 1971 with a variety of full-service options and repairs. They have hours available Monday – Friday and Saturday, giving you a lot of flexibility in scheduling your repairs. Happy customers have given them an average of 4.8/5 stars in over 300 reviews.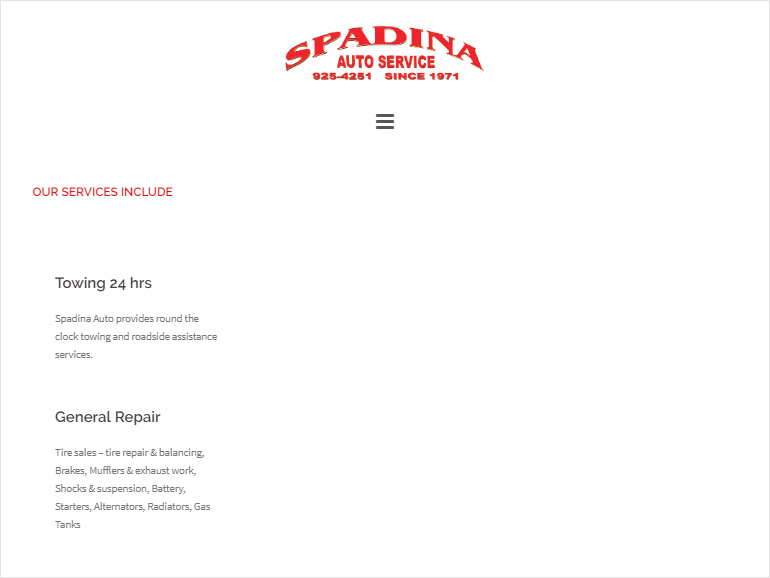 "Wayne is one of the best. Since moving to the area I'm glad I've found the garage as he and the rest of the staff are top notch. Not only will they get your car serviced fast and efficiently, they are completely fair in terms of pricing and won't ever recommend extras that you don't actually need." –Ryan Fitzgerald
"I have been going to Spadina Auto for years and have always received great and reliable service. Wayne and his crew are friendly, upfront, transparent about cost, and accountable for their service. They go above and beyond to get the job done quickly. I highly recommend this garage!" –Erin Leslie
7. JK Auto Garage. With more than a decade of experience in the area, JK Auto Garage offers all types of repairs on domestic and imported vehicles. They focus on performance, great value, and customer satisfaction. With an average review of 4.6/5, they are doing well!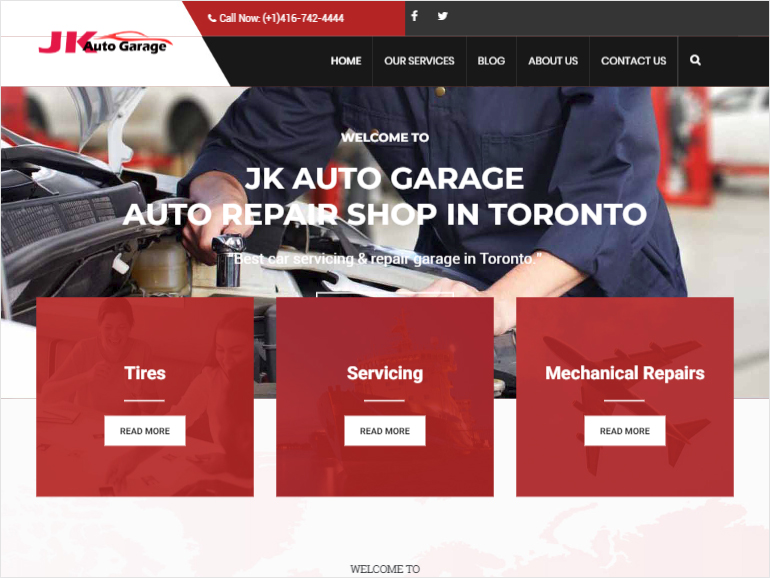 "I love this place. The people seem to be very honest and very trustworthy. We never feel like we are taken advantage of. They never push any service on us and seem to have awesome prices on tires and mechanic services. Finally found an honest auto garage and mechanics in the area." –Mick S.
"Knowledgeable and competent. Does great work. Great recommendations for your car services!" –Olivia Gardner
8. Fine Auto Repair. Are you looking for a reliable auto shop with over 50 years of combined experience? Fine Auto Repair may be just what you need, especially if you have a Fiat or Alfa Romeo. They service all types of vehicles and have reviews that average 4.7/5 stars.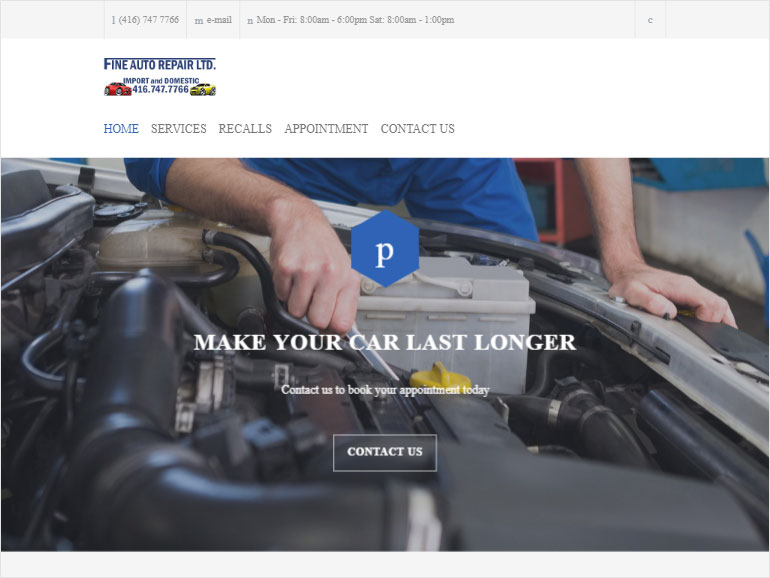 "Simply wonderful. We were passing through Toronto on a Saturday morning when the rear suspension on our car went. This place was the closest so we gave them a call and they were able to help us out immediately. Awesome service. In and out within 2hrs.. they had to order the parts even! 5-stars" –Taylor Wright
9. Mundial Auto. From routine maintenance to complex repairs or even body repair and paint, you can rely on Mundial Auto. This shop's years of experience and focus on excellent service and quality means this is one of the top car repair businesses in Toronto. Their reviews are excellent as well.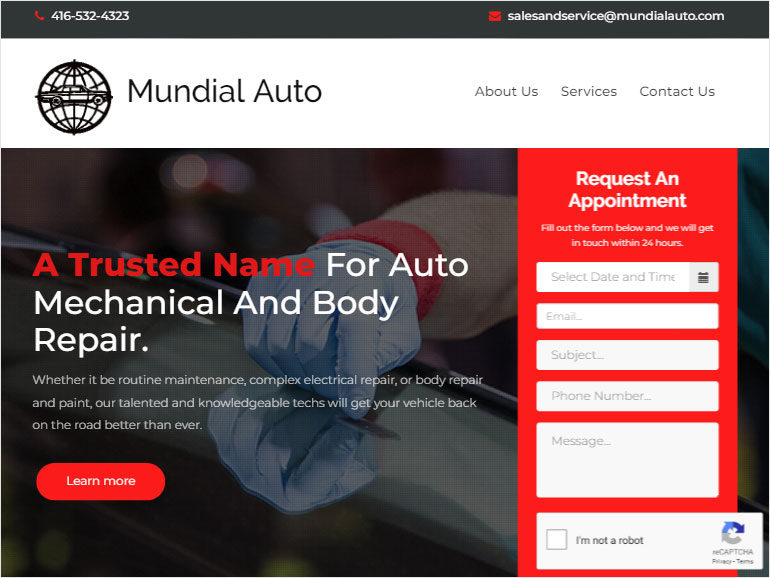 "I had a few deep scratches on the bumper of my relatively new car and these guys did their magic and now it looks like new. I haven't dealt with them with any mechanical fixes yet but now I know that they are indeed good with body repair." –Danil Saniapov
"Won't take my car anywhere else!!! So happy I was introduced to these brothers that run this shop. Honest and do great work. Can't ask for anything else. Thanks guys" –Bobby K, Local Guide
10. Eurotech. This shop specializes in repairs for European car models, though they take care of all kinds of autos. From tune-ups to maintenance to tires and brakes, you can rely on them to take care of your import. Their commitment to excellence can't be denied.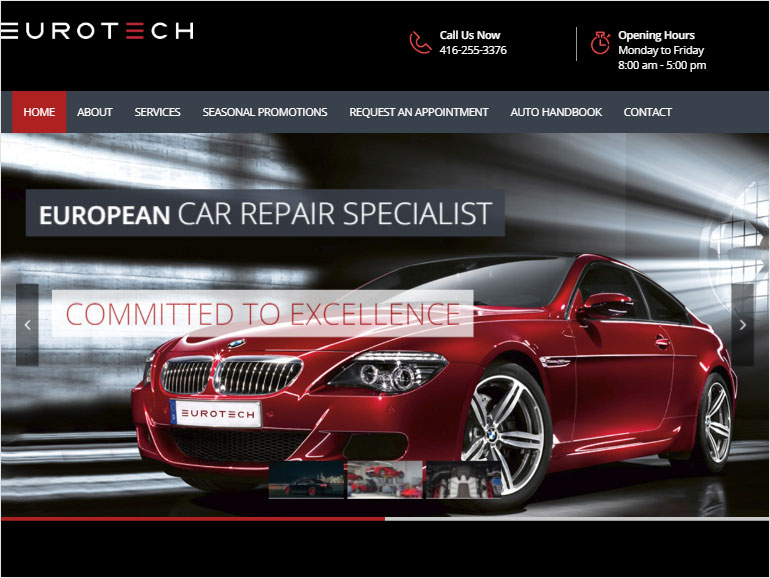 "Honest shop with Great Mechanics! Been coming here for years with different vehicles and whether you have a European luxury car or an old domestic, they will take care of your vehicle and solve the problems. They stand by their work and have an awesome waiting room." –Trevor McCartney
"In this world, it is EXTREMELY difficult to find individuals with whom you can trust. Jamie, Frank, Joe and all the staff at Eurotech are experts in what they do, provide amazing and reliable service, always accommodating and friendly and are the only ones I would ever trust with my vehicles. They have earned that trust for over 25 years of exceptional service!!!! Honest, trustworthy, reliable, knowledgeable, cordial service at fair and reasonable rates. If you're thinking about bringing your vehicle to Eurotech, you will not be disappointed!!!!!"
How do you know you've discovered an incredible auto shop? We recommend looking for these features.
The Ability to Service a Variety of Cars. While some car shops are able to offer special care to specific models, the best auto shops in Toronto are able to help you with any car, foreign or domestic.
Convenience. Whether they offer Saturday hours or are able to come to your home for repairs, finding a shop that offers appointments that work with your schedule is essential.
Great Customer Reviews. No one knows a shop better than customers who have gotten service there. You can trust the great reviews from these 10 top car repair shops.
We need our cars to get to work, school, and carry out our daily lives. Having an auto shop you can trust can help remove the stress of wondering what you'll do if your transportation breaks down. These 10 shops are a great place to start!
Related Posts