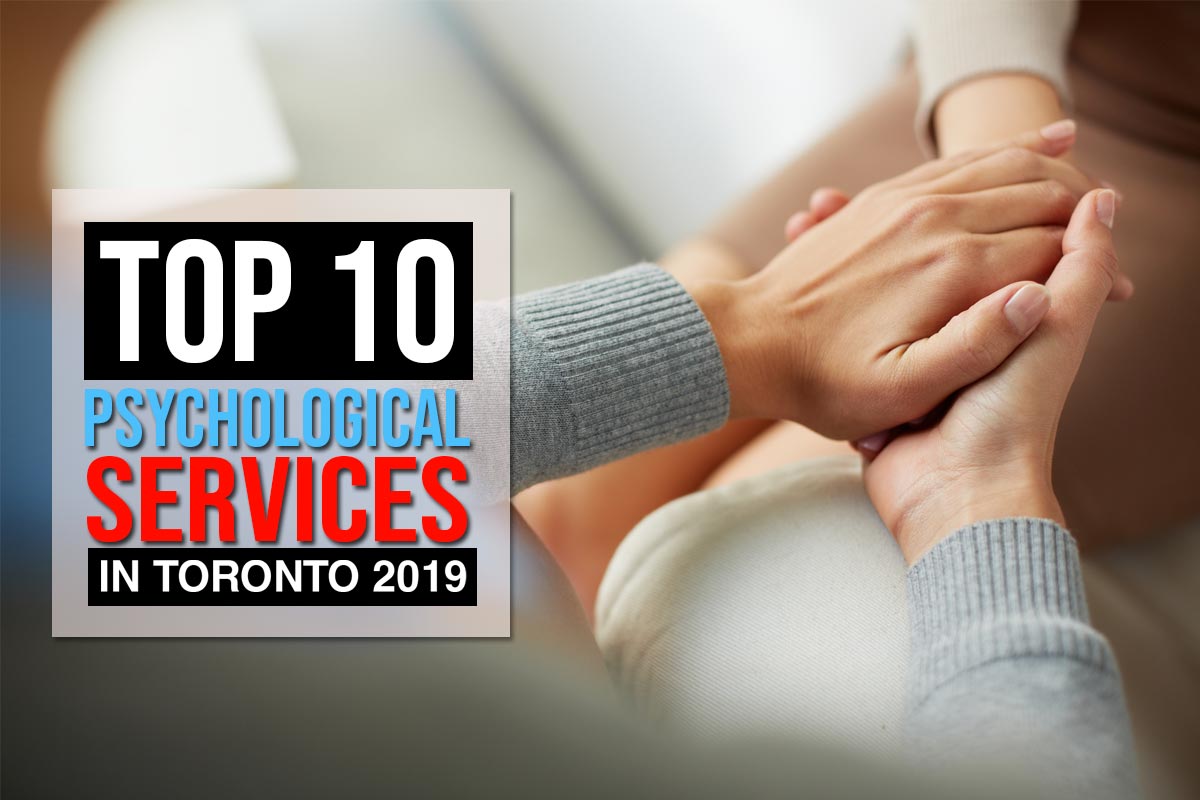 If you need help with your mental health, it's important to reach out to people you can trust. Fortunately, there are psychological services in Toronto that can help. These professionals are available to help you with whatever issues you are struggling with.
Who should you contact if you need help with mental health? Here are the top 10 psychological services in Toronto for 2019.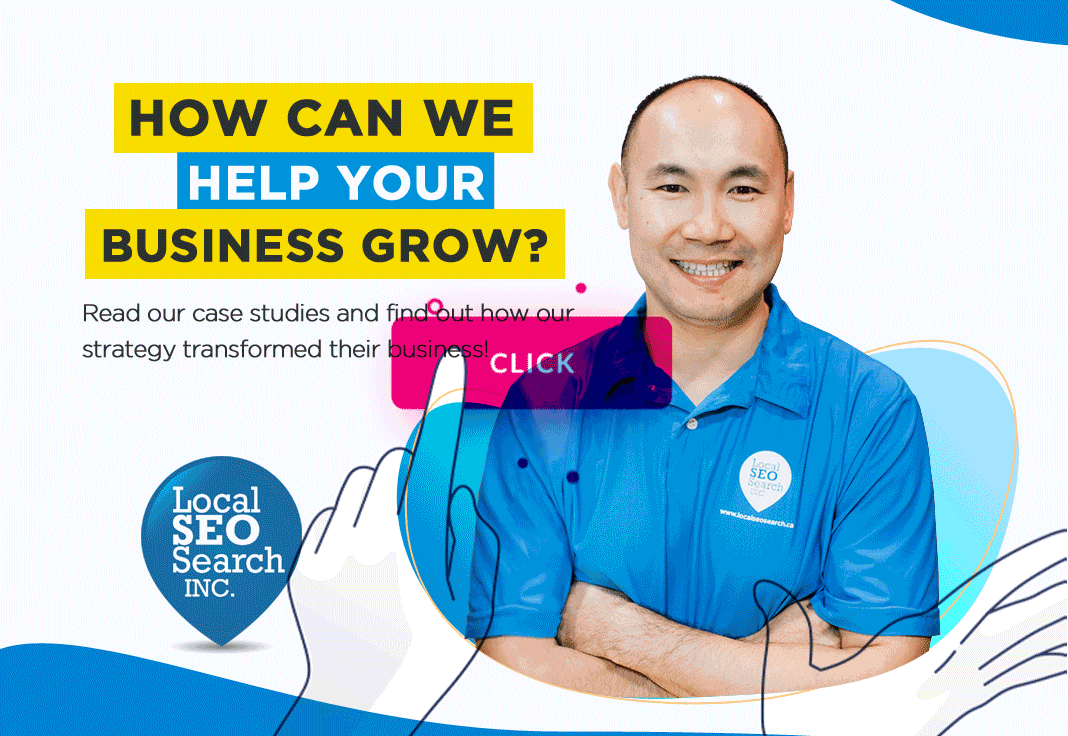 Top 10 Psychological Service in Toronto in 2019
1. CAMH. CAMH is a great place to start if you're concerned about your mental health because they offer both online courses and in-person services. They serve Canadians and families of all ages with a wide range of clinical care. With a focus on scientific research and a rating of 4.5/5 from happy clients, it's a great clinic for your needs.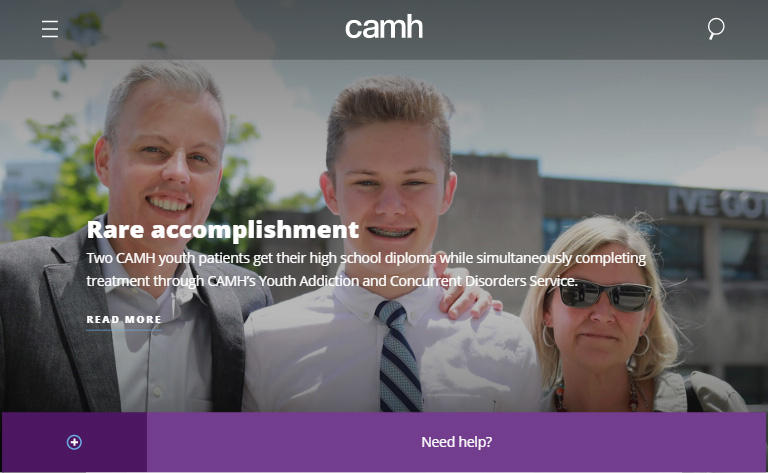 "Always there to help." –Christel Barton, Local Guide
2. KMA Therapy. If you're interested in a cozy and caring treatment experience, KMA Therapy is a great option. You receive a 30-minute intake session to explore your needs before being connected with a therapist that is the best fit. Whether you struggle with anxiety, depression, addiction, phobias, or other trauma, KMA is there to help.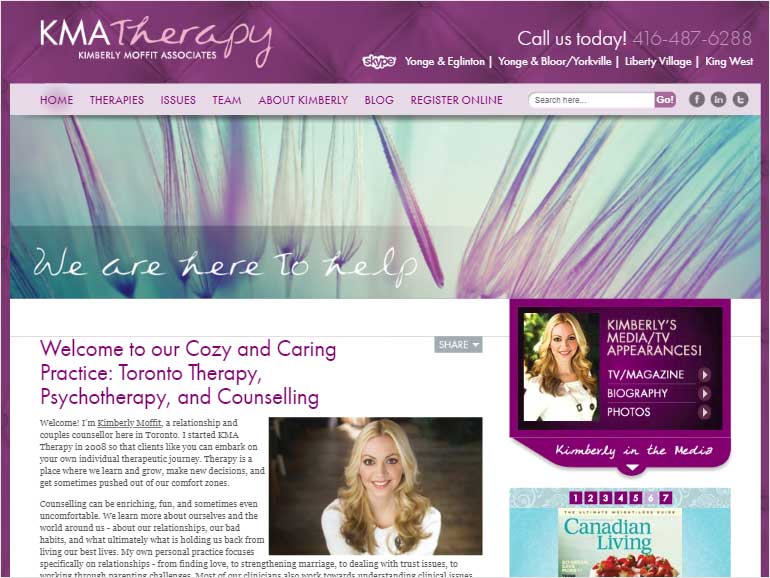 "Friendly staff and helpful therapists. The intake meeting was quick and I started working with a therapist quickly, unlike other therapy offices that had wait times of six months. No complaints about the company, only that the building doors lock at 7:30, I feel bad making whoever is at the desk come down to let me in." –Christopher Gyorffy, Local Guide
"My sister recommended me to a psychologist at this clinic and I was not disappointed! All of the staff at their clinic are very friendly and knowledgeable. It is so rare to find a clinic where they truly care about their patients as much as this team does. Thanks KMA Therapy! Highly recommended!" –Thomas Wyren
"Kimberly Moffit and Associates is simply amazing. When I first found them online I just thought to myself why not try it out and see where it takes me. To be honest I didn't think going to a psychotherapist was that big of a help, but Kimberly has been there all the way and pretty much helped me get through my problems and goals in life. I am proud of myself for going to Kimberly for help, not only did it help me get back up on my feet but I realized many things. She is an amazing psychotherapist to go to, friendly staff and beautiful office decor. After my experience with her, I'm willing to see what else her clinic offers because every time I've been there I never wanted to leave; warm and welcoming. If anyone is thinking about going to a psychotherapist or psychologist, trust me with my word go give Kimberly and her associates a try; you will love the experience and you won't look back. I believe she is a trusted and experienced advisor." –Mia Arun
3. Toronto Psychology Centre. The registered psychologists at the Toronto Psychology Centre are compassionate and highly trained. This clinic offers comprehensive evidence-based treatment for Canadians of all ages. Services include Cognitive Behaviour Therapy (CBT), Interpersonal Therapy (IPT), and Emotion Focused Therapy (EFT). For trusted help restoring your sense of well-being, contact this centre for an appointment.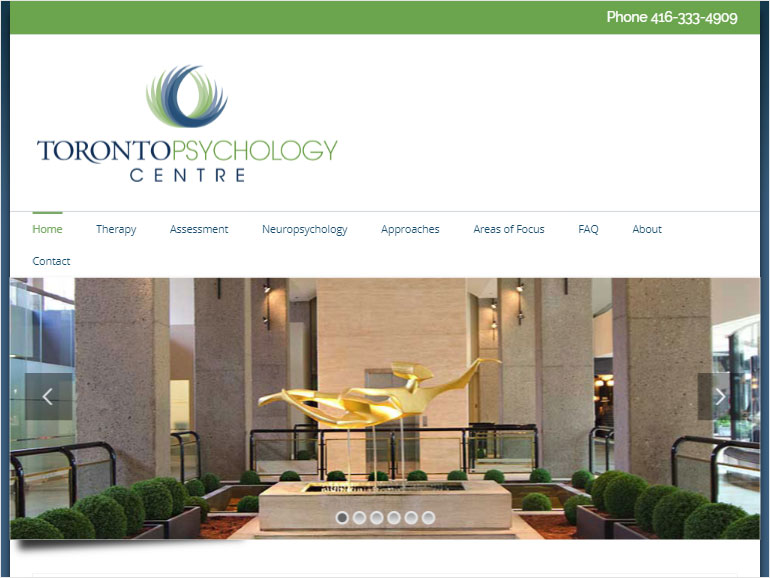 "This center provided a safe and caring place for me to learn about myself and grow as a person. Dr. H believed in me when I had lost all confidence in myself. My life looks very different now. Heartfelt thank you!" –KM
"Very thorough, professional, and helpful." –Zach Aysan, Local Guide
4. Toronto Psychological Services. For high-quality assessment and treatment, you can trust the professionals at Toronto Psychological Services. They offer marriage counselling, educational assessments, and therapy for children and young teens, among other services. They can make a big difference in your mental health!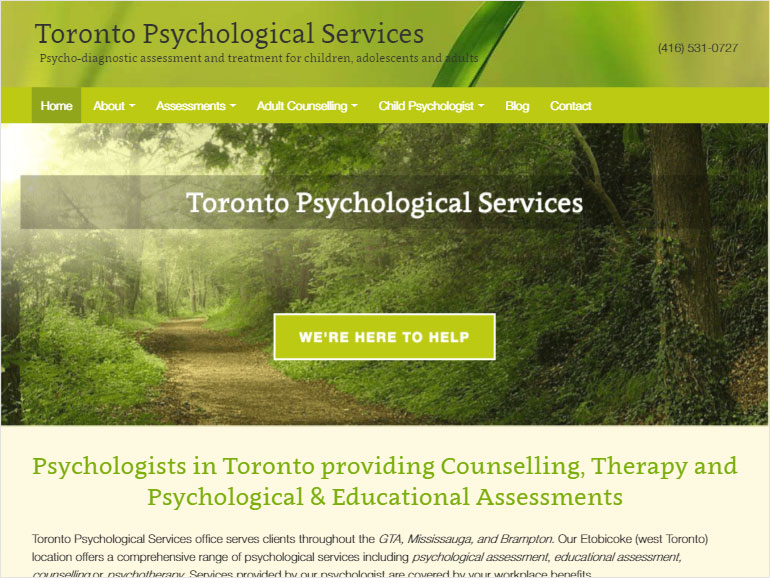 "The best marriage counselling in Toronto! My wife and I were going through some truly trying times and very close to ending our marriage until we received help from Toronto Psychological Services. All of the staff were very welcoming and helpful. The therapy sessions were a huge help and no doubt saved our marriage. My wife and I are very grateful!" –Mason Anderson
"I have recently gone through the evaluation processes supplied by Toronto Psychological Services and it was a great benefit to me. Being able to write exams to the best of my ability was my concern and the evaluation done by Toronto Psychological Services showed that I had a learning disability. Based on TPS's recommendation, I was given an additional 45 minutes of exam time. This additional time allowed me to do really well in my exam. Based on this, I highly recommend Toronto Psychological Services." –Michael Kaine
5. Clear Path Solutions. If you're not sure what your personal needs are, Clear Path Solutions offers a variety of services and can help you decide. From marriage counselling to psychotherapy to coaching, they will help you find your unique path to success and mental health.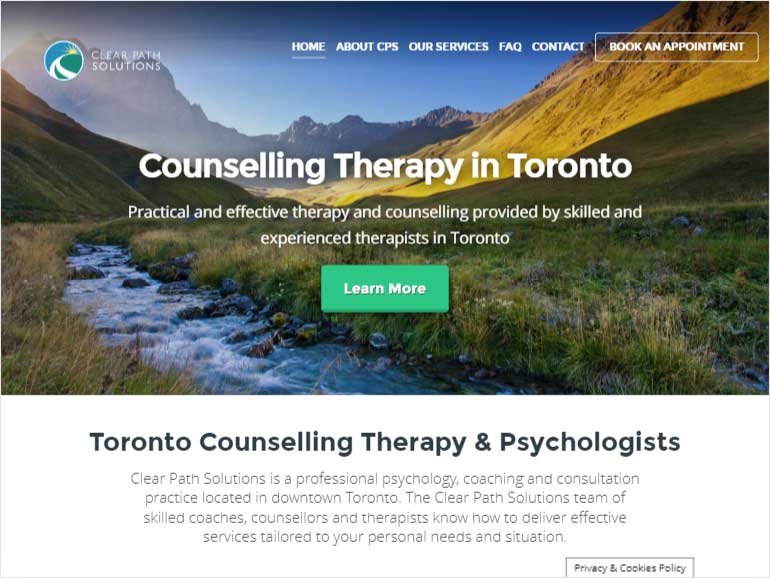 "Dr. Saunders is a wonderful resource. I have literally referred most of my family and friends to him. His approach is perfect for my partner and I. We have considerably improved our relationship and our communication with each other. I can't recommend him enough." –Matthew Ciniello, Local Guide
6. Mio Yokoi Psychotherapy. As a relational therapist, Mio Yokoi focuses on empathy and helping you find the unique way that your life can be better. She gives you a safe place to explore your thoughts and feelings and offers a reduced-fee initial appointment to ensure she is a great fit for you.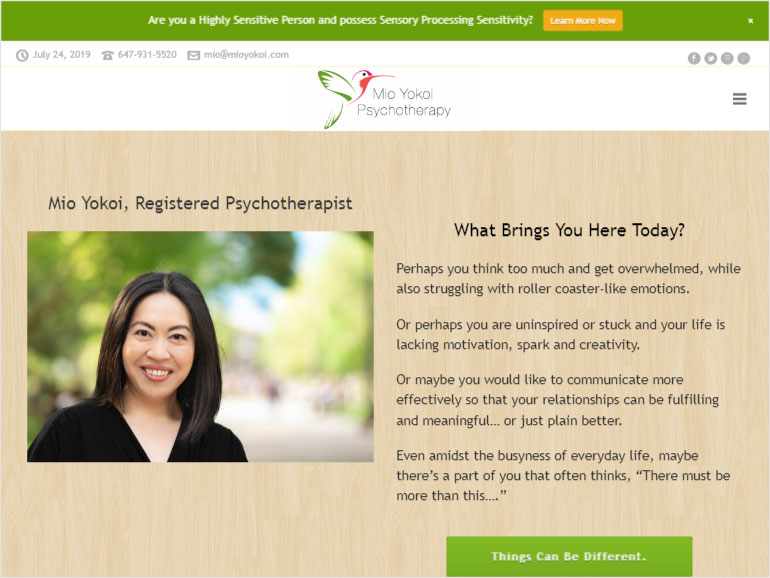 "Five stars." –Vanessa Burgos
7. Toronto Psychology Clinic. The Toronto Psychology Clinic offers counselling, psychotherapy, and psychological assessment for a variety of issues. The staff consists of registered clinical and counselling professionals and they are focused on inclusivity of the diversity among people. There are no written reviews, but the clinic is well-known for great care and for being a training centre for those seeking psychology certifications.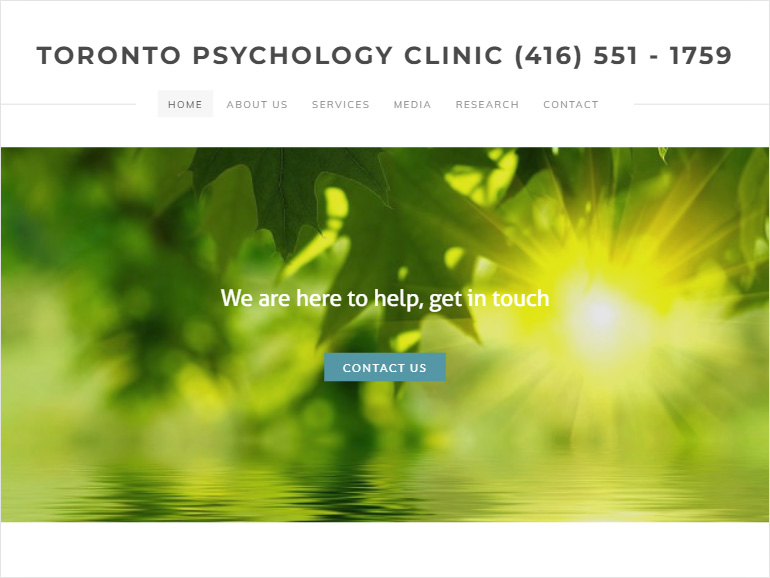 8. York Region Psychological Services. This clinic offers a variety of treatment options for psychological disorders that can affect your life. Whether you're struggling with stress, trauma, depression, or anxiety, they are available to help. They offer cognitive behavioural therapy, counselling, and psychological assessments to help their clients get back on the right track.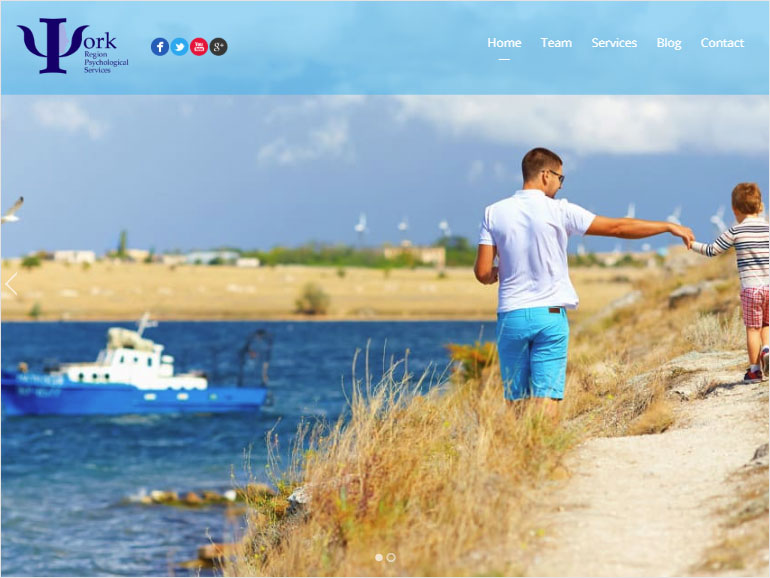 "I have been dealing with Dr. Rockman and her office for a couple of years now and I just can't say enough good about her and her staff. My counsellor, Hart Brasche is amazing as well as the office coordinator Sanela. Hart has helped me get through some very hard times that resulted from a bad car accident. I would recommend this office to anyone seeking counselling for any reason. They have several excellent counsellors and they will connect you with the one best suited for you. Thank you Dr. Rockman and staff!" –Mike Burdi, Local Guide
9. Etobicoke Psychological Services. This team of professional and caring psychologists serve clients throughout the greater Toronto area. They offer a variety of forms of psychotherapy treatment to patients and families of all ages. They can also help diagnose autism, ADHD, learning disabilities, and giftedness.
"Dr. Ed is knowledgeable and professional. He's a good communicator and takes the time to answer your questions and address your concerns. I highly recommend Etobicoke Psychological Services." –VV
10. West End Psychological Services. If you're looking for a non-judgmental setting to explore issues such as managing emotions, trauma, PTSD, grief, addictions, and more, West End is a great clinic to choose. They work with adults and adolescents on a variety of concerns, and you can choose individual therapy or group therapy.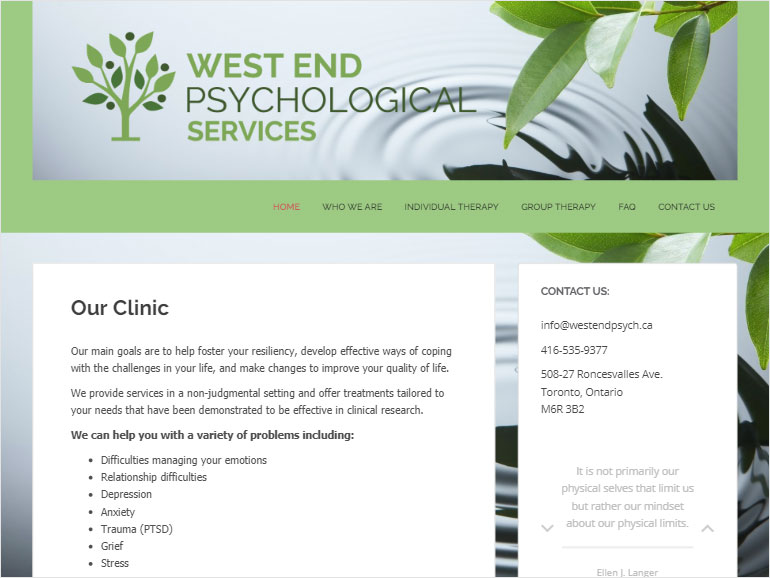 "This is a very professional and well-run office. The intake process was smooth and led to an appointment in about a week. The office itself is clean and discreet. I have lots of good things to say as well about Dr. David Eisenach. His approach is caring, thorough and most importantly constructive. Thank you David for your patience and focus." –Rob Welch, Local Guide
How do you know you've found a great psychological services clinic? Here are some things to look for.
A Great Connection. Finding the right therapist can be a journey, but don't give up just because the first one isn't a great fit. Many clinics have a variety of professionals you can meet with to discover someone you can share with openly.
A Variety of Services. Not all therapeutic approaches work for everyone. You might really thrive with Cognitive Behavioural Therapy, or you might do better with Emotionally Focused Therapy. Having a variety of options is important to feeling comfortable as you move forward.
Good Customer Reviews. Of course, great reviews are important in finding any services. However, it's important to keep in mind that many mental health patients don't leave reviews because they don't want to be identified. You may need to try a clinic personally to be sure.
Finding help with mental health is a sensitive subject. Few people want to admit that they need help at all, but psychological services can make a huge positive difference in your life. When you choose a high-quality clinic, you can get back on the path to healing and success.
Related Posts