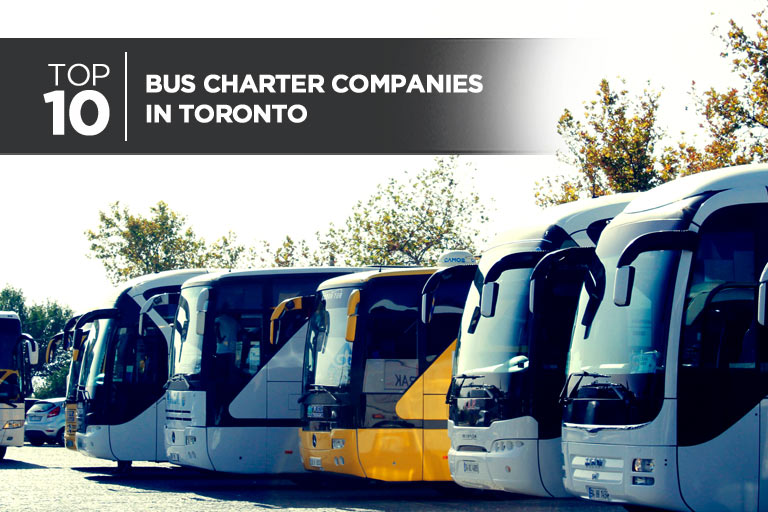 Looking for a bus to carry a group? Whether you're planning a long trip or a short sight-seeing drive, you need a high-quality bus charter company to help. The right company will provide amenities your group needs, be professional at every level, and help you ensure your group has a great time.
Whether you need a bus for 10 or a vehicle for 50, check out these top 10 bus charter companies in Toronto today!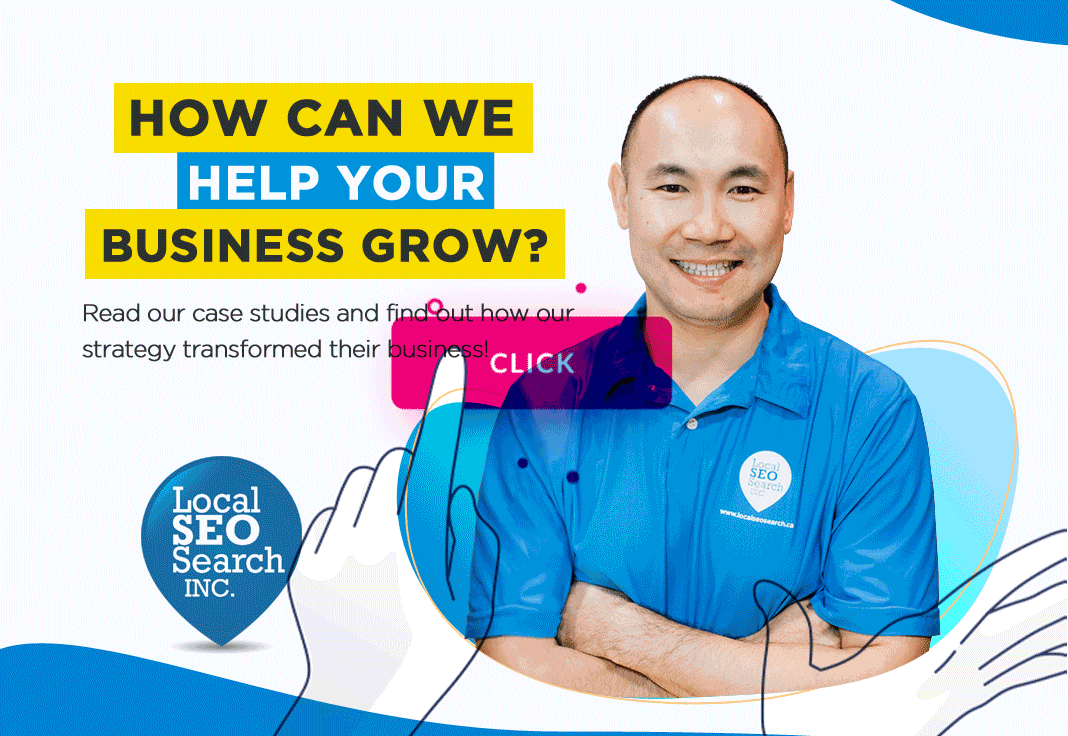 Top 10 Bus Charter Companies in Toronto
1. King Charters. For a unique charter experience, connect with King Charters. They have limo buses, SUVs, coaches, and more. They are conveniently located downtown and specialize in conventions, conferences, and corporate events. They also offer transportation for sports teams, university trips, ski trips, and tours. Contact them today!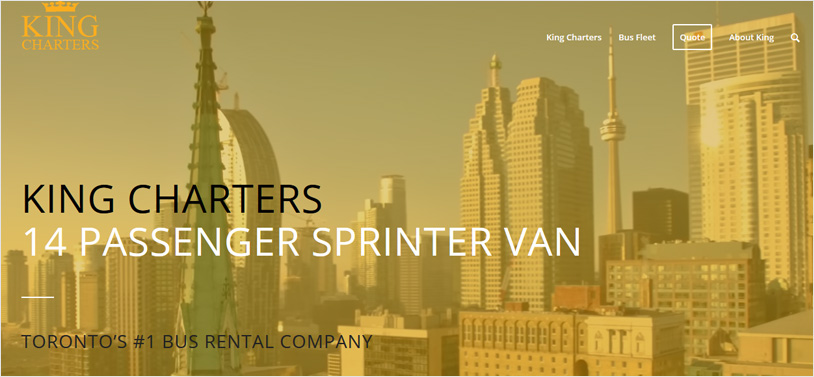 "We use King Charters often to support our transportation needs for our business. The King Charters team provide an outstanding service that includes strong communication and excellent customer service. I am always impressed at their ability to deliver even if the request is last minute." –Allison MacLean
"I came across King Charters when I was in desperate need of a bus and they have delivered at a very short notice. Since then I have used King Charters on several occasions! From day one, Norbert has been more than helpful and very accommodating. Our guests really love the buses and the service!" –Bartosz Mosio
2. TOK Coachlines. Formerly known as Can-ar coach service, TOK Coachlines provides a variety of bus services and tour trips. They provide bus services for school boards, private schools, corporate groups, non-profits, church groups, and formal events.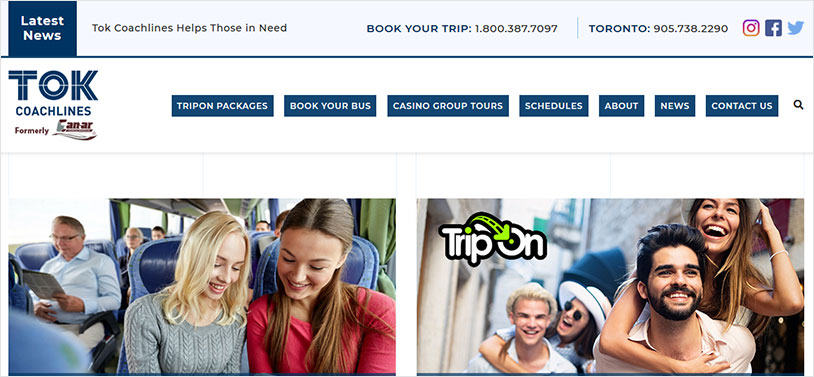 "I really felt the energy and excitement on the bus. It all began when I was going to go on a ski trip with my daughter and other families. We decided to take the bus, and personally I'm not a big fan of bus rides. However, the bus driver really made an effort to make us enjoy the way there. The driver was very kind, thoughtful, kid-friendly as a professional driver and engaging. Furthermore, the seats were very comfortable and relaxing, the drive was very smooth. Without a question I will recommend to all my friends when they need a Coach service. Thank you Can-ar coach!!!" –Christina Hernandez
3. Sharp Bus Lines Limited. For reliable, professional charters you can't go wrong with Sharp Bus Lines. They also offer school bus options. To book a personal, school-related, or company event, contact this company right away. They offer a quick and easy free quote on their website.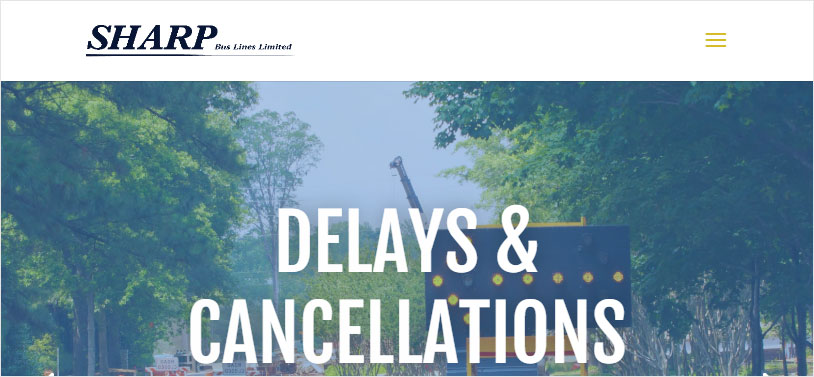 "Perfect place to order a charter bus" –Margaret Roblin, Local Guide
"A fabulous place great staff and drivers" –Paula Arseneault
4. Denny's Bus Lines. For travel to any destination in Canada or throughout the U.S., request a quote from Denny's Bus Lines. They offer motor coaches, mini coaches, school buses, and special needs vehicles. When you choose this bus charter company, you're sure to travel in style and comfort.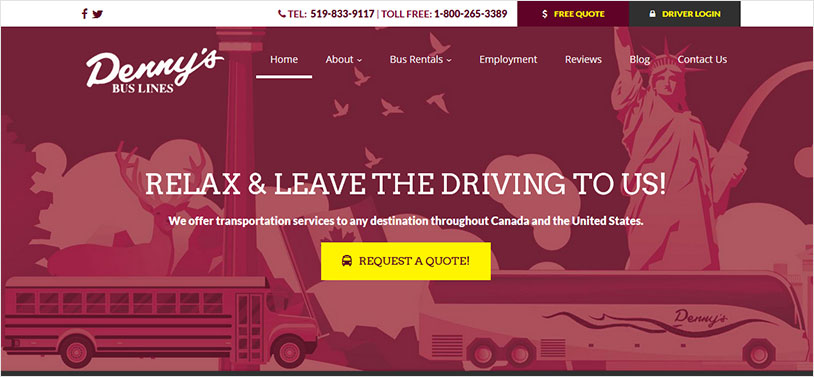 "Fantastic company to work with from the start to finish! Kathy in sales offered great customer service and made sure all our needs were met. Hens was the best driver!!! He was beyond helpful, efficient, safe, and very friendly. Great service and communication all around. Will definitely be using this company again in the future." –Jenna C
"Great experience. Was quick to respond throughout the entire time of our working relationship and made sure all of my needs were met. Kathy was great and all the bus drivers were excellent!" –Boyd Reid
5. First Student Charter Bus Rental. It says "student" in the name, but this bus charter company offers far more than student trips in their iconic yellow vehicles. They can help with field trips, party buses, corporate events, and travel to conventions. They have affordable rates and can handle up to 48 adults per bus.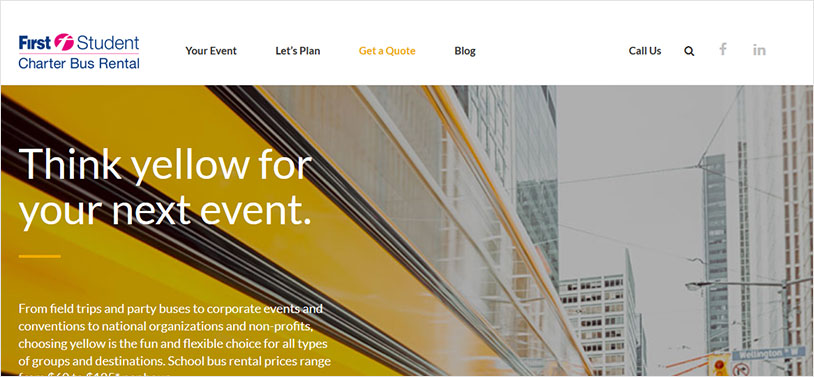 "Book your charters here. Friendly team, excellent drivers." –Charles Hawkins
"This is a great place to work. The staff including management are very kind." –Coley Car, Local Guide
6. Toronto Bus Company Ltd. These classy charter buses are sure to delight your group. They offer corporate transportation, buses for universities and colleges, retirement homes, and rides for weddings. You can also get a tour to Niagara Falls! From sightseeing tours to team travel, this company has what you need.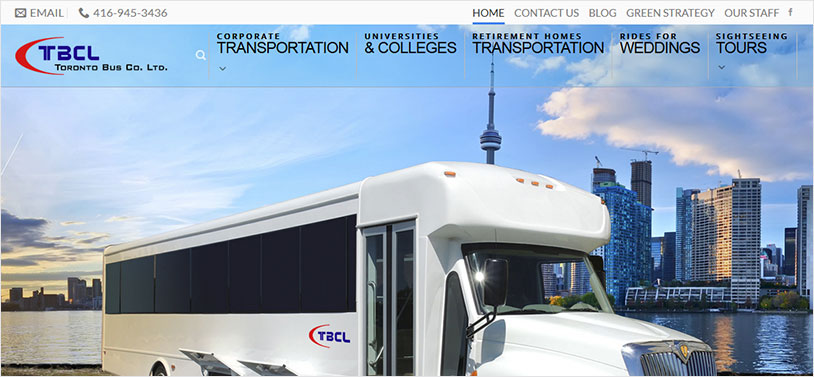 "The Friendship Community Church had their annual church picnic on July 20. We contacted several bus companies as to transport for the day. TBCL came in with a great quote and prompt and friendly service and communication with us. It was clear and staff at TBCL were glad to provide whatever support needed. Abdul was the driver assigned to us and he was most careful and hospitable and his pleasantness and professionalism added to the good memories of our day together. Thank you!" –Will Postma
"The driver had a smile, the bus was clean and the price made sense. I had 20 guests to move around Toronto for a convention. Having your staff to play chauffeur instead doing their sales job was something I wanted to avoid. Ivanna made the reservation process a charm. If you are to move clients around make it first class." –Daniel Boulanger
7. Parkinson Coach Lines. For a company with decades of experience, you can't beat Parkinson Coach Lines. They have been operating since 1922. They offer everything from airport bus rental to bus charter, hockey team buses, wedding buses, and bus tours of Toronto. No matter what you need, their 32 passenger or 55 passenger coaches are at your service.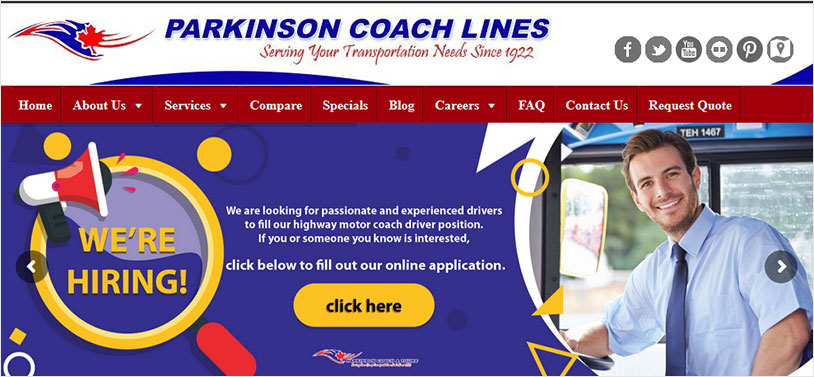 "My group recently had a charter with Parkinson. In my 29 years of traveling with groups (adults and students), I have never worked with a driver, nor company, who was as kind and a joy to travel/work with. The coach was in excellent condition and the company made the pre-arrival process so easy. One example – on our last day when we were dropped off at the airport, we looked out the terminal window and our driver was standing there until we all made it through the check-in process. WOW! If I am ever in need of a charter while in the area again, I will definitely choose Parkinson." –Andre Simon
8. Toronto Charters. Do you need a multiple-day trip and you're not sure who to trust? Toronto Charters is a great choice. They offer charter buses for all occasions. For a group, corporate, or private events they have the buses you need. Bus sizes range from 10 – 56 passengers, and they offer Niagara Falls tours as well.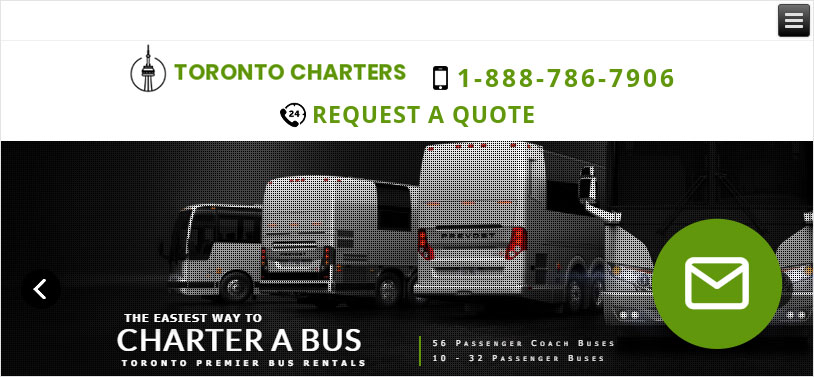 "We hired mini buses and coaches from Toronto Charters for our corporate events and shuttle services in Toronto. We received the best services from them always for the last 5 years. Thanks to the whole team for the best job done." –Bilal
9. Star Coach Service. Interested in a city tour of Toronto, airport or hotel transfers, wedding transportation, or sightseeing tours? Star Coach Service has it all. They have all sizes of vehicles from a trolley to a mini coach, coach, and even modern or historical double-decker buses. They are a qualified transportation provider for the University of Toronto, Toronto District School Board, and even the Royal Bank of Canada.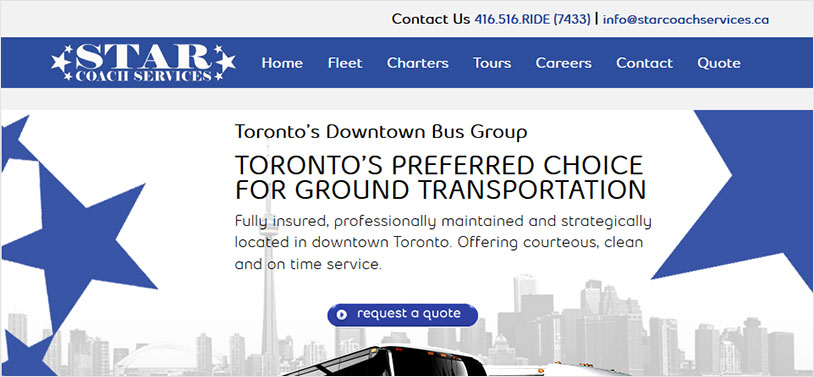 "I was told by others that ordering a bus would be a harried affair but you made it a dream from the time I picked up the phone to the time we were dropped off." –Michael M
10. Skyway Coach Lines. For reliable transportation at reasonable rates, contact Skyway Coach lines. They offer flexible solutions that meet a variety of travel needs. You'll get luxury on-board amenities aboard fully-customizable coaches and vans. You'll enjoy wi-fi, audiovisual systems, and more!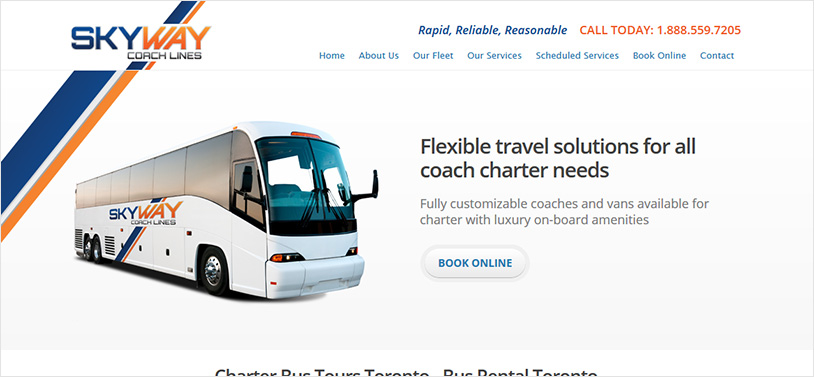 "San Thavarajasingam, Sales Manager, was extremely helpful to me when I left a backpack with my cell phone on one of the buses which were only recovered after we left Canada to return to Texas. He was able to get everything shipped back to me in the United States." –Walter Bradley
"I recently booked a trip with skyway coach and overall I was very impressed with the service. The driver was very friendly and we got one of their new buses. I would definitely book them again!" –Alfred Jeyaratnam
Having a great time on your trip is vital, so how do you know you've found a great bus charter company? Look for these qualities.
Right Size Vehicles. There are buses, mini-buses, and vans of all sizes. Be sure you rent a charter vehicle that makes sense for the size of your group and what you're doing. From 10 folks to 56 per vehicle, you can find what you need.
Great Amenities. The longer your trip, the more important it is to have the right amenities. From wi-fi to phone charging ports to on-board washrooms, make sure that the bus charter company offers everything you need to have a great time.
Excellent Reviews. The best indication of whether you'll enjoy working with a bus company is whether others have had great experiences with them in the past. Be sure to check the reviews before calling a company!
When you choose the right bus charter company, you can be assured that you and your group will have a great time. Whether you have a school group, a non-profit, a corporate team or other need, there is a bus company that can meet your needs. These top 10 are a great place to start!
Related Posts