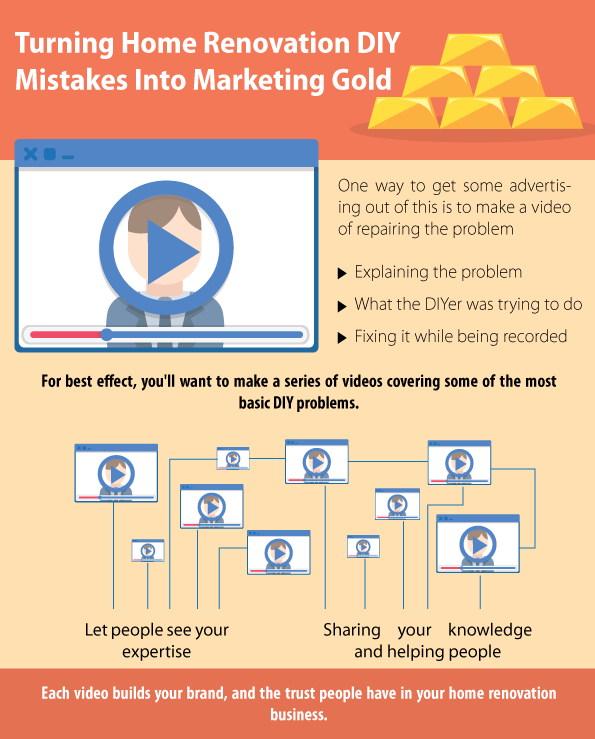 Home renovation is big business, and a lot of people think they can do it on the weekend in their spare time. Quite often this ends in disaster, with poorly made walls, drafty windows, and faulty wiring. You've probably seen quite a few of these problems in your line of work renovating homes, and had to explain many times how and where they went wrong, when a desperate spouse finally called you in to fix everything.
One way to get some advertising out of this is to make a video of repairing the problem, first explaining the problem, going over what the DIYer was trying to do, and then fixing it while being recorded. For best effect, you'll want to make a series of videos covering some of the most basic DIY problems. With these videos, you will be doing two things. First you'll be letting people see your expertise, by showing the world you can fix a dangerous problem quickly and efficiently. Second you're sharing your knowledge and helping people. This gives people a face they can trust, and they're more likely to call your home renovation business when they run into problems.
Whether it's repairing a wall that someone was trying to remove without realizing it was load bearing, rewiring the rewiring job so a house won't burn down, or simply fixing a drafty bay window a homeowner thought he could put in on a Saturday afternoon, each problem is a potential video for YouTube and your website. And each video builds your brand, and the trust people have in your home renovation business.
Sell Your Landscape Design Services with a Digital Photo Album
People want beautiful yards, but they can't always achieve it on their own. That's why they call the expert landscape designers to prune their bushes, take down dead and diseased trees, destroy infestations, make meandering garden paths and plant flowers that will actually grow and prosper. What many landscape designers don't think about doing is to get before and after pictures, and if they do, they don't know how to use them to their best advantage, keeping most of the pictures hidden until a customer comes looking for them.
When called in to beautify a lawn, the landscape design company should take a picture of everything. As the work is done, photo's should be taken every step of the way, showing how the landscape design employees work, what they're doing and the materials they use. And when the work is done, a final set of pictures needs to be taken, showing how everything looks, the flowers in bloom, the pruned trees and bushes, the lush green grass, everything possible.
Once that's done, it's time to get to work on the website. Most companies only show a handful of landscape design pictures, a dozen at most on their website. Instead of that, create a digital photo album, showing the before and after pictures, along with the steps in between. This is fairly easy to do on your website, and you can save loading times by making most of them thumbnails. If you want to go the extra mile, you can create an actual ebook, storing it online and give potential clients a link to access it and download it.
Now instead of just doing a landscape design and hoping to have it spread by word of mouth, you can share it with hundred or thousands of potential clients.
Must Do Marketing For Your Plumbing Business
Many people have problems with drips and leaks around the faucet. There are just as many websites offering advice on how to fix them, but how many offer bad advice, miss steps, or are only temporary fixes at best? Quite a few.
So how can you as a plumbing contractor use this to your advantage?
Well the simplest way is to wait for someone to try one of these bad fixes, make a mistake and have to call you, but that's not really effective in the long run. Instead you can build up some customer goodwill and attention, by offering people tried and true fixes for their faucets from an expert.
When you get someone visiting your website, calling your office, or having you come to their home or office to fix a problem, be ready to give them a short, well written how to guide for fixing basic leaks and other faucet problems. You don't even have to have a physical guide, just a link to an online document that they can download. By offering them a guide like this, you are showing them you're an expert, and are willing to share your knowledge. If you've already done a job for the person, attaching the link to a thank you email is a fantastic way to make sure they remember you, if they need a plumbing contractor in the future.
Customer goodwill is essential in your business, a basic how to guide can build it up more than a dozen or more online ads.
Proven Marketing Technique for Your Carpet Cleaning Business
As a carpet cleaner, you know what you're talking about when it comes to cleaning products, whether they're industrial cleaners or products for around the home. But sometimes a new cleaner comes out and you need to decide if it's the right one for your company. Why not when you're testing it make it into a review for the public?
When you test the product, record what you're doing either with pictures or a camera, explain what new and old products are, and what types of carpet cleaning problems they're used for. Then use them on two carpets that are the same type. Again show every step, saying how the carpet is reacting, how well one product works compared to the other, how much effort is required, and how long it takes to each product to clean away the dirt or stain. After you're done, give a review about what you thought of the products and which one your carpet cleaning company will use in the future.
If you are doing a written review, you can post it on your website to get more hits. If it's a video post it on YouTube and your website for even more hits. With the review, and some carefully chosen keywords you'll be attracting potential clients to your website, and letting the world know you are an expert. As an added bonus, if you do a good job on the review, you may start having companies sending you sample cleaners and equipment to try out in exchange for a review.
So you could gain more clients, and free products for doing some reviews, it seems like a win-win situation.
Make Your Construction Business the Online Expert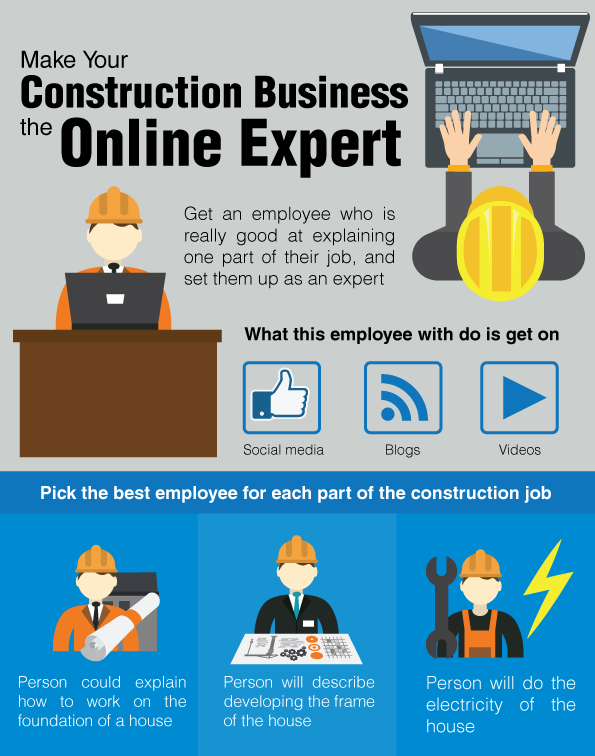 When people want to hire a construction business, marketing is key. Your clients don't want a generalist who can do everything kind of well, they want an expert. So it's your job to give them an expert.
Get an employee who is really good at explaining one part of their job, and set them up as an expert, you can also use yourself if you have the time. As the face of your construction business marketing strategy, you'll want to pick a person who is comfortable talking to people, and being seen as the expert.
What this employee with do is get on social media, blogs, and videos, explaining parts of his or her job. If your company is constructing a house, your expert will explain how to start doing his part of the job, walking people through it step by step, talking or writing about potential problems and how to avoid them. This can be done as a whole series of videos or articles for your website and YouTube
Best of all you don't need just a single expert, you can pick the best employee for each part of the construction job and have them doing the same thing. So one person could explain how to work on the foundation of a house, another will describe developing the frame of the house, another employee will do the electricity and so on. By the time one house or building is done, you'll have hours of marketing material available for putting on the net which will last for years.
So find your experts, and get them telling your clients and potential clients why they and your construction company is the best at what they do.
Related Posts