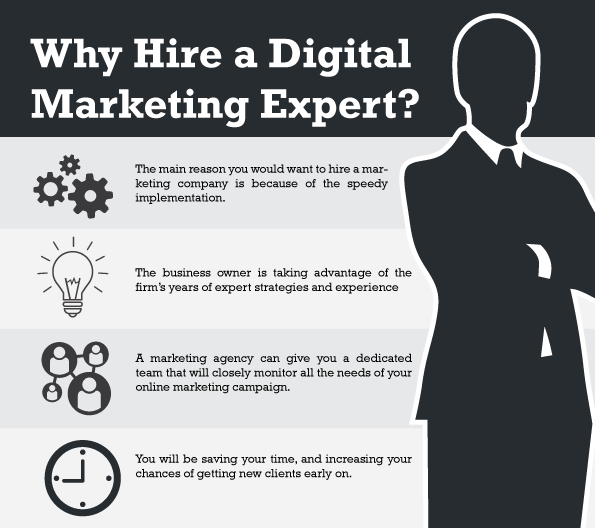 As a newbie in digital marketing, you, as the owner of a business, must ask yourself a question: Can you do it on your own or do you need the help from an expert internet marketing firm?
SEO Experts will recommend that since you have the option of doing it on your own, to go with this route before spending big bucks in an internet marketing agency. By learning the ropes on your own, you get your feet wet with what is happening with online marketing. You will find for yourself which areas will be "too Greek" for you and decide what kind of expertise you'll need. You will not look like an innocent online business owner that a marketing agency would like to pounce on with different sales tactics, demanding you spend money on them to be a success.
However, as you try to do it on your own, you may realize that it would be better to hire a digital marketing firm. It will cost money, but you have to consider is the time you're spending on digital marketing yourself, worth the money you save? Or you may realize that you're in over your head and need help if you want to get anywhere with the marketing campaign.
Why Hire a Digital Marketing Expert?
Obviously, the main reason you would want to hire a marketing company is because of the speedy implementation. You are are just too busy to learn all the best practices of online marketing and this goes double for the initial implementation which is the hardest part. You don't have time to implement what you don't know especially.
By hiring a marketing firm, the business owner is taking advantage of the firm's years of expert strategies and experience. This leaves you with all the time doing what you do best – managing your company and delivering your services.
A marketing agency can give you a dedicated team that will closely monitor all the needs of your online marketing campaign. And even more important is the fact that the firm will make sure that each part of the campaign works together, so your business keep benefiting.
By hiring a firm, you will be saving your time, and increasing your chances of getting new clients early on. Just remember as soon as the campaign is done, you don't need to worry about hiring the marketing company again until you're ready for a new campaign. .
Which one to hire?
Now the real dilemma is which firm to hire? On the average, businesses receive about 30 to 40 calls from different internet marketing agencies, all promising the best services. They make big claims, substantial profits and huge promises but sadly, they don't really deliver the goods. By the time you've heard your 10th call, they will all sound the same – same claims, same profits, same promises.
It's easy to tell these novice business owners to do a lot of research first. But surprisingly, it's the best advice they can take. Do your homework on each company that you are even remotely considering hiring. One trick is, if you're considering hiring a company for example, named AllNeeds SEO, do a quick Google with the keywords "SEO expert" or "local online marketing" or other keywords, just to see if AllNeeds SEO shows up in the Search Engine Results Page. The question you are trying to answer here is finding out whether they can get themselves on top of SERPs. If they can't, what makes you think they can put your business on top of SERPs? By doing your homework thoroughly, you can make an educated decision – one that is well-researched and not just relying on their optimized website.
What are their specialties?
When looking for a good internet marketing firm, one important factor is if they can execute a wide range of marketing tactics so that you won't have to get experts for every tactic. Isn't that why you hired them, in the first place? Because of so little to no time at doing these strategies, you need one firm to do it all for you. Wouldn't you rather deal with one expert firm, than dealing with smaller firms who only have one specific expertise? A good firm would probably be one that has been in the business for more than 5 years already. This assures you that they've gone through some of the most important updates of Google within the past 5 years.
Is your digital marketing firm a leader in the industry? Are they seen as innovators? Do they teach what they preach? Some firms publish their practices on their websites or they host webinars that are informative and useful for potential clients.
And how about their employees? Do their employees have strong communication skills, too – and not just their top level managers? If they're dedicating a team for your business, each member should be able to communicate properly and explain to you and any of your business partners what their firm will be doing for you. Proper communication is the beginning of understanding, so make sure there is no miscommunication whatsoever. Once you aren't sure of what they're saying, and they can't seem to give you a clearer picture, that's a red flag!
Another red flag should be getting a firm that promises to do everything for you and doesn't give you a say in the strategies. You need to be involved for the campaign to be really effective. If they tell you that they can do everything on their own, most likely it won't be good.
By making the firm aware that you want to be in the thick of things, you are telling them that you DO want to get results and that you need to know where their strategies are taking your business.
What are the costs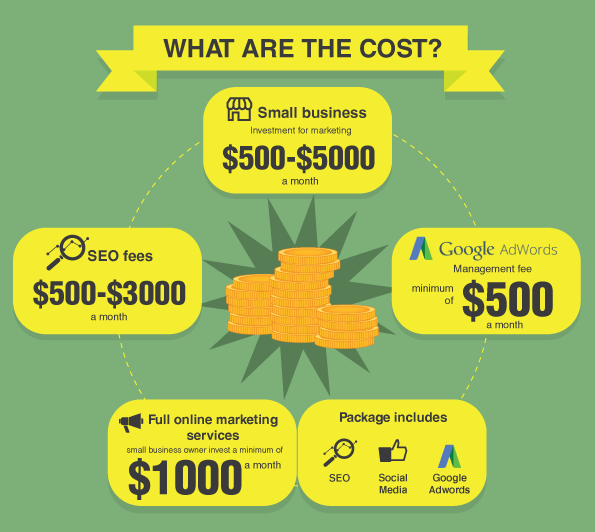 As a ball park figure, a small business should plan on investing $500 to $5,000 a month for marketing. Just the Google Adwords management fee can fetch a minimum of $500 a month. SEO fees could run between $500 to $3,000 a month. The full online marketing services could make the small business owner invest a minimum of $1,000 a month. This package usually includes SEO, Social Media, Google AdWords, etc. The rate will also depend on the size and complexity of the marketing strategies that the firm offers.
Do your homework
Bottom line is, don't just get the first few online marketing firms that Google feeds you when you type "SEO expert" in the portal. Big revenue doesn't happen instantly without certain hard work and research. By doing your homework, you will be handsomely rewarded with a great partnership with a reliable and dependable online marketing ally.
What are your other ways when looking for a good digital marketing agency? Share your thoughts below.
Related Posts