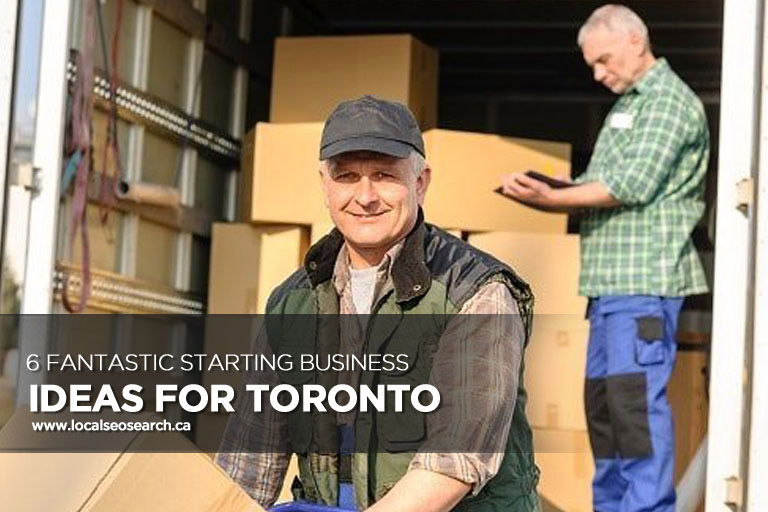 Toronto is a great place to live, the shopping is great, thousands of restaurants and cafes to get a fantastic meal, and there are lots of things you can do at any hour from strolling through parks, catching a movie or concert, or watching some live sports. But working in Toronto isn't always so good, especially in this economy. Fortunately, whether you want to expand your horizons by starting your own business in Toronto, or simply make some extra money, there are options, that won't cost a fortune to start.
Here are six business ideas that don't require special training or equipment.
A. Toronto Cleaning Service
Step for Setting Up A Cleaning Business
Decide what type of cleaning service you want to offer e.g. Business or Residential
Determine if you want to operate your business during the day, evenings, weekends
Set up your price structure. Will you charge per hour, or per square foot that you clean?
Set a price for extra services, and overtime fee
Create a marketing and advertising plan to sell you business

Create a website
Register a phone number
Register your business with local directories
Buy an online ad
Design a flyer

Create a Twitter Account or Facebook Page
Contact Local SEO Expert for advice and support to grow your cleaning business
Being a cleaner may sound like low pay drudge work, if you work as a maid for some cut rate cleaning services, you'd be right. But if you work as your own boss, things start looking up, and everyone needs something cleaned.
First, you have to decide what you want to clean and the hours you are willing to work. If you have children or an active social life in the evenings, cleaning houses during the day when people are at work is a good choice. If you're willing to work in the evenings, leaving your day free, cleaning offices is right up your alley.
With cleaning, you need three things, a willingness to get dirty, basic cleaning supplies, and insurance. You need insurance in case you get hurt on the job or you damage something, you don't want to have to pay for a broken Ming vase out of your own pocket. For cleaning supplies, you will need the same things you'd use around your own house, along with dust rags, and if you're working in an office, a vacuum cleaner, broom, mop, etc.
The next thing to consider is how much to charge. You can charge by the hour or by the square foot, if you're cleaning a large office, charging by the foot is the better option, usually fifty cents per square foot, with houses it's generally be the hour. If you charge by the hour, $25 an hour is the usual amount, for a regular cleaning, vacuuming, dusting, washing dishes, sweeping, changing the garbage, etc. If you have to do more, charge more anywhere from one dollar to ten dollars more. You can offer a discount if the person agrees to hire you for a set number of times a month, or pays in advance, usually a five dollar discount is good enough.
Here's a good video guide on how to start a cleaning service business:
B. Ebay and Craigslist Seller
Think about what it is you want to sell. Do you want to specialize in items like antiques or cars, or be a general seller?
Grow your networks. Establish relationships with dealers and other sellers in Toronto
Research yard sales, second hand stores and other sales on the internet
Register yourself and customize your store on EBay
Work with other buys and sellers to get referrals and references to enhance your reputation online. The more you sell, the more people will review you and work with you
Offer to research specific goods for people e.g. find that one-of-a-kind car or piece of designer clothing
Consider a structured commission scale that gets larger or smaller depending on the item
Talk to Local SEO Expert about building your EBay seller business using citations
Selling things on Ebay and Craigslist as a business, is a relatively new, and is very good for people who want to keep their day job, but it is possible to turn it into a full time career.
A city the size of Toronto is particularly good for this business as you can scour the city looking through thrift stores, yard sales, auctions and Ebay and Craigslist looking for deals and reselling them for more money. The key here is picking items you know a lot about so you can get the best deal possible. Buying used appliances and fixing them up to sell for a profit, searching through thrift stores for expensive clothes, particularly women's clothing, and surprisingly cars that just need a bit of work to get them running again, are three of the best areas with the biggest profit margins.
The big part of this business is knowing how to bargain, and that you enjoy shopping. You'll be spending quite a bit of time wandering through yard sales, flea markets, and online ads, looking for one or two items that you know you can sell for a profit.
C. Tutoring in Toronto
Determine what level of person you want to teach. Children, Teenagers, Adults or Senior Citizens
Determine if you want to specialize in one subject (like English or Math) or be a general tutor
Decide if you want to tutor your students at their home, or at your own office space or a community library
Decide if you will be an individual or small class tutor
Set your price structure according to what you can (or want) to deliver
Market your credentials and experience through:

Your personal website
Craigslist Advertisements
LinkedIn Posts
Twitter and Facebook Accounts

Reach out to school guidance departments and school administrators through the local school board. Offer your business/card and contact details to them
Talk to Local SEO Expert about how to build your brand through social media
Tutoring is one of the most profitable part time businesses you can start, and if you get enough students, you can easily earn a nice living doing it.
Generally you need at least a bachelor's degree, to tutor, but if you are very knowledgeable about a subject it is possible to get by without a degree, however your client base will be more limited until you can prove your qualifications. You will also not be able to get as much for your time as a tutor with a degree.
With tutoring, you have a wide list of choices to choose from, starting with who you will tutor. Tutoring young children in the basics, high school students, college students and adults, require different skills and attitudes. Generally you can make more money from teaching high school students, as their parents are willing to spend the money to make sure they get into a good college. But adults and college students are generally easier to teach, and you can usually get a small group of primary school students into one teaching session raising your overall take home profits.
When you first start tutoring, without a degree you can expect to make between fifteen and twenty dollars an hour. With a bachelor's degree, it goes to twenty to thirty dollars an hour. If you have a Masters, you can make thirty, forty even sixty dollars an hour. As you gain experience and a reputation you can eventually double your fees. One thing you will need to do is offer the first class for free, this is pretty standard and lets the parents or student know you can do the job.
The best part about tutoring is you only need some basic supplies, maybe a workbook, and if you tutor at the student's home a car or bike.
D. Hauling and Moving Service
Contact your local City Council to see if you need a business permit to be a recognized mover
Contact your insurance provider to determine what extra insurance you may need on your vehicle or person to do this job
Set up a website, social media accounts for your business
Place an advertisement on Craigslist about your service
Determine your price structure and what you will charge for each type of job. Will it be a flat rate per day charge, or a per hour or per item fee?
Create a promotional rate or introductory price for first-time customers to grow your business
Have customers write a referral or reference about you so that you can post it online and others will research and read about your company
Talk to Local SEO Search Expert about keyword organic marketing tips and tricks
This business requires a large van or truck, but if you already have one it's easy to start up a hauling business. There will always be things to take away, either to the dump, a new home, between businesses, or even just across the street, but not everyone has the right equipment, time or energy.
A hauling business isn't as easy as putting something into a truck and driving away. If you want to keep things very simple you can charge by the piece, if it's a simple job, with only a few easy to move items, this is best to do if you're taking something to the local dump or junkyard or somewhere in the same area.
However if the job is much bigger or you're driving across Toronto you have to judge how much time it will take to do the job, will you pack everything up and take it away yourself, or will it be waiting for you? How far do you have to travel, and how much gas will it take? Will you have heavy traffic or an easy ride? And so on. This is why most hauling businesses get as much information as possible and then make a quote.
Another thing you will need is insurance, not only for your vehicle, but your business, in case someone gets hurt or something is damaged as you're driving.
5. Babysitting and Unlicensed Daycare
Complete (or recertify) your First Aid Training
Research educational trends and techniques for children so that you have the latest information about how-to take care of and entertain children
Write this information down into action plans to show parents
Decide what type of services you wish to offer: before/after school care, daycare or a combination of services
Set up a website and start writing a blog about child care and children's education
Many people search for daycare information online, the more active you are, the better chance you have of people seeing your blog and asking you for more information.
Place flyers and business cards at doctor's offices, local churches and schools
Look for school web pages or Facebook pages and write a post about your services
Talk to Local SEO Expert about managing your blogs for your business while you manage the children!
In Ontario you can babysit up to five unrelated children without having a daycare license. If you have a large home, and love children this is a definite business niche for you, especially if you are willing to babysit in the late afternoon or early evening.
Since children as young as four are in school all day, licensed daycare centers have had trouble staying open as the children they used to take care of are now in school. So many parents have trouble finding daycare centers to watch their kids after school. This has opened up the way for smaller businesses to fill in the gaps.
Out of all the businesses, this is the one that requires the most planning and attention. You have to have activities for the children, snacks and drinks prepared, a plan to show parents, you need to deal with problems from boredom, temper tantrums, and injuries, and you definitely need insurance and a first aid course. But if you have the patience and are good with children, it could be right for you.
The average rate for babysitting and unlicensed daycare in Toronto is about 16 dollars an hour per child, The more experience you have, and the more activities you provide will raise the price, but for a start this is about right.
6. Virtual Assistant
Ensure that you have a computer, scanner, phone and high-speed internet in your home
Determine what area you will service. Will you work for Toronto clients only, or are you willing to work for clients in other time zones?
Register your business on a business citation website like the Better Business Bureau
Research business networking events in your area and got to these events to talk to people about your business
Determine if your fee structure will be per month, or per hour, and if you will sign short-term or long-term clients
Get a person to post a review on a website about your services
Talk to Local SEO Search Inc. about enhancing the ranking of your website in Google and Bing through an inexpensive SEO campaign
As a virtual assistant, you get to work from home, and you don't need much to start other than a good computer, access to a scanner, printer and fax machine, and a good phone. You personally need to be organized, have great phone and email skills, and be able to respond quickly to requests.
Toronto is a good place to work from, as even though you work from home, for some reason, many people like to know the person they're hiring is close by. So it gives you a step up compared to other virtual assistants who live across the country.
A lot of companies that provide virtual assistants say you need lots of special skills only they can provide. This is not true. Most of this work involves contacting people by phone and email, maintaining databases, setting up travel arrangements, and making sure your client is kept up to date on appointments and schedules.
The most important thing to remember as a virtual assistant is to set a clear schedule for when you are at work. Some clients will try to contact you at all hours, and you could easily fall into the trap of working for free at 3am because of an emergency.
As a virtual assistant with no experience except personal time management, you should expect a minimum of 15 dollars an hour. If you have some experience as a secretary, personal assistant or running your own business previously, 20 to 35 dollars an hour is a good starting point.
Starting a Business in Toronto
So, there are six businesses you can start tomorrow with very little money down, and the hardest part will simply be marketing yourself. This is where living in Toronto is an advantage as you have 8 million potential customers and clients, all you have to do is reach them.
Related Posts