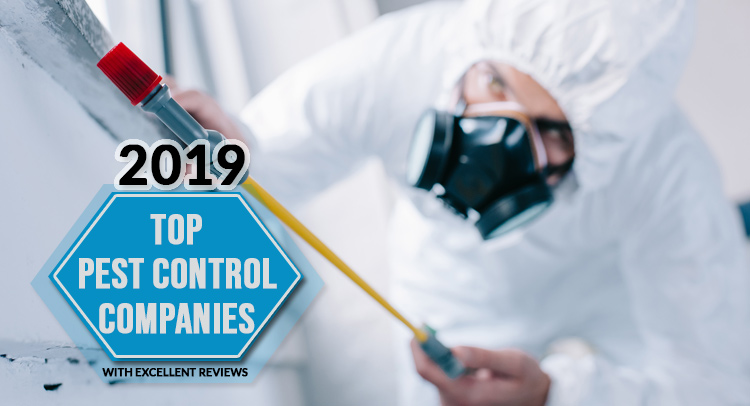 Having an infestation of bugs, rodents, or other pests is horrible. It makes you want to move out of your house! Fortunately, there are high-quality pest control companies that can help you get rid of the pests. You can have your home treated and return to life as normal.
How do you know what pest control company to choose? You can be confident choosing from these top pest control companies. They have excellent reputations and great reviews.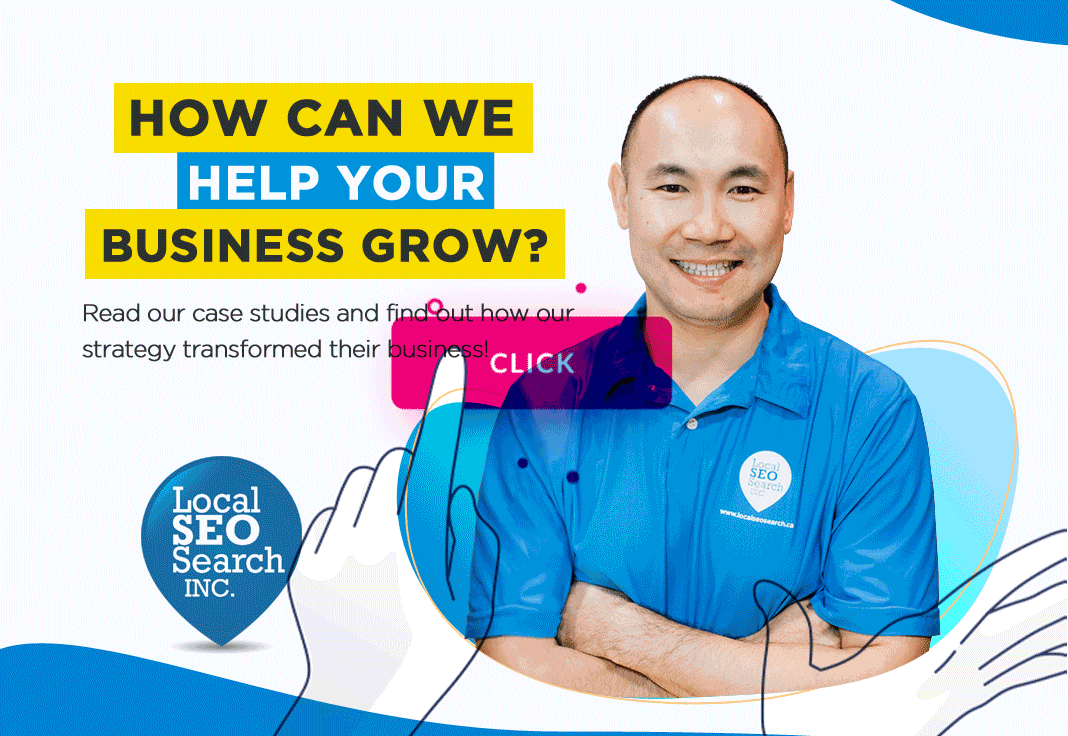 Top 10 Pest Control Companies in Toronto
1. Pestend Pest Control. This family-owned company has served the Toronto area for over 15 years. They can handle pest extermination, treatment, and wildlife control. They specialize in eco-friendly pest control and offer a 100% money back guarantee. With 329 reviews and an average of 4.8/5 stars, you know they're a trustworthy company.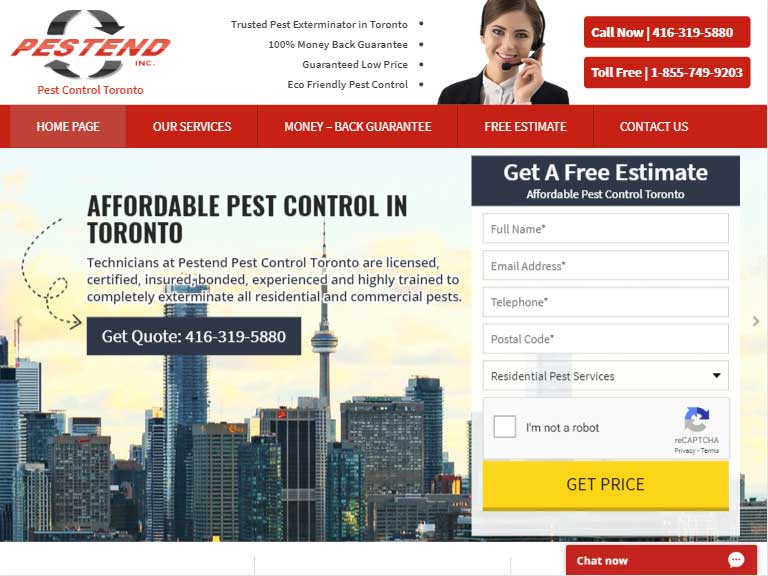 "I had Pestend come to my Dad's home for a mice problem. Our technician, Javaid did a really thorough inspection and discovered a gap around a vent. He took his time looking for more possible entry points, and explained their methods. He is very knowledgeable and really cares about his clients' needs, which is very important. And I'm so happy to say, the mice are finally all gone." –Franca V
2. Pesticon Pest Control. Whether you need help with anything from bedbugs, termites, or other animal control, Pesticon can help. They have incredible reviews and are focused on helping your home be the sanctuary it should be. With 15 years of experience and reviews of 4.8 out of 5, you know you're getting great service.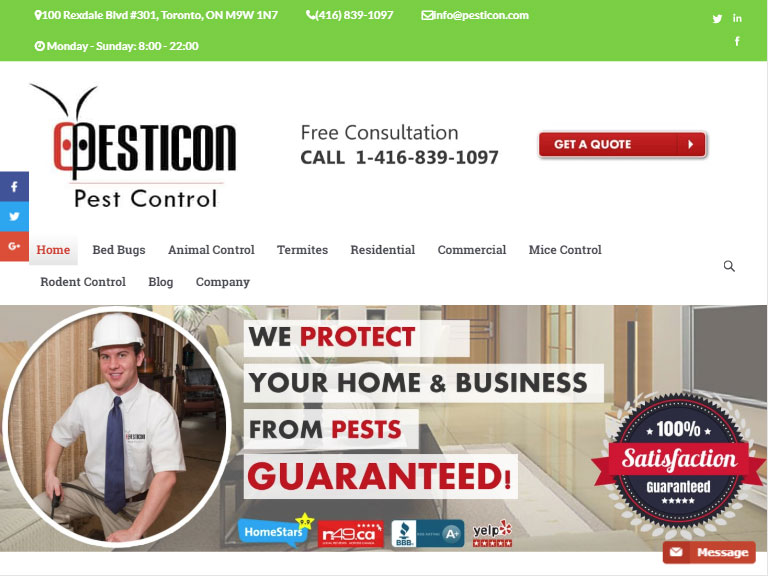 "A brown squirrel made up residence above my porch overhang. A large amount of insulation was pulled out and we started hearing baby sounds. Blair came out and in a flash he had the babies removed and in a special basket for the mommy squirrel. Hole blocked off and family reunited without any fuss. Great work and expert removal!" –TJ Wilson
3. Terminix Canada. If you are looking for the confidence of working with a major brand, you can't go wrong with Terminix Canada. From handing external spiders to internal pests, you can get help with any animal needs you have. Don't hesitate to contact them if you have pest control needs.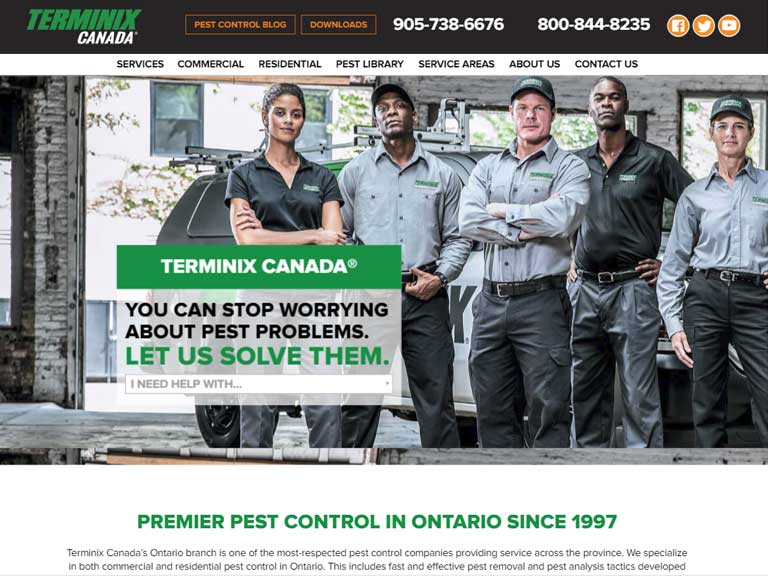 "Have been using them for a few years now. We live in a rural neighbourhood so we get a lot of weird critters here. They have gone above and beyond several times for us and have been so helpful with offering advice and even extra check ups. Will definitely continue to use them." –Justina
"I began using Terminix Canada last June hoping they would be able to control a horrible exterior spider problem we experience every summer, common with living by the lake. I was amazed at how well it worked! Never, in 35 years, have our windows and property been so clear of webs and spider droppings throughout the summer. I use them regularly now. Their products work for a whole range of pests, and their technicians are knowledgeable, thorough and personable. I can't recommend them highly enough!" –Barbara Leibel
4. The Exterminators. If you'd like guaranteed pest control solutions, The Exterminators is a great option. They offer services for both residential and commercial customers with high quality standards, effective service, and service guarantees.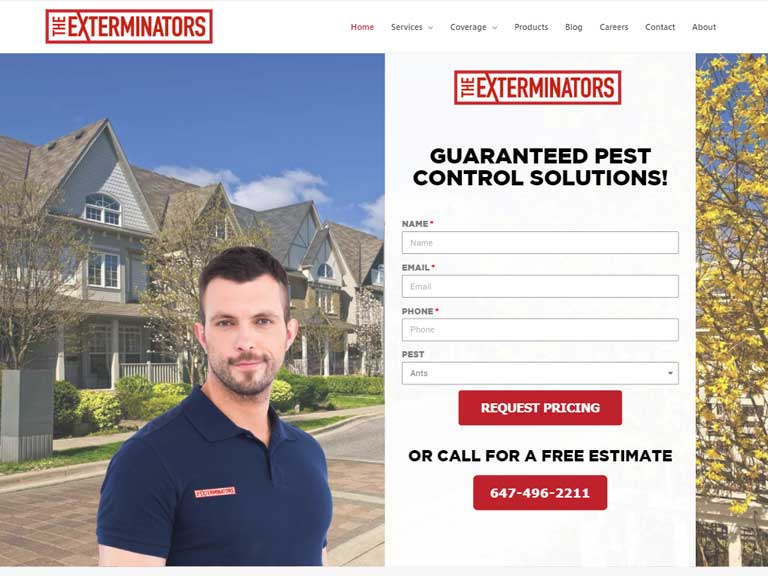 "From the first phone call, I was impressed with their customer service and how everything was dealt with in such a timely manner. Our exterminator was incredibly informative and also very reassuring in how capable and experienced he seemed in his work. We are so happy we went with The Exterminators." –Stephanie Dodd
"Simon's professionalism was impressive considering the stress we were undergoing. His staff is extremely competent. We couldn't have picked a better company. Thanks for taking care of our problem! PS: They really do honour the warranty. This company is as honest as they come." –Mimixlou
5. Liddle Rascals Wildlife Control. If you're looking for a company that can help with wildlife problems, Liddle Rascals is exactly what you need. From squirrels and raccoons to skunks and birds, you can get the help you need. They can also help close entries your home to keep pests out of your house.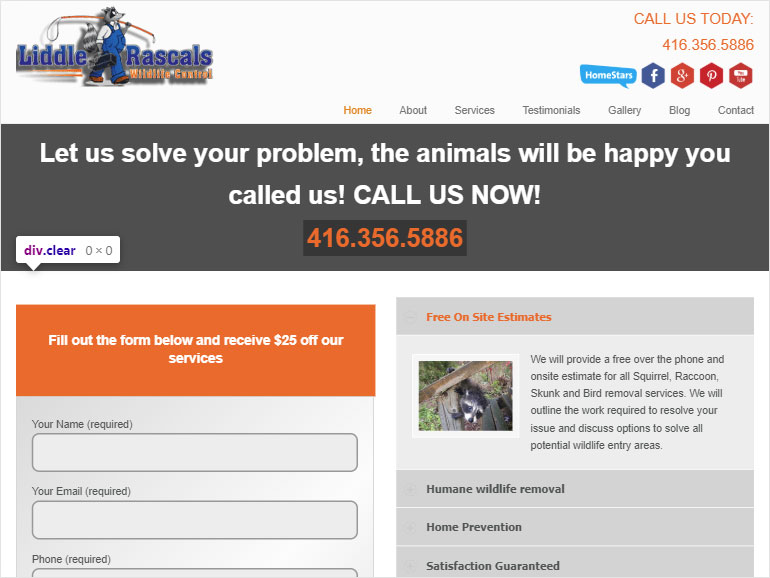 "I found them to be very professional and honest. I think Tony was the one that came to my house for a free estimate. He did a thorough inspection of the roof and also went to check inside the attic. He found nothing and said that the squeaking sound I was hearing could be from some electric equipment (possibly the fan). I appreciate the honesty. I highly recommend these guys." –Nilofer Mehta
"I wish I could give them more than five stars. Very proficient and professional. I needed a follow-up and they were at the house within an hour of me reaching out! I wish all companies operated like this." –Kenny
6. Advantage Pest Control. If you're interested in discreet 24-hour service so you don't alarm the neighbours, Advantage understands your needs. They offer guarantees for their results so there are no questions. The company has 4.1/5 stars in their reviews, so they have happy customers!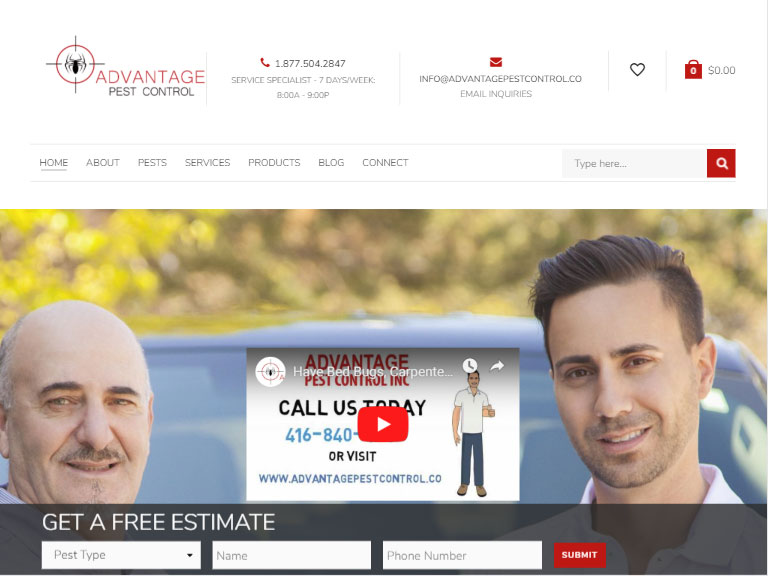 "Wonderful and extremely professional customer service. We had a carpet beetle infestation that got out of hand due to us being in the NICU for 4 months because our daughter came 14 weeks early. Paul explained that because we were using steam and not insecticides to tackle the problem the infestation was going to be harder to address, but he and the Advantage team really helped us out. I'm very grateful for the excellent service I received from them and I would highly recommend going with Advantage. Thank you again Paul!" –Victoria Barahona-Salinas
7. Aetna Pest Control LTD. This company gives you a chance to not only order professional services but also to purchase treatment products you can use on your own. From termites to cockroaches to other pests, you can trust this company with a rating of 4.4/5 stars.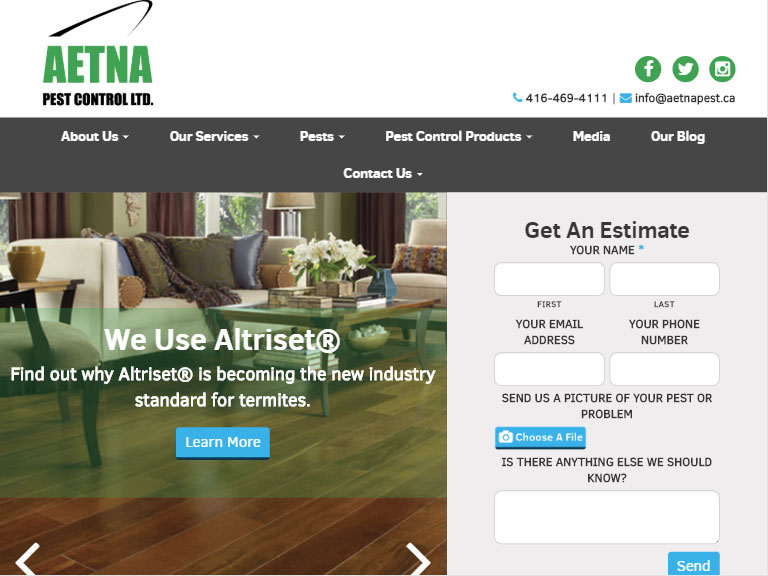 "Very impressed with this outfit. My wife and I were completely freaked out. Hundreds of bugs swarming outside our front bay window (we live east end of the city North Riverdale/Danforth area). I'm thinking carpenter ants (we discovered those during a renovation a few years back) or worse, termites. Called Aetna and Liz said – send a picture. So I did and she diagnosed citronella ants. Fortunately, they are beneficial animals and more of a nuisance than anything else. No need to nuke the site. Liz called back – no prompting with the information. After such a great customer experience – there is no one else I will call to help us when the next problem arises. Thanks Liz and Aetna!" –Dave Smith
8. Swift-X Pest Control. Need help with bed bugs, mice, rats, ants, cockroaches, or other crawling pests? Call Swift-X right away. From top-level service to competitive pricing, this company has it all.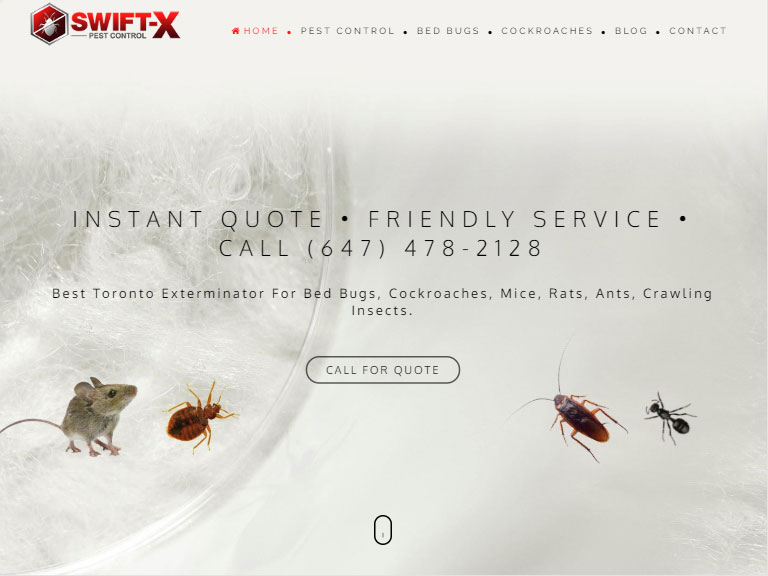 "Very knowledgeable and friendly. They came to my place within one day of my call. Mike was very professional and friendly. He took his time treating both of my properties, he gave me great advice and he was very patient answering all my questions. I recommend this company for anyone looking for an honest, professional and kind exterminator." –Hicham Alibaba
9. Power Pest Control. From crawling bugs to unwelcome mice, Power Pest Control can help you get rid of your pest problems. They offer fast, effective, and safe pest control for your Toronto home. They have a satisfaction guarantee and reviews of 4.8/5 stars.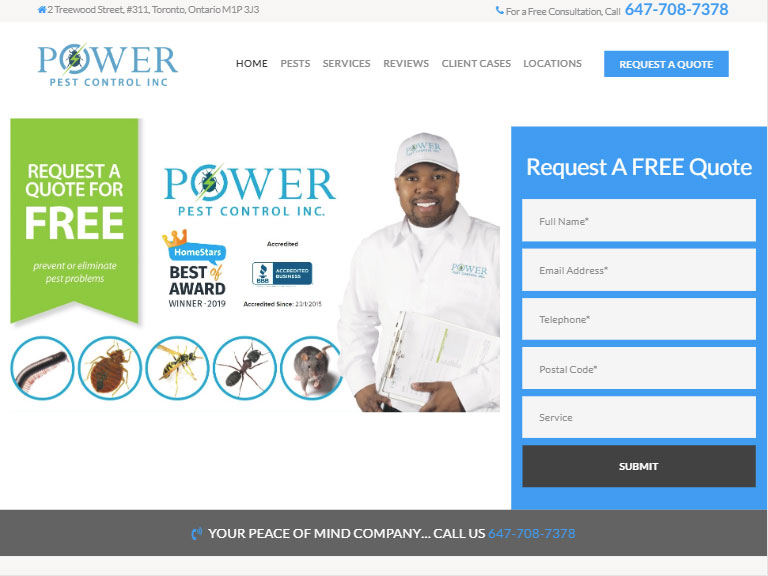 "Peter was a true professional and, honestly, I can't believe that this high level of customer service exists anymore. He responded to our call right away and was at our home within a couple of hours. He quickly identified the problem and was very thorough and knowledgeable in finding effective solutions. To top it off, he's very down-to-earth and makes you feel at ease. He's truly a cool guy. Can you believe we caught the rat that was causing the problem within a couple of hours after he left?! The best in town, hands down." –Fatale Rouge
10. The Hug Group Pest Control. With a focus on bedbugs, the Hug Group offers green solutions that save and protects your mattress, box spring, and pillows. You can also have preventative sealing treatment that will help keep the problem from happening again.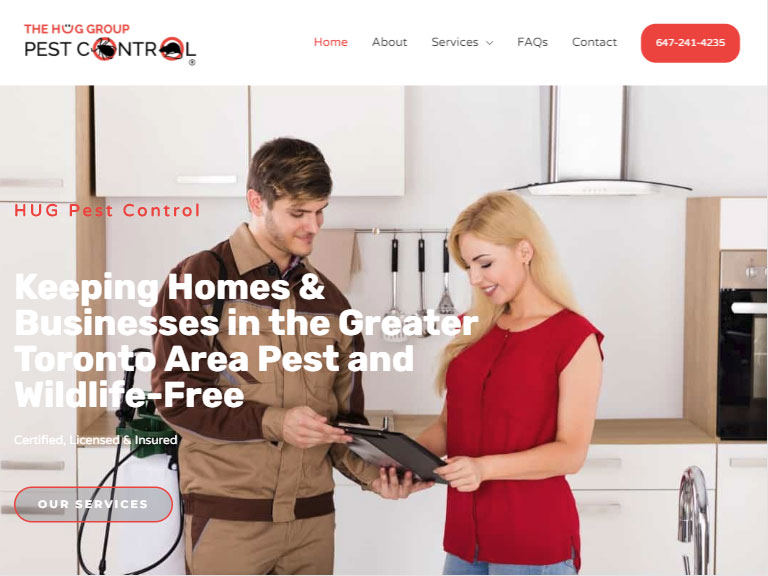 "The HUG group was a great help. Gordon helped us in two occasions and he was very professional and efficient. He also advised us on what to do on a regular basis to help maintain our home pest free. Great advice, great work. If your looking for a pest control group then you can't go wrong with The HUG group." –Joselyn Solis, Local Guide
How do you know you've found yourself a great pest control company? Here's what we recommend you look for.
A Wide Variety of Services. It's helpful to find a company you can trust for all your pest control and wildlife removal needs. Of course, for really difficult pests a specialist can be amazing!
Quick Service. You don't want to have to wait for weeks for an appointment with pest control. Be sure you choose a company that can get you a quick, convenient appointment.
Excellent Reviews. Of course, you want to make sure there are great reviews for the company you choose. Look through them and see if the previous customers' experiences sound like something you'd like when you hire them.
Pests can make your home feel terrible and dirty. When you choose high-quality and effective pest control, you can get back to daily life in no time.
Related Posts