You already know how important it is to take care of your health, but what you might not realize is that your dental health is directly connected to your overall well-being. Broken teeth can cause cuts or difficulty eating, missing teeth can result in bone decay, and infections can spread to other parts of your body.
Obviously, it's important to see a high-quality dentist in London, ON for your dental needs. But where do you start? This top 10 list will give you great providers to choose from!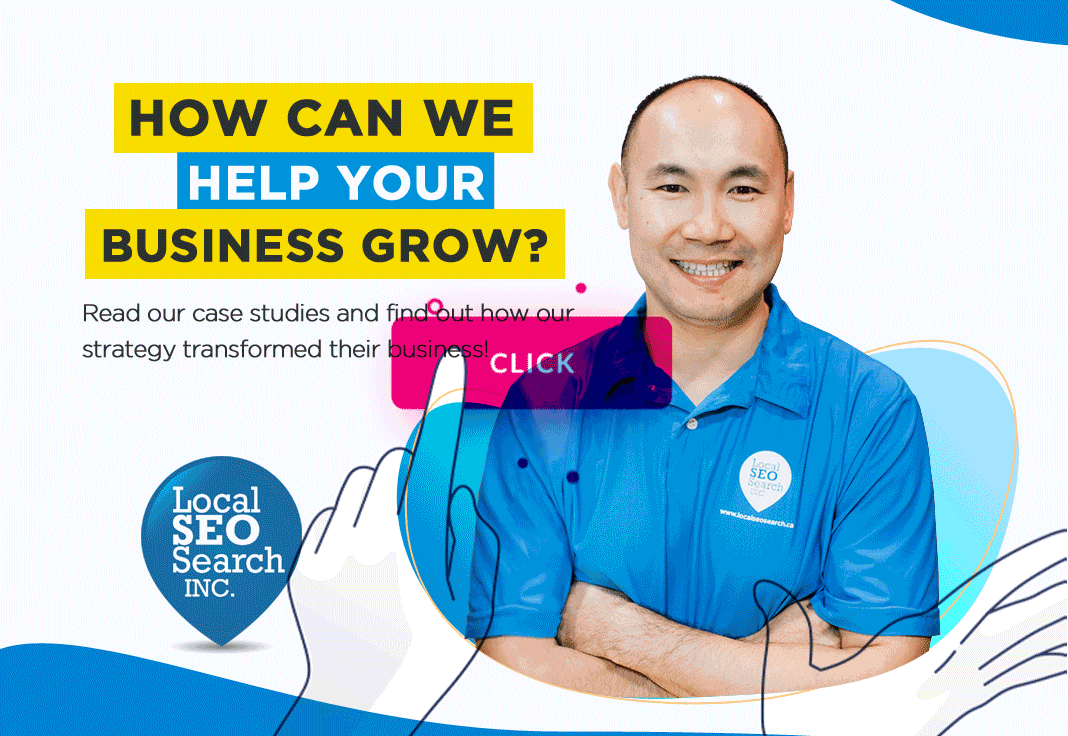 Top 10 Dentists in London
1. We Smile Dentistry. For everything from general dentistry to cosmetic and pediatric care, We Smile is here to help. Your dental needs change throughout your life, and Dr. Spagnuolo and his team have the experience to care for you. The office is relaxed and personal, so call for an appointment at any time!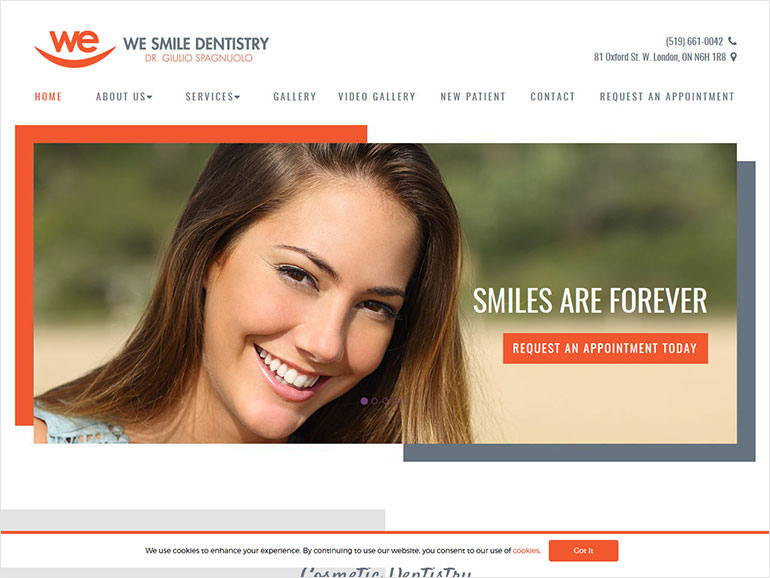 "I've never been a fan of going to the dentist, but this place has made it a little more bearable. The dental hygienists are always so welcoming and are very knowledgeable. Dr. S is great as well! He doesn't recommend unnecessary treatment but works with the hygienists to educate patients on how to achieve better oral hygiene. This practice is just what I need to keep going to the dentist!" –Samantha Smith
2. Southwest Dental Care. If you're looking for a dentist focused on care from childhood on, Southwest is a great clinic. They help children feel comfortable by giving them a tour of the office, and they offer great care for teens and adults as well. Southwest has a family-friendly focus and a wide range of services.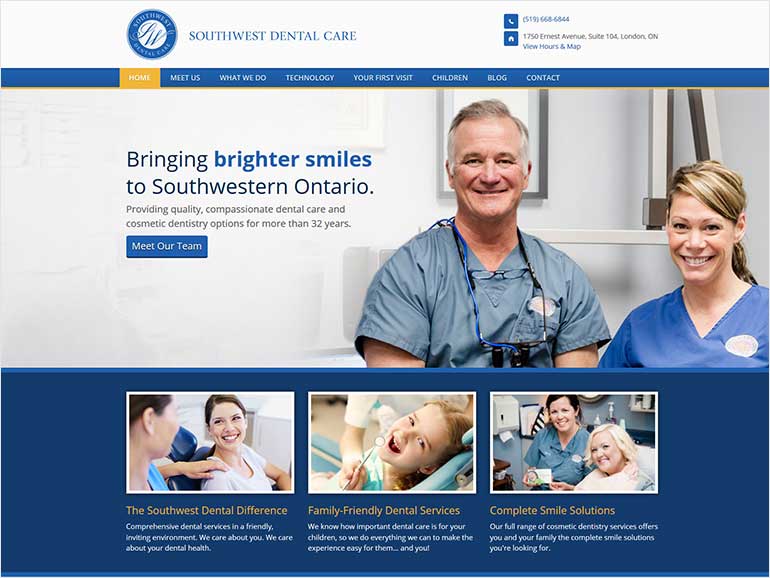 "I love the Team at Southwest Dental. They always take their time to make sure you're comfortable and understand everything that's going to happen. They also make sure to try and get my daughter in ASAP when she pops a bracket on her braces. Finally, Southwest has been amazing at easing my major anxiety attacks I used to have for visits to the dentist. Amazing job! Keep it up." –Tara Daly
3. Dove Dental Centres. This long-standing clinic has been serving Londoners for over 30 years; if you're looking for experience, this is a great choice. They have five locations so you're sure to find something nearby. Appointments are convenient, with some evenings being available, along with Saturday time slots. For an open and relaxing dental experience, contact Dove today.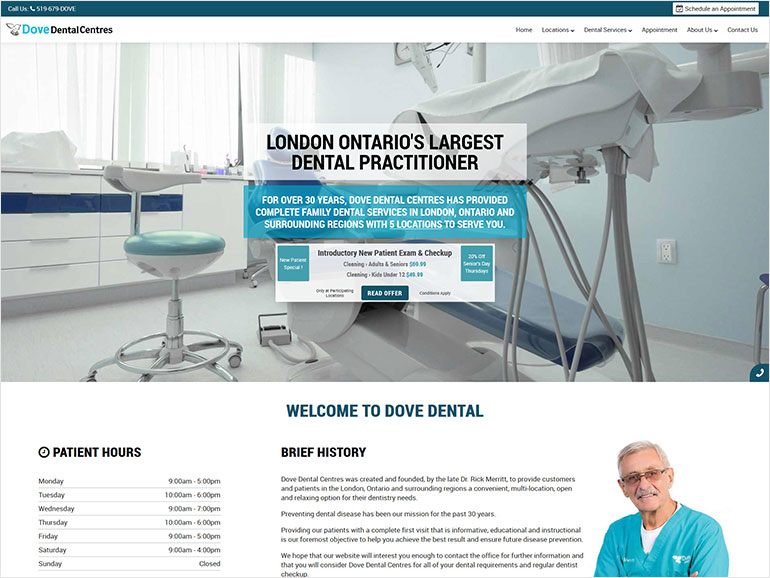 "Been going for years now. Always leave feeling great! My 9-year-old son & 7-year-old daughter always have a great experience. Great environment, highly recommended. Ask for Rebecca for cleanings, she's amazing!" –Rick Daoust 
4. Stoney Creek Family Dental. Stoney Creek offers comprehensive dental services in a soothing, comfortable environment. They have evening appointments Tuesday through Thursday, along with Saturday hours, so you're sure to find a time that works for you. From general dentistry to cosmetic service to orthodontic care, Stoney Creek has everything you need!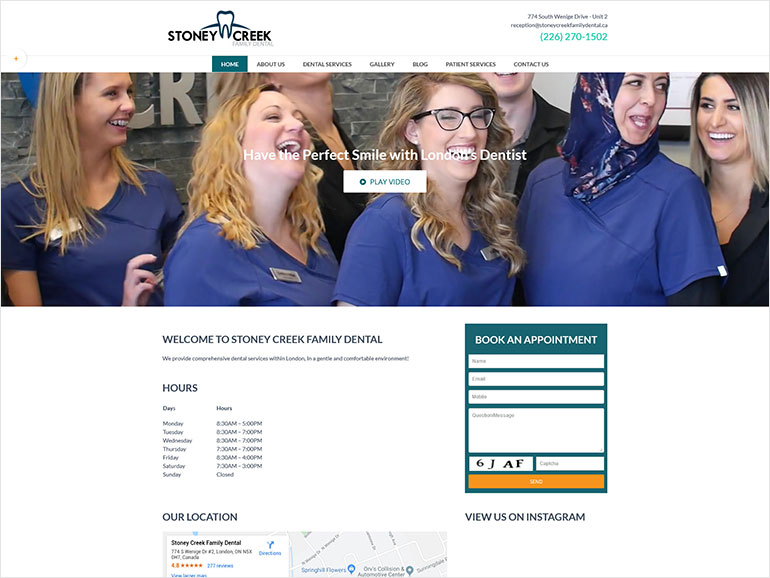 "I had a great experience at this dental clinic!  Fantastic staff. Vivian, in particular, was so kind and helpful!  She was so patient with my hectic schedule when fitting me in for a follow-up appointment. Highly recommend!" –Nina Z
5. Alba Dental Centre. For personalized, comfortable dentistry for the whole family, along with Fastbraces and emergency care options, consider Alba Dental Centre. They offer a wide variety of cosmetic, orthodontic, and general services. They also offer sedation dentistry if you are anxious about dental care! They have an overall rating of 4.9/5, so patients love them too.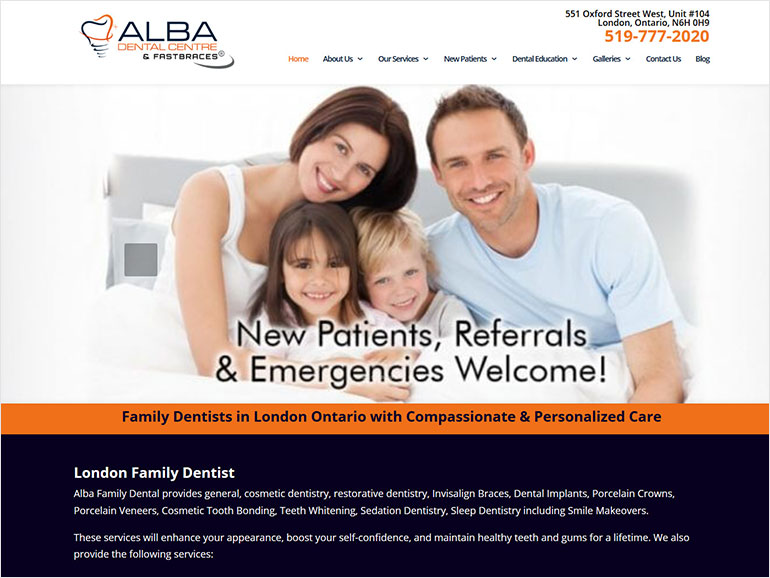 "Dr. Alsabbagh and his staff are wonderful! I take my 90-year-old mother to Alba Dental Centre and she is always treated with kindness and compassion. Dr. Alsabbagh respects my mother's financial situation and passes on savings to her when he can. The staff are well trained and professional, and the facility is absolutely beautiful. Highly recommend!" –Diane Ordish
6. Smile Dental Centre. Located in North London, Smile Dental Centre offers a bright, beautiful office and a variety of care options. From teaching children proper dental habits to handling cavities, wisdom tooth removal, veneers, or Invisalign, they can do it all. They have a specific interactive educational program from kids ages 3–10, so it's an excellent clinic for families.
"We started at Smile Dental Centre in Dec 2018, and our experience has been great (coming from someone who fears dentists). We discussed goals, plans and coverages, and everything has been explained and clarified to ensure we are striving towards the same dental goals. They also have a Kids Program, which is great as the kids can start here then continue with adult care once they're old enough!" –Weronika King
7. Riverpark Dental. Riverpark is expert at defusing anxiety and fear about dentistry, even for the most fearful patients. They provide an enjoyable dental experience for everything from Invisalign to cleanings to cosmetic dentistry. If you're looking for a dentist who helps you feel relaxed and comfortable, Riverpark is a great choice!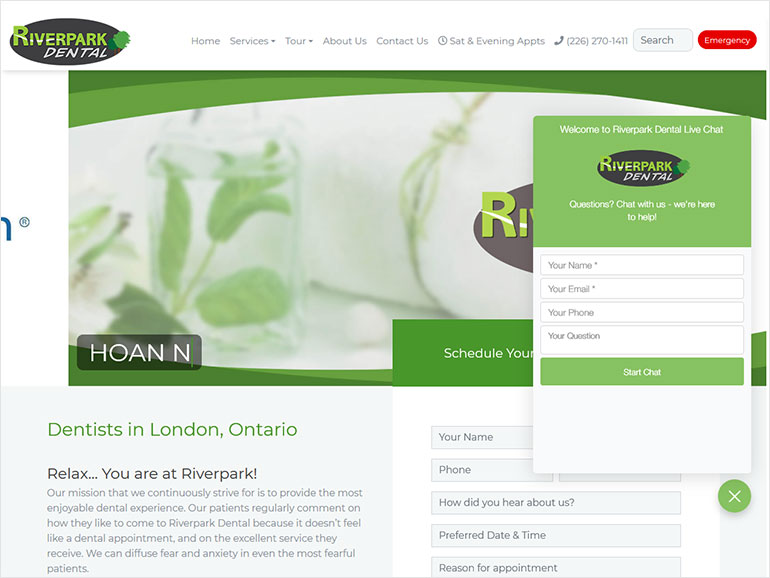 "I am very anxious when it comes to a visit to the dentist. Dr. Martinez, Dr. Ma and Gema always explain everything to me and always show empathy and patience when it comes to my dental needs. They always go above and beyond with patient care to make me feel comfortable. Thank you to an amazing team of all staff at Riverpark!" –Christy Quick
8. Dental Studio London. With three locations: London North, London South, and Alisa Craig, you're sure to find a Dental Studio near you. This clinic offers standard cleanings and fillings along with emergency dentistry, whitening, cosmetic care, implants, and restoration. They aim to help you feel relaxed and comfortable, so it's an excellent choice for dental care in London.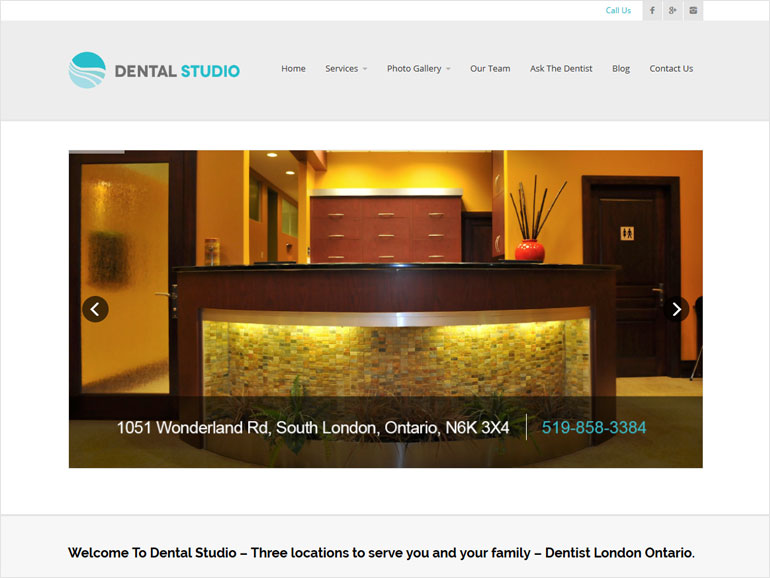 "I've been a patient at Dental Studio for almost ten years now.  It wasn't until I saw my daughter have her first fillings done and I got to experience the appointment looking at it all from the other side of the room that I noticed how detailed and how caring everyone was there, from the dentist right down to each staff working their specific jobs. Super-efficient and well-run place." –Sharon Morgan
9. Sunningdale Dental Centre. For great care in North London, give Sunningdale a call. They offer care for the whole family and can meet all of your dentistry needs. From root canals and other surgery to veneers to annual checkups, you won't go wrong with the doctors at this clinic.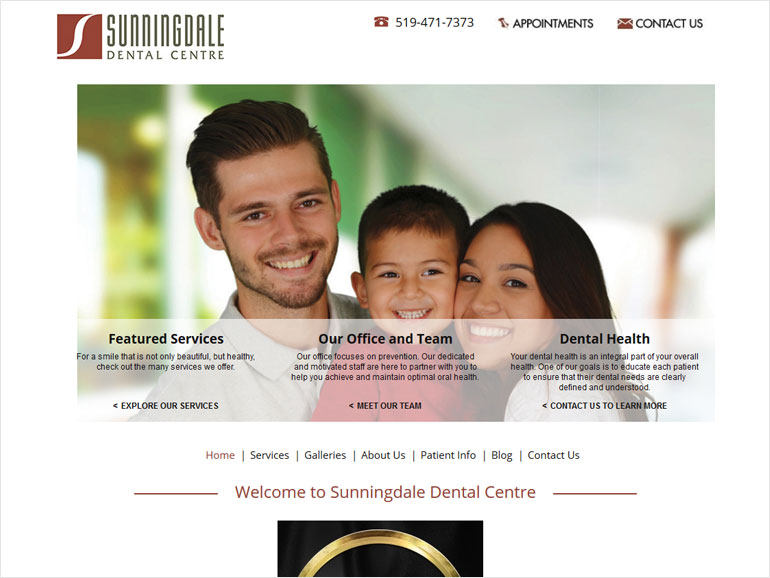 "I received my first crown today, and Dr. Micheal Carson and his preventive dental assistant Lauren were wonderful. The whole procedure seemed to fly by as I was able to relax with minimal discomfort. I was kept well-informed of the process and was able to watch my crown being made in their on-site mill. It was really amazing! I would highly recommend Dr. Micheal Carson and his highly skilled team!" –Greg Jaychuk
10. London City Dental. London City Dental offers quick care for emergency cases as well as a broad suite of other services. They offer all forms of advanced dentistry, from implants to veneers, along with standard care. With state-of-the-art technology and a comfortable office, you'll feel relaxed and at home at this office.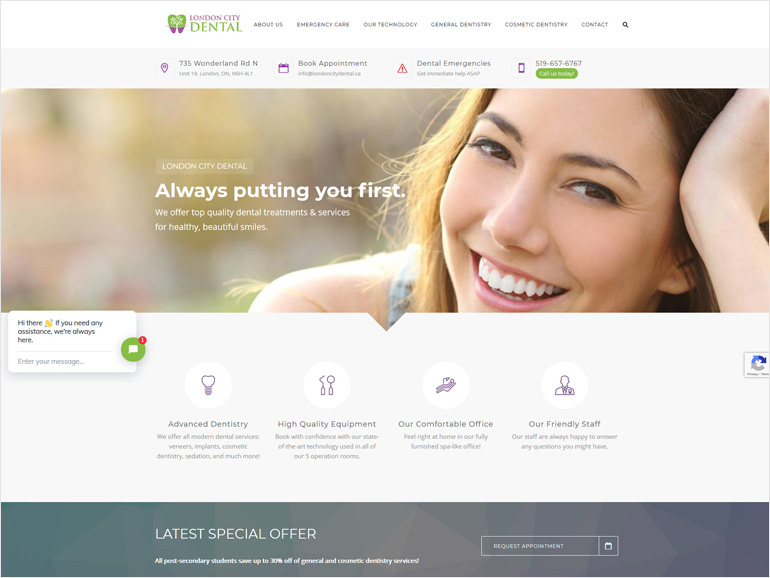 "When I went there I was nervous waiting to go in the room. The hygienist came out and asked me how I was. I told her nervous, and her reply was don't be. So after getting in the room, it was all good. My dentist is very good at what he does. I wouldn't want to go to anyone else." –Shirley Link
Finding The Best Fit For You
Having top-quality dental care is essential if you want to enjoy excellent health and a good quality of life. But how do you know if you've found a good clinic? Look for these attributes.
A Broad Range of Services. Being able to get everything you need from the same set of doctors will make a big difference in your comfort level. Plus, the office knows your history. Instead of going one place for standard care and another for advanced dentistry, find an office that has both.
Convenient Appointments. Not only do you want an office near you, you also want a place where it's easy to book appointments. If you have a full-time job, look for availability on evenings and weekends. That way you can be sure to get the care you need instead of putting it off.
Excellent Customer Reviews. The best way to know how good a dentist is to read their reviews. Check out what other patients have to say so you can get the real story on what the clinic is like.
Get the dental care you need from a top-rated London clinic. These top 10 dentists in London are a great place to start!