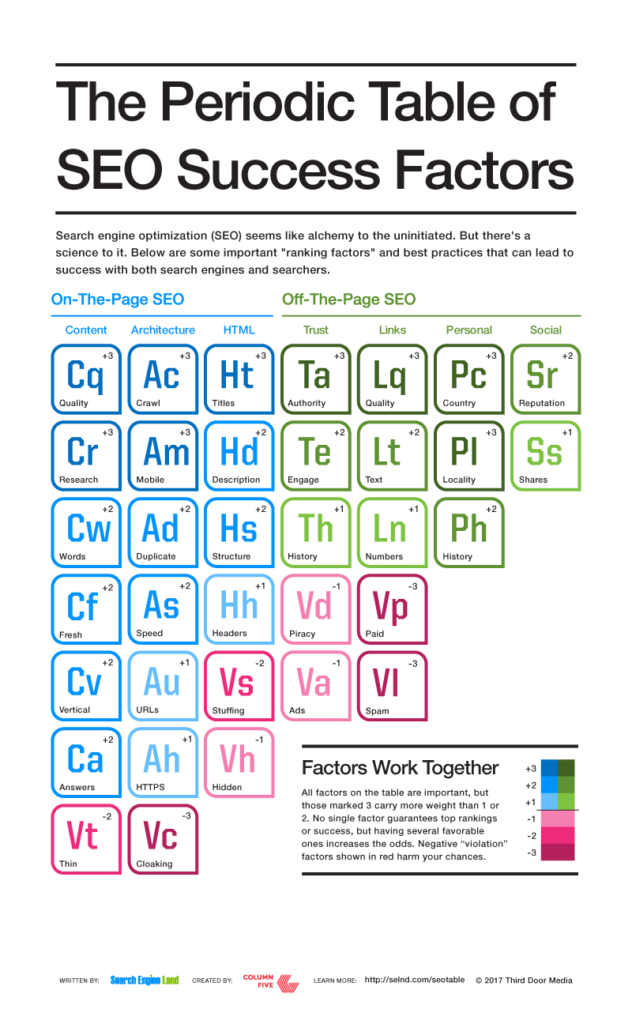 Believe it or not, there is a science to Search Engine Optimization (SEO). Search engines repay pages with "signals" when they follow proper SEO equations. The whole point of SEO is to get your page the right signals.
A company called Column Five Media has released a fun infographic (see below) called "The Periodic Table of SEO Success Factors." It breaks down the key aspects needed to achieve success in search engine ranking. While it resembles the table of chemical elements, it illuminates how to use SEO to your fullest advantage.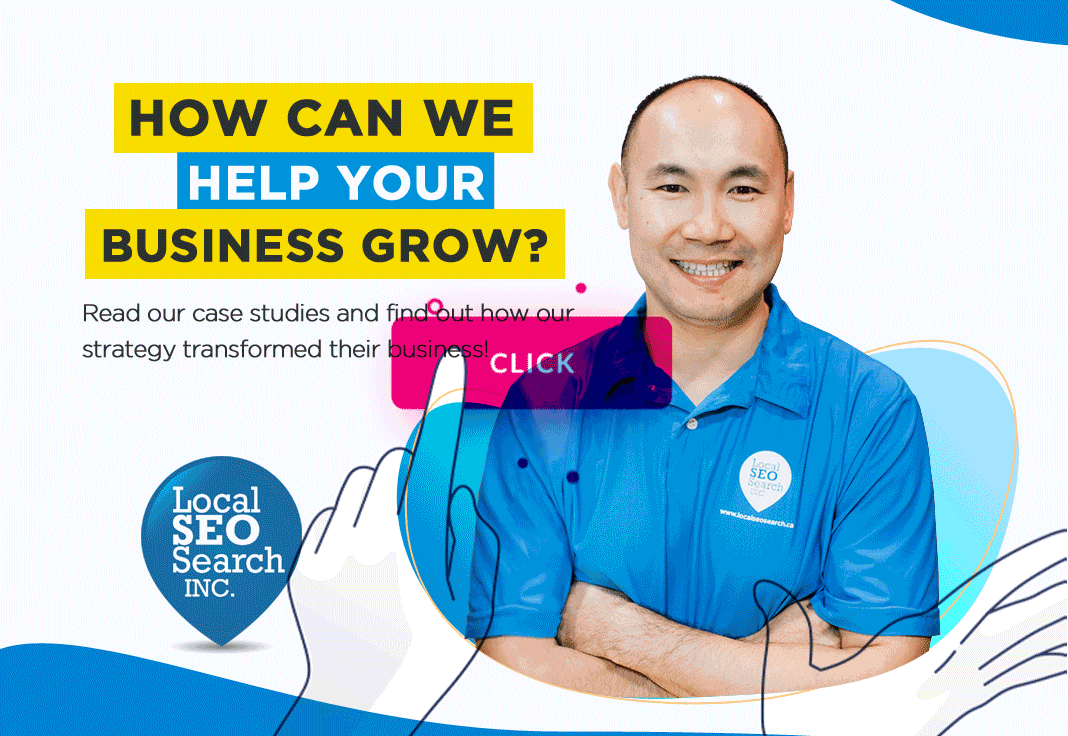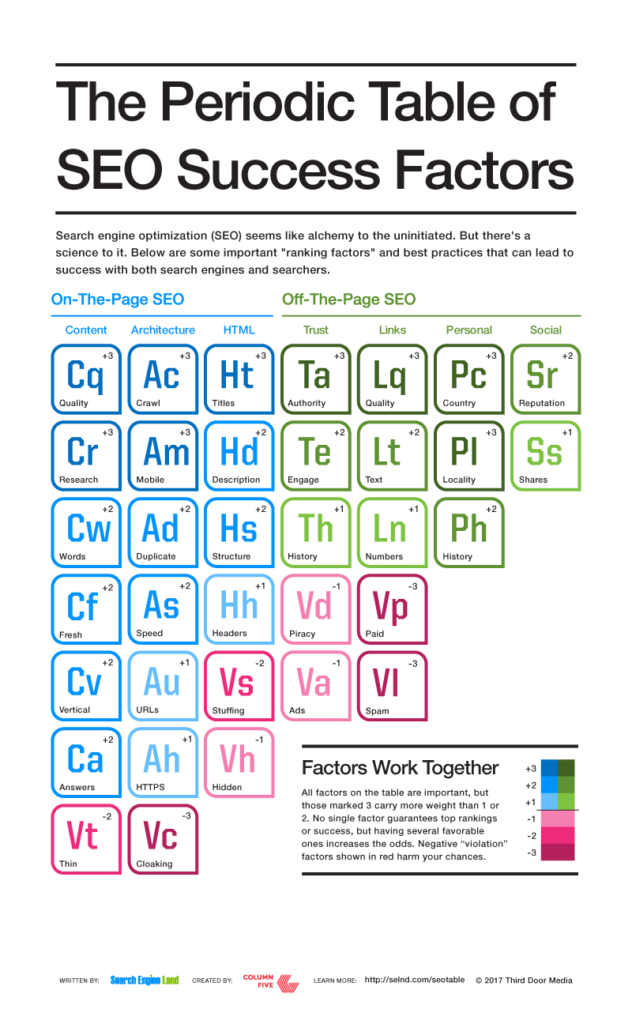 Its Philosophy
The table helps writers or publishers determine the fundamentals of successful search engine optimization. The table focuses SEO beginners and experts on important key areas.
What the Table Covers
First, two primary classifications:
On-the-page SEO – Factors within your and your publishers' control.
Off-the-page SEO – Externally influenced factors.
Next, seven categories of factors (within the two classifications):
Content – Quality of your material's content.
Architecture – Functionality of your site.
HTML – Factors distinct to web pages.
Trust – The level of site reliability.
Links – Impact of links on ranking.
Personal – Impact of personalization on ranking.
Social – Impact of social sharing on ranking.
In total, there are 35 factors which help create descriptive HTML tags and determine if your site is successful (in terms of visitor engagement). Title tags are critical and should be descriptive, without giving away too much. Social sharing indirectly benefits SEO. Aim for social sharing rather than worrying about specifics.
How to Use It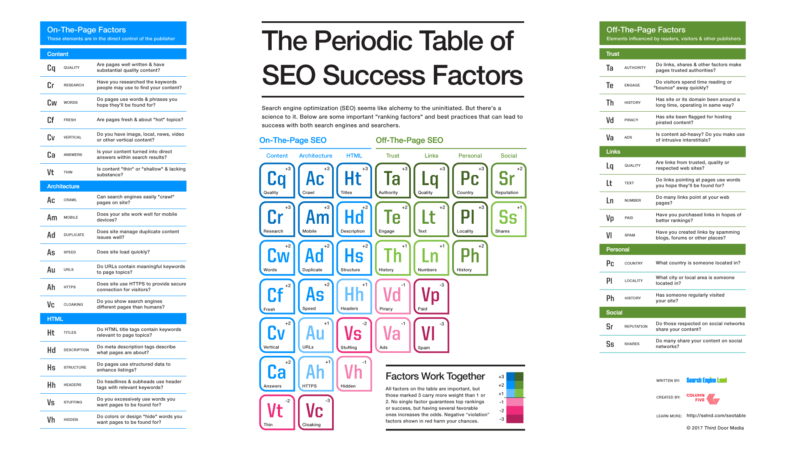 Every box in the table houses a single factor with a two letter symbol. Each first letter represents the factor's category (e.g. "A" is for Architecture). Every second letter represents the element itself (e.g. "m" is for mobile; therefore "Am" becomes the symbol).
Every factor also bears weight. Factors with a +3 are most important and those with +2 or +1 are less important.
Take note: Factors have to work together to be successful. A single factor does not guarantee success. Even minor factors that complement each other increase the success rate.
Negative factors or violations are represented with a "V." These are activities which can harm the visibility of your page, so it is best to avoid them. Unlike other elements, these factors are easy to identify. Those with a -3 are considered worse than -2 or -1.
Now that we've covered the basics, you are ready to put the Periodic Table of SEO Success Factors to work. Learn your next steps in Part II of this article. Local SEO Search knows how to improve the success rate and ranking of your business webpage by using this table as a guide. We are a team of SEO experts who provide excellent service to reach your online marketing goals. Give us a call today at (416) 888-8756 and let's explore how we can take your business to a whole new level with SEO.
Related Posts