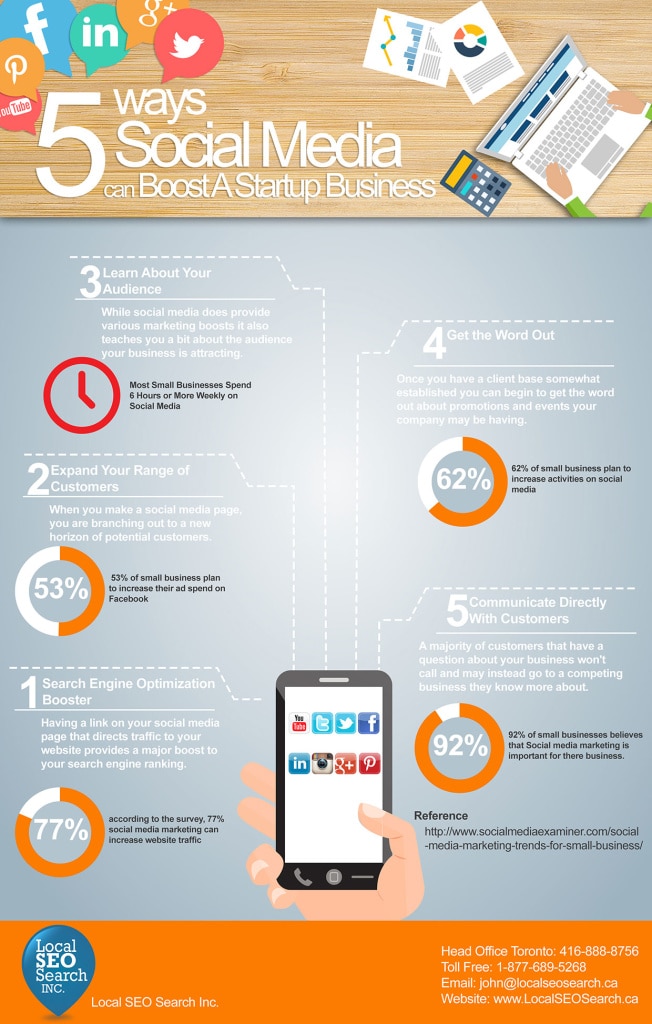 As a new business, getting on your feet is the hardest challenge you face. You dream of having a steady client base, and you can already count your profits from your amazing business plan. The problem is reaching that point. Startup companies typically don't have a lot of money to play around with when it comes to marketing. Being able to make efficient use of the resources you have available is essential. Social media marketing is your best avenue for moving forward on a small budget. Here's five ways social media can get your business started.
1. Search Engine Optimization Booster
Having a link on your social media page that directs traffic to your website provides a major boost to your search engine ranking. It's basically a free high-priority backlink that Google and other major search engines see as a sign of a prominent website. A higher search engine ranking means a better chance of potential customers finding your website. Every small business should have their website linked onto their social media page.
2. Expand Your Range of Customers
When you make a social media page, you are branching out to a new horizon of potential customers. It's a form of free advertisement that broadens out your marketing platform without dipping into your budget. New pages won't get a lot of views, but over time your social media pages will grow if you provide content that users find informal or enjoyable. Every time you get a "like" on Facebook or a "retweet" on Twitter more people will see your posts and can end up following your page.
3. Learn About Your Audience
While social media does provide various marketing boosts it also teaches you a bit about the audience your business is attracting. Facebook has a Facebook Insights feature that shows you the gender, age group, geographical location and language of users that are viewing your social media page. Twitter has a Twitter Analytics addon that tells you general information about the users that are viewing your content. This can help you understand who you should be targeting and how you can improve the quality of your products to better fit your market.
4. Get the Word Out
Once you have a client base somewhat established you can begin to get the word out about promotions and events your company may be having. Customers that follow your social media pages can easily see when something unique is going on within your business, and a special of some sort might intrigue customers to stop in. This is the real power behind social media marketing.
5. Communicate Directly With Customers
A majority of customers that have a question about your business won't call and may instead go to a competing business they know more about. If you have an easy way for customers to get in contact with you, you'll have a lower chance of losing them to your competition. Communicating with customers through social media also gives you an idea of how your clients feel the services you're offering. People are quite vocal on social media.
Related Posts