Trade shows come as a big extravaganza to both consumers and vendors. If you have a local business, would you consider joining a trade show? What can it really do for your business?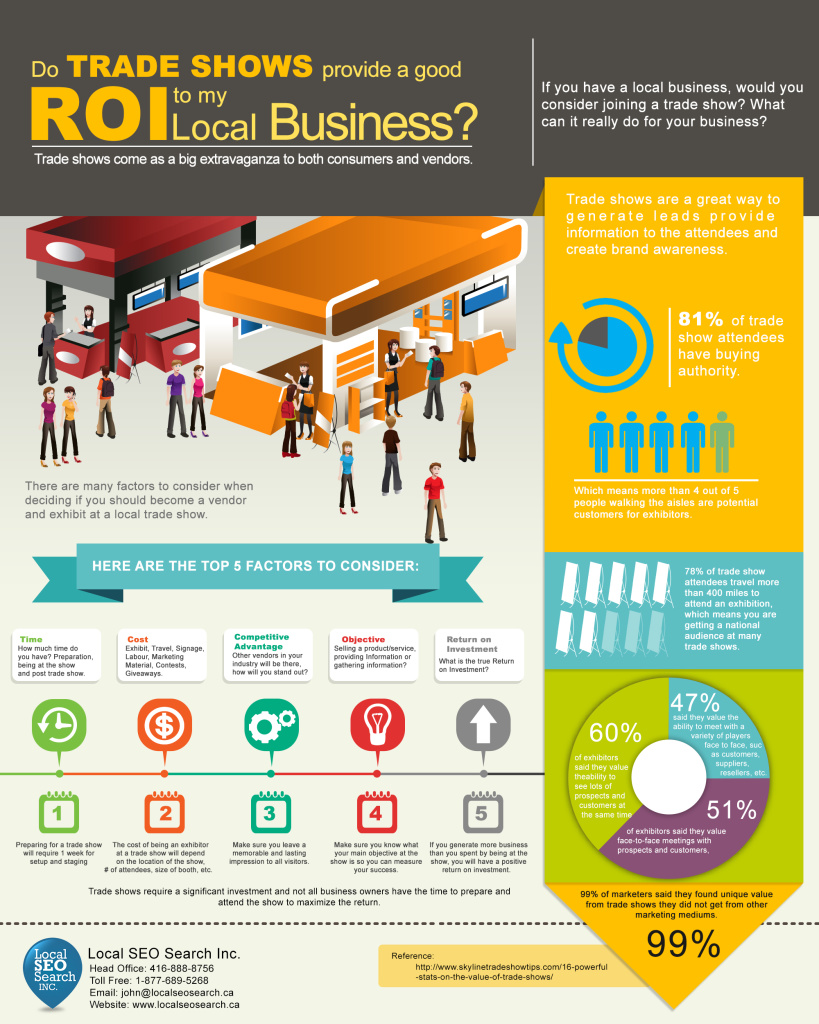 There are many factors to consider when deciding if you should become a vendor and exhibit at a local trade show.
Here are the top 5 factors to consider:
1. Time – How much time do you have? Preparation, being at the show and post trade show.
2. Cost – Exhibit, Travel, Signage, Labour, Marketing Material, Contests, Giveaways.
3. Competitive Advantage – Other vendors in your industry will be there, how will you stand out?
4. Objective – Selling a product/service, providing Information or gathering information?
5. Return on Investment – What is the true Return on Investment?
All business owners want to generate new leads, acquire new clients and grow their customer base. Trade shows is a great option for the well informed.
Time
The time factor all boils down to the opportunity cost. Would you be more productive spending your time chasing leads / gather leads or are you already receiving enough inbound leads? Preparing for a trade show will require 1 week for setup and staging, additional day or week depending on how long the trade show being present at the show and post trade show follow up on leads generated at the show. Make sure you plan ahead since some trade shows sell out fast or you miss out on prime locations as a vendor at the trade show.
Cost
There are various costs involved. The cost of being an exhibitor at a trade show will depend on the location of the show, # of attendees, size of booth, etc. If you are traveling from out of town, you must take into account travel costs (transportation, accommodation, food, etc.). The investment of having signage at the trade show is a must. (Popup displays, banners, counters, etc.). Having people at the trade show to tell your story or you may want employees to attend the trade show. Marketing material, giveaways, contests are all additional costs but are necessary if you want your booth to attract potential leads/clients.
Competitive Advantage
What makes your booth stand out from other vendors at the trade show and most importantly other competitors at the trade show? How do you create a buzz so that when people leave the trade show they remember you or your booth? Be creative and have some fun with this. Make sure you leave a memorable and lasting impression to all visitors.
Objective
What is your intention of being at the trade show? Are you planning on selling your product or service at the show? Will you be able to maximize the # of people you will be talking to at any given time? Will you be providing demonstrations? Are you planning on just handing on marketing material to the attendees for them to read at home? How many people do you have at the booth to answer questions? If you are planning on gathering information what contest are you having as a giveaway? Make sure you know what your main objective at the show is so you can measure your success.
Return on Investment
This is simple. If you generate more business than you spent by being at the show, you will have a positive return on investment. However please consider all the factors mentioned above before you compute your ROI.
As a local business owner myself, I believe trade shows are a great way to generate leads, provide information to the attendees and create brand awareness. Trade shows require a significant investment and not all business owners have the time to prepare and attend the show to maximize the return. Having a website and having SEO will compliment what you are doing at trade showsand it requires less time and work for the business owner. It will also provide far greater Return on Investment. If you are interested in finding out more about how Local SEO Search can provide you inbound leads, please call 416-888-8756 and ask for John.
Related Posts